The Los Angeles premiere of the documentary "Our Lost Years" will take place at 2 p.m. on Sunday, June 23 in Little Tokyo at the Aratani Theater, 244 S. San Pedro St.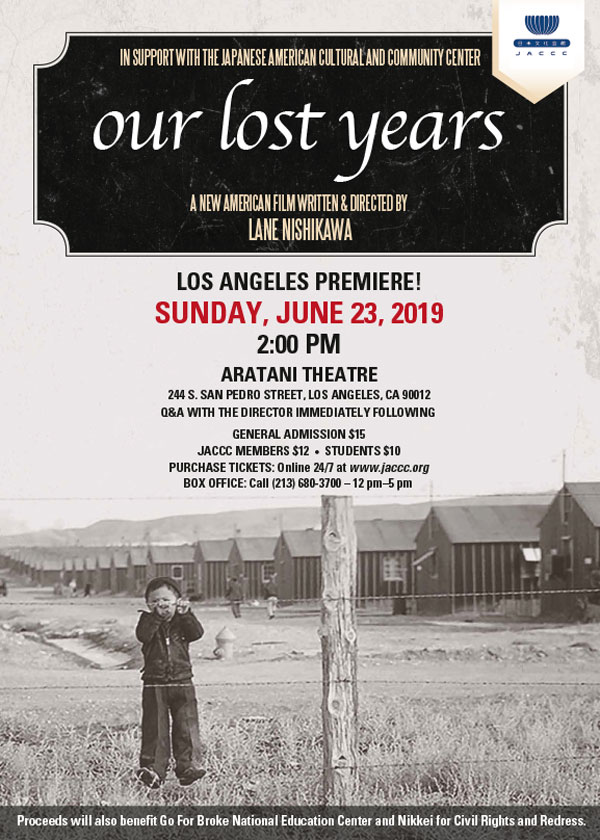 Written and directed by Lane Nishikawa, "Our Lost Years" commemorates the 75th anniversary of President Roosevelt's Executive Order 9066, signed on Feb. 19, 1942.
The order, which was executed weeks after Japan attacked Pearl Harbor on Dec. 7, 1941, authorized the forced evacuation from the West Coast of some 120,000 American citizens of Japanese ancestry, as well as legal permanent resident Japanese nationals who were prohibited from applying to become naturalized U.S. citizens.
Most of those ethnic Japanese were then incarcerated at 10 government-run concentration camps located at remote inland areas in Arizona, Arkansas, California, Colorado, Idaho, Utah and Wyoming.
The documentary shows Nishikawa interviewing camp survivors and their offspring, as well as community leaders, scholars, politicians, attorneys and activists to explore the emotional, psychological, economic and political impact of this massive abrogation of such cherished American traditions as equal rights and equal treatment under law for all.
Also explored is the years-long legislative campaign to obtain a redress of grievances for the victims of this violation of civil and constitutional rights.
All the proceeds of this screening of "Our Lost Years" will go to Japanese American Culture & Community Center, the Go For Broke National Education Center, and Nikkei for Civil Right and Redress.
General admission tickets are $15, $12 for JACCC members and $10 for students. To purchase tickets online, visit JACCC.org or call the box office between noon and 5 p.m. at (213) 680-3700.
The trailer for the documentary can be viewed at: https://youtu.be/uoVop_jCRDM