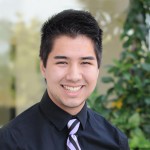 By Ryan Kenji Kuramitsu
When JACL Chicago staffers Bill Yoshino and Christine Munteanu first met with community leader Pat Harada in the fall of 2011 to discuss the idea of creating a program that would take young Japanese Americans to a former California concentration camp, they were confident that their shared vision could soon be realized. Similar ideas had been germinating in the minds of several community members for years, and within a matter of months, the venture quickly passed from conjecture to concrete planning.
Longstanding friendships and personal connections aided Yoshino and Munteanu in quickly curating and arranging content for that first trip — a Heart Mountain survivor volunteered to donate a few hours of time, a UCLA professor agreed to hold a workshop on Nikkei and Asian American identity at a Methodist church in Little Tokyo and a tour guide would show participants around the local neighborhood. At the same time, the pair launched a massive fundraising initiative that raised more than $15,000 for the new program. Itineraries were then finalized and application information put forward to Chicago's Japanese American youth.
From its inception, the newly named "Kansha Project" was likened to Birthright Israel, an international program that allows young individuals of Jewish ancestry to connect with their ancestral roots by exploring Palestine free of cost. While there is nothing new about Japanese American pilgrimages to former incarceration sites, what is novel about JACL Chicago's Kansha Project is its commitment to introducing young people from the Midwest to this unique set of history and experiences.
This past summer, I traveled with nine other college-age Japanese Americans to Los Angeles and to the former desert concentration camp of Manzanar, where I was introduced firsthand to a particularly painful chapter of history. Our group's daily activities and conversations were emotionally and physically onerous, constantly bringing each of us to the stark threshold of vulnerability and heartache.
The Nikkei who attended Kansha with me came from an eclectic variety of backgrounds: Some were shin-nisei, others mixed-race with a package of pan-Asian or European roots. I, myself, am a fifth-generation multiracial Japanese American whose family mostly escaped incarceration because of our location on the Hawaiian islands. One of the program's unexpected gifts was this odd sense of great relief to be spending so much time with other young Japanese Americans. We recognized almost immediately a strange feeling of connection across other identity markers, by merit of our shared blood and culture.
The trip, and the friendships we built there, gave me and others the courage to vocalize feelings of disoriented and fragmented racial identity that we'd carried unacknowledged for years. The (ad)venture will always remain in my mind a perilous and powerful experience that I continue to recommend to friends and family alike, and I commend Yoshino and Munteanu for their creativity and initiative in constructing an organic environment in which challenging critical development can safely occur.
According to Yoshino, one of the Kansha Project's most important goals is to guide participants in this sort of direct interaction with community history.
"This program matters," he explained, "because we can't take for granted that the Japanese American legacy will be passed from one generation to the next; it's important to pass this legacy in a purposeful way because our history holds important lessons for America."
My own time in California was replete with this familiar language of history, generation, legacy. Yet for Munteanu (25 at the time of the program's inception), this discourse raises serious questions for young Japanese Americans. In an email to me, she observed, "Sometimes I feel like there's this sense of 'passing down' the 'legacy' of the community, as something that needs to be preserved, without an understanding of the dynamic and changing nature of community." Her critique is entirely valid: While new generations remain willing to receive our inheritance, who defines what this legacy is? What exactly are we consigning to receive?
One of my lingering questions is this: If the incarceration experience is to stand as the defining mark of our community's existence in this country, where does that leave those of us who have not experienced immediate proximity to the horrors of barbed wire?
Munteanu acknowledges that one of Kansha's explicit goals has always been to help translate these complicated histories of oppression into modern Japanese American activism. Central to this commitment is the persistent belief that we are living in an age no less crucial than our grandparents' — each new generation faces pressing challenges and searing human rights crises to address.
We will surely continue to be informed by our past; we will honor the scars and name the lost and work tirelessly to ensure that these evils are never revisited upon anyone. Yet I agree with Munteanu's earlier assessment: I'm convinced that a holistic understanding of legacy cannot remain static, unchanging, fixed across generations. Instead of employing language of a gifted antique being carefully handed down, perhaps more appropriate rhetoric would attempt to frame legacy as journey. Not as a single stopping point in time, but as a flowing stream that we are carried, loved into by those who precede us.
If we adopt more porous language in this arena, we will begin to understand our community's history as fluid, past and future pulsing around us, bearing us forward upon boisterous currents. One of the advantages of speaking of legacy in this way is the steady reminder that we can never distill and prepackage its meaning for future generations, for surging tides and depths cannot be plumbed and flatly distributed.
None of these observations erode at the profound gratitude (kansha) we feel for the sacrifices of our Nisei forbears. If anything, participating in the Kansha Project has convinced me more than ever that legacy is more responsibility than passive inheritance, actively shaped in our own hands as much as it is dutifully received. I am nothing but honored to have been initiated into our community's legendary hotbed of heroism and history, so charitably baptized into this journey.