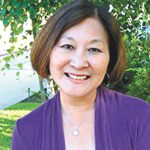 By Marsha Aizumi
Someone once told me that a positive quality could become negative if carried to the extreme. I didn't quite understand this concept initially because I thought how could something positive become something negative. Then upon reflection, I realized how true that was.
If I care about something too much, that could lead me to worry needlessly, be overly protective or jealous and not give others the space to grow and learn what is important for them.
If I am generous and kind without boundaries, my life can be out of balance. How many times have I given so much of my time and energy that I get sick or become so tired I can't enjoy time with my family?
Our lives need balance. We must give to ourselves as much as we give to others. We need to receive in equal amounts … the love, care, support and consideration we often so generously share.
And so last month when I traveled to Japan for the National Queer Asian Pacific Islander Alliance's (NQAPIA) Family Acceptance Campaign to speak and meet with groups, I saw the double-edged sword of honor.
One of the reasons I wanted to be part of this speaking tour was because this was the country that gave me two of my most precious gifts — my sons, Aiden and Stefen.
In a way, I felt I was giving back to a country that had given so much to me.
So, at every event and meeting, I shared my enormous gratitude for Japan giving me the opportunity to adopt these two wonderful boys. At one of the meetings, we went around the room and introduced ourselves. One Japanese woman said she was so interested in my adoption experience.
She, like me, was unable to have children, and when she looked into adopting a child, her family did not approve because the child would not have their blood. I could see the regret and sorrow in her eyes as she spoke. A chance had been missed to be a mother because of a sense of honor to her family and lineage. I felt for her because I realized how different my life would have been if I didn't have my two children.
I tried to comfort her after the meeting and told her that my children are now grown, but through my advocacy work around the country, I have so many other children who need my love.
I have sons in Kentucky, Hawaii, China, Illinois and daughters in Japan, Washington, D.C. and North Carolina — I am a mother to so many. I said there are many LGBTQ children who need a mother while their biological family is processing through the news that their child is lesbian, gay, transgender, bisexual or queer.
Perhaps she could be their mother while their biological families find their way. I don't think that took away her sadness, but I hope if a situation presents itself, she will find a way to be a mother to a child that needs her love.
Ironically at the same meeting, I heard about a three-year plan to bring greater awareness to Japan about the LGBTQ topic. This plan was being motivated by the 2020 Olympics that are coming to Tokyo, and Japan did not want to see the negativity that surrounded the Olympics in Sochi to overshadow its event. A sense of honor, in this case, was causing Japan to work hard to bring greater understanding and knowledge to their country, so as guests arrive to participate or attend the Olympics, they would all feel welcomed and embraced.
Two days later, I spoke on a panel at Waseda University and was told we were the first group to come in to speak, since they opened their Office for Promotion of Equality and Diversity that very same month.
The university even had a number of gender-neutral bathrooms on campus, which they proudly pointed out to me in their new brochure. At our presentation, I met the vp of the new office. I told Ms. Hata I was so honored that she would attend. She responded, "I am here to learn."
There were about 70 people who came to our presentation. When I spoke, my perception of people from Japan not showing emotion in public was shattered.
There were those in the audience who openly cried with me and those who discreetly dabbed their cheeks.
After our panel spoke, one young person was crying so hard that I took her into my arms to comfort her. She said that she is afraid to tell her mother because she feared being rejected. I also suspect that she did not want to bring dishonor to her family, so she has chosen to stay in the closet.
I completely understand that choice because I made the same decision early in our journey. I did not stand up and speak out for Aiden because I was so afraid and ashamed.
And so I saw the positive effects of Japan's sense of honor, which in one case had transformed into pride for the work they had done at Waseda University and the hope they were bringing to many at the 2020 Olympics. But I also saw the deep sadness when others had to choose between honor and their dreams.
International travel was not easy. The jet lag was tough. I had to "gaman" through days of "foggy brain" and nights where I was wide awake, wishing myself to sleep because I knew I had a busy day ahead of me.
But this experience has given me a greater sense of who I want to be moving forward.
I want to give myself as much as I give others, so I can be an advocate, wife and mother for as long as possible. And when my heart does not feel joy in what I am doing, I want to pause and see how I can bring more balance back into my life.
Marsha Aizumi is an advocate in the LGBT community and the author of "Two Spirits, One Heart: A Mother, Her Transgender Son and Their Journey to Love and Acceptance."