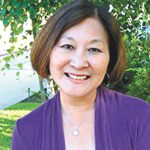 By Marsha Aizumi
Every year for the past few years, our family has entered the holiday season looking forward to a day together at Disneyland. It all started because Aiden and Mary love the "Magic Kingdom" so much, and it's a place Stefen didn't mind taking a friend to. I wanted to share something that everyone could enjoy, and I loved having both of my sons present with their wife, girlfriend or roommates. It was a time to tell stories, laugh and be together in a place of childhood wonder.
This year, since I knew the theme for this issue is all about hope, healing and harmony, I thought I would use the backdrop of our Disneyland trip to find inspiration in my writing. Here are the thoughts that flowed through me as we wandered through our "Annual Disney Family Day."
Harmony
When Aiden was assigned female at birth, the name I gave him meant peace and harmony. This was the life that I hoped that he would have. Little did I realize that 12 years later, the peace and harmony that I wanted for him would not be the life we were living.
Seventeen years later, as we strolled around Disneyland, among the hustle and bustle of the park and its visitors, all I could feel was peace, harmony and joy for another year together. But these things did not come to us easily. We had to choose to risk talking about and doing things that made us uncomfortable. We had to love with our whole hearts, even though there was no guarantee that we wouldn't be hurt. And we had to risk for the positive, when often risk is seen as negative.
Harmony has come to us by intention. It took my husband, Aiden, Stefen, Mary and me time and patience to come to an understanding of who we are as a family. In times of discord, we had to listen to each other and decide how we would move forward. It was often very awkward and humbling, but I wouldn't change a thing, realizing that greater harmony, deeper connection and honest relationships were the result. This holiday season, I will be grateful for the gift of harmony we have created and all who have helped us to get here.
Healing
It has been a difficult year for healing when there is so much chaos and uncertainty going on in the world. But I can't let what I have no control over, overwhelm me with despair. That would be giving up on the life I dream for my children. Instead, I have become more determined to bring greater healing and hope to the work that I do. Two of the areas I have chosen to put my attention on are faith and the Nikkei community.
I dream that churches and temples can become a place of greater connection and healing for families, just as Disneyland can be a place of magical experiences. Aiden and my work in the faith community have shown me that they can be a healing place. When Aiden was asked to leave the Lutheran Church until he found himself (in other words not be lesbian, gay, bisexual, transgender, queer) and one of our friends tried to tell Aiden that what he was choosing to be was not right in God's eyes, those were two very painful events. When you think that you are not worthy of God's love because of who you are, and who you are is not a choice, that is a place of great conflict. Do you choose to be your true self and leave the church, or do you stay in the church and hide who you truly are? We left the church so Aiden could be his true self.
Today, speaking at churches and temples and seeing clergy, faith leaders, congregations and sanghas openly embrace us with warmth and genuine acceptance has healed some of the wounds that being rejected caused. Thank you to all the churches and temples that are creating spaces where our hearts can be comforted, and we can walk away feeling cleansed, whole and loved.
Being Nikkei was also difficult because I felt that I was bringing shame and dishonor to our family. However, being a part of Okaeri 2014 and 2016 events where we welcomed home those Nikkei in the LGBTQ community and welcomed their family, friends and allies to join us in this homecoming has also brought deep healing to our family. I look forward to Okaeri 2018, which is being planned for the fall of next year.
Thank you to both the Nikkei and faith communities that are lifting up their voices and visibly speaking up for the Nikkei LGBTQ community and families like ours. You never know who in our community is watching and seeing signs of acceptance, which is giving them permission to be accepting of their children or family members. This holiday, I celebrate and give thanks for those who are bringing so much healing to so many.
Hope
I have said it many times before, but hope is everything to me. When we were going through some of our most challenging times, I thought we might lose Aiden. It was hope that got me through those darkest days.
I think about the present time and how much fear and hurt is in the world. I think about the leadership of our country and how leaders are so afraid to speak up for what is right in order to retain power. And I think about all the tragedies that have been happening, and I wonder how can we stop these things from continuing to be.
I looked for an answer to my questions as I walked around Disneyland. To my surprise, I finally heard the answer when I was riding the Storybook Land canal boat, and it came from my husband. The canal boat took us to see the different lands from Disney stories: "Aladdin," "Frozen," "Cinderella" and more. It was actually hard to hear the tour guide narrate our ride because of the sound system and her fast speech. As we left Storybook Land, Tad said to me, "I really couldn't understand a word the tour guide was saying, except when she said … the power of love." A light went off when I heard those words.
And so it reaffirmed to me that the answer on how to change the world is love … not a passive love, but a fearless love combined with a commitment to see things change.
Today, I know that anything I have overcome has been the result of the power of love to make me courageous and committed in order to fight for a safer more just world for my children.Hope is always within my reach when fueled by my love and my committed heart.
Walt Disney dreamed of a place where families could be together and have fun. And as he dreamed, so did he create. I, too, dream of a world where people are valued and respected for their differences and those differences are seen as bringing greater richness to society. And as I dream, hopefully we can all create.
From my family to yours, I wish you greater harmony, healing and hope. May 2018 be filled with magic, creativity and dreams come true …
"It's a world of laughter, a world of tears, it's a world of hopes and a world of fears. There's so much that we share that it's time we're aware, it's a small world after all … "
Marsha Aizumi is an advocate in the LGBT community and the author of the book "Two Spirits, One Heart: A Mother, Her Transgender Son and Their Journey to Love and Acceptance."