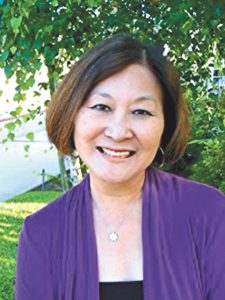 By Marsha Aizumi
I never know when a moment will move my heart. The place was Fresno, Calif., and the people were from a Christian church in the area. I had been introduced to a church member, Elena Tsuchiya, by Nikiko Masumoto, who spoke at our 2016 OKAERI: A Nikkei LGBTQ Gathering. I loved Nikiko's spirit so much when I met her that upon hearing a regional summit for API LGBTQ leaders was happening in the area she lived in, I reached out to her, so I could be around her wonderful energy again.
Elena and I talked before I came to Fresno, and she arranged a dinner for me and a few church members on the day I arrived. They were part of an Agape group formed at the church.
Agape seemed to have many definitions when I looked it up in the dictionary, but the term I liked best was "unconditional love."
This group was bringing unconditional love to their church, and part of the love they were bringing was a feeling of inclusion and acceptance. I loved each of them from the first moment that we hugged in greeting. They were role models of the word agape.
As we were enjoying a delicious dim sum dinner, we talked about many things … the church, their families and my work in the LGBTQ community.
One of the mothers shared that when she read about the shame and stigma I went through having an LGBTQ child, she related so much to me. Although she did not have LGBTQ children, she also had two marginalized children and felt many of the same feelings I had.
We bonded as mothers that knew our journeys had been different but also filled with similar feelings. We also bonded because we had not let our shame defeat us, but it made us stronger in love, so we could emerge feeling like good mothers.
I also met someone from the local JACL chapter. I am always so happy to meet someone from JACL and appreciate them for their work, especially when we share the same name, although different spelling. Thank you, Marcia!
At the very end of dinner, I noticed that this couple, who I was told were in their 80s, wore rainbow wristbands. In delight, I exclaimed, "Oh, you are wearing rainbow wristbands!"
I was going to explain to them what the wristbands meant to the LGBTQ community, but before I could, they replied, "We wear these so when people see them, they will know that we are a safe place for them to be."
I choked back a huge lump in my throat and wanted to throw my arms around both of them. I am not sure if this couple knew what this gesture meant to me, a mother who loves her transgender son and wants him to live in a world of love, respect and safety, but if they are reading this article today, I want the Rev. Sab Masada and his wife, Marion, to know that what they are doing touched me in ways they can never imagine.
In a conservative city, in a conservative community, knowing there are voices who are speaking up with love and inclusion for my son moves me so deeply and gives me hope that when I am gone, there will be others fighting for Aiden.
I also want to thank Pastor Akiko for reaching out to me with "agape." I am so grateful for the work she is doing to bring greater awareness and compassion to the LGBTQ community.
And I want to thank all of you, my readers, from cities near and far, large and small, for the work you are doing to bring greater love and acceptance to your communities. Our world needs it more than ever … and so do families like mine …
Marsha Aizumi is an advocate in the LGBT community and the author of the book "Two Spirits, One Heart: A Mother, Her Transgender Son and Their Journey to Love and Acceptance."