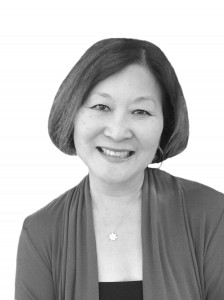 By Marsha Aizumi
This summer, I attended a conference in San Francisco with the National Queer Asian Pacific Islander Alliance along with more than 600 other LGBTQ individuals, parents and allies. I am always so amazed at the connections and healing that happen at conferences like this. Often workshops, plenaries and conference activities spark conversations and bring about vulnerable interactions, whereas in everyday life, it may be harder to have these conversations or interactions, especially with family members.
Here are a few connections I was able to witness that just melted my heart.
On Day 3 of the conference, I saw healing descend upon a ballroom full of LGBTQ 
individuals. About 25 parents walked onstage and faced an audience of hundreds of LGBTQ individuals. One mother speaking for us all brought messages of love, hope and gratitude, which parents had submitted to her previously. Here is an excerpt:
We are parents who love our LGBTQ children.
You are changing the world as you are changing us. You are changing the world by showing up as who you are and by the work that you do.
You are loved. We want you to know that no matter what anyone says — you are beautiful and lovable and deserving of love just the way you are.
We are on our own journeys. Some of us have done hurtful things to our children. 
We are sorry. We are learning to do better, and we are learning to forgive ourselves. We ask for your patience as we give you our hearts, full of love.
We are here for you. We will fight for you. We will talk to your parents if they are willing. We will go into spaces that aren't safe for you and try to make them safer. We will you give you hugs (but only after asking permission) and we will be there for you when you need us.
People say there was not a dry eye in the audience. I imagine that to be true.
As the parents descended the stage after this heartfelt message was delivered, I saw a queer child walk down the aisle to meet their mother. The mom had tears in her eyes as she met her child. The child had a smile of pride and joy that I have never seen on their face before. It was a moment of deep connection for that mother and child. And I believe that what that mother did by standing onstage told her child that no matter what, you will always be loved, accepted and have a place to belong. What a powerful moment for me to see.
I was also privileged to see a conversation that took place after one of the workshops. As the three of us were talking, the adult lesbian child turned to her mom with so much love in her eyes and said, "Mom, I knew you would always love and accept me, but I needed to know that you were proud of me. … When I told you and Dad (coming out as lesbian), I did it because I wanted to feel close to you and be honest with you. But I needed for you to tell me that different was wonderful."
I could see the mother processing what her daughter had just shared, and she slowly responded with thoughts that sounded something like this. "I accepted and loved you, and I didn't think I needed to say or do anything else," she said.
In that moment, I hope a mother realized that her daughter needed more — more words and actions of affirmation.
Aiden once told me that even though he knew I loved him, after he came out, he needed to hear those words more than ever. I didn't know that then, but I know that now.
Also in that moment, I saw a daughter verbalize something that had been in her heart for a long time. I hope that this conversation brought greater understanding between a mother and her child. Communication coming from compassion and love can bridge gaps and dispel stories we make up in our head.
I think we all have the ability to change stories that our children or our parents carry in their hearts that say they are not worthy of love and belonging. I wish I had some of those conversations with my mom and dad. I wish they knew how much I valued 
everything they taught me and how proud 
I was to be their daughter. They are no longer alive to hear those words, but somehow I hope they know how I feel.
I will not have those regrets with my two sons. Our vulnerable words and heartfelt conversations are etched in my memory. It takes courage to create those moments, but I believe it could be the greatest gift that I give my children even after I am gone. And I know it will be the greatest gift that my children will have given me when it is time for me to go.
Marsha Aizumi is an advocate in the LGBT community and the author of the book 
"Two Spirits, One Heart: A Mother, Her Transgender Son and Their Journey to 
Love and Acceptance."