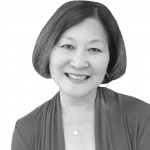 By Marsha Aizumi
With the Supreme Court ruling in favor of same-sex marriage for all states this year, the JACL delegates voting in favor of an emergency resolution to be a "vibrant ally" to the transgender community in July and Caitlin Jenner bringing transgender visibility to the forefront, you would think that as a mother of a transgender son, I would feel overjoyed to know that the world is moving in the right direction of equality for the lesbian, gay, bisexual and transgender (LGBT) community.
While I celebrate these victories and applaud all the work that is being done, there are still reasons for me to be scared for Aiden's future. One of them is a California initiative called the "Personal Privacy Protection Act."
If this initiative becomes law and a transgender person doesn't use a bathroom in accordance with their biological sex, then the law puts a civil bounty of no less than $4,000, plus attorney's fees, for that "willful violation" in the use of public bathrooms.
I shudder to think of this becoming law because many years ago, Aiden had to endure the embarrassment of being handcuffed by mall security with plastic ties because he went into the female restroom, and women thought he was a guy.
This was at a time when he was still identifying as female. From that time on, I am sure that he never felt safe in the women's restroom. Once he even told me when a woman glared at him as he walked into the women's restroom, he pulled up his T-shirt to prove he was in the right place. After Aiden transitioned to be male and began to use the men's restroom, he hasn't had to endure the humiliation of these types of incidences.
Now, where would my son feel safe if this initiative becomes the law? If he goes into the restroom of his biological sex, I have no doubt that he will be harassed and humiliated once again. There is no way that he will be seen as female.
Going into the men's restroom, there is a possibility that a civil bounty of no less than $4,000, plus attorney's fees, will be placed upon him. It is a no-win situation that could only bring the potential of physical harm to my son.
So, what are some possible solutions?
One solution would be to have designated gender-neutral bathrooms. This would be a bathroom that can be used by anyone. When I have used a gender-neutral bathroom, I know there might be men in there. Perhaps the first few times, it felt strange to me. I was not used to it. Now, I don't think anything of it. I remember watching a television program called "Ally McBeal" and going to a trendy restaurant in Chicago — both had co-ed bathrooms. I thought it was kind of hip and fun. I wasn't afraid.
Not all bathrooms have to be gender neutral, but having a few makes it easier for individuals, especially transgender individuals, to feel safe. It doesn't cost a lot of money to make a bathroom gender neutral.  I have attended conferences where they have just slapped on signs that say "Gender Neutral." My husband replaced a women's bathroom sign with one that showed both males and females could use it.
The cost was minimal.
Another solution is just to be aware. A sign that says "Women" on it does not make that restroom safe for women, just like a sign that says "Men" does not make the restroom safe for little boys. We must all be vigilant and aware to keep ourselves and our children safe.
Actually, I think having gender-neutral bathrooms could be a safe solution. Fathers can take their daughters and mothers can take their sons into gender-neutral bathrooms and not feel like their children are too old to be with them. I always worried when my son got to be the age where it was uncomfortable for me to take him into the women's restroom, and so I would wait nervously outside the men's restroom for him to emerge safely.
Fear is a very overpowering feeling. People use fear to control others, and that fear creates stories that swirl in our heads and moves us from a place of compassion and humanity. The only way that I was able to overcome the fear that entered my life when Aiden came out as lesbian, then transgender, was to learn more about the subject I feared, so I could make a decision on who I was going to be. I moved toward the fear and gathered the facts rather than jump to conclusions. I wanted to make informed decisions, not ones based in fear.
Do you want to know more about being transgender, this bathroom initiative or the LGBT community? Please reach out to me (maizumi8888@gmail.com) or someone at work or school to have a real conversation.
Let's talk about our fears and learn the facts so that we don't perpetuate myths and stereotypes that are untrue and make our world less humane. WE can find our voices by courageously using them. The world will not change with silence . . . only with courage and only with love.
Marsha Aizumi is an advocate in the LGBT community and the author of the book "Two Spirits, One Heart: A Mother, Her Transgender Son and Their Journey to Love and Acceptance."