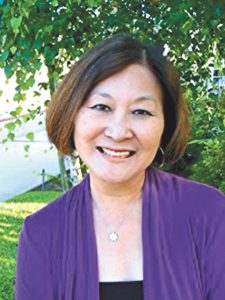 By Marsha Aizumi
One of the things that my work in the LGBTQ (lesbian, gay, bisexual, transgender, queer) area has done is brought me closer to my Nikkei roots, especially understanding the concentration camps during World War II.
My parents never talked much about their experience at Gila River. Growing up, my dad used to say, "If you can't say something nice, don't say anything at all." And so, I took their minimal conversation about camp as not having a lot of positive things to share.
But there is one area that Dad did talk about. It was the dances and the music. He played the saxophone in a band, and I know my mom loved to dance. Both of their eyes would light up when they talked about these memories. I think it was the music and the dances that shut out, for a short time, the shame and fear that surrounded them.
So, when I heard about Gerald Ishibashi's dream of bringing together Niseis for one last time to hear music from the camp days, which included the Harry James Orchestra, the Modernaires, the Island Crooners and Mary Kageyama Nomura, the Songbird of Manzanar, I was really intrigued.
Gerald has been a promoter of music for as long as I can remember — the Beach Boys, Kool and the Gang, Three Dog Night (just to name a few) — and he even performs with the Society of Seven from Hawaii. But when I hear him talk about this project, it is different. He says these Nisei programs have been the most fulfilling events he has been a part of, and you can truly feel the passion, pride and gratitude in his voice.
I asked him where his strong feelings came from. He thought about his childhood and talked about the 442nd and the MIS. When he saw the "Go for Broke!" movie, he asked his dad if this was a true story. His dad answered that it was. At that moment, Gerald said these individuals became his heroes.
As he grew up and learned more of the stories, Gerald realized what the Issei and Nisei had to endure after camp. Many had lost everything. Most had no home to go back to, no job waiting for them and society looked at them with suspicion and often hatred. Yet, our grandparents and parents moved forward with qualities such as integrity, honesty, responsibility and just being hard workers. They channeled their energy toward the future and contributed in a positive way.
And it is because of the Issei, Nisei, the 442nd and MIS that Gerald believes he was given role models for never giving up on your dreams. Every time he faced a challenge of being a Japanese American in the entertainment field, he remembers individuals who had nothing — but came back to create a wonderful life for their family … for his family. He has been inspired over and over again, and listening to his stories, so am I.
My husband and I will be attending this event. I wish our parents were alive so we could take them. Instead, we will be sponsoring some Nisei who may not have family to buy them a ticket.
And as I sit in the audience, I will not only think about my parents and grandparents with gratitude and love, but I will also be thinking about the Nisei and Issei who lived through a difficult time with grace, strength and faith, giving us all an example of how to face challenges and emerge not defeated but defined by it all.
"The Great Nisei Reunion III" will be held on Nov. 12 at 2 p.m. at the Redondo Beach Performing Arts Center, located at 1935 Manhattan Beach Blvd.
For more information, visit www.purplepass.com/ishibashi or call (800) 316-8559.
Marsha Aizumi is an advocate in the LGBT community and the author of the book "Two Spirits, One Heart: A Mother, Her Transgender Son and Their Journey to Love and Acceptance."