Fox Fails Again in Study of TV Networks' Commitment to Diversity, Inclusion
P.C. Staff Report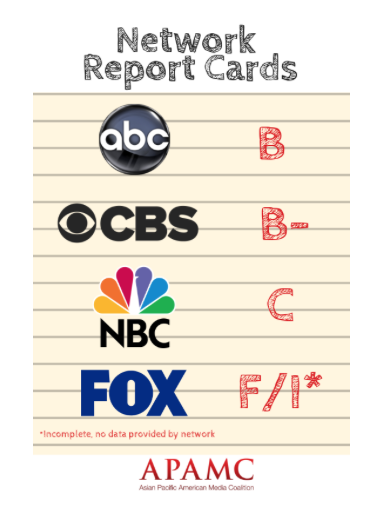 Just in time for the beginning of Asian Pacific Heritage Month, the Asian Pacific American Media Coalition on May 1 released its annual report card grading the four terrestrial broadcast networks, with ABC receiving a B overall to top the rankings and Fox Broadcasting Co. receiving a last-place F. CBS was No. 2 with a B minus, followed by NBC with a C.
The APAMC — which is comprised of nonprofit groups Asian Americans Advancing Justice—AAJC, East West Players, the Japanese American Citizens League, Media Action Network for Asian Americans, National Federation of Filipino American Associations, OCA—Asian Pacific American Advocates, Sikh American Legal Defense and Education Fund and Visual Communications — issued the report card for the 2017-18 TV season.
According to the group's news release, the networks were graded on " … their progress toward full inclusion in scripted and unscripted programming, writers/producers, directors, development, their commitment to the diversity initiatives they have adopted, and the new category of Diversity Department Relationship with the Coalition."
The coalition's reason for the FBC flunk was its failure " … to comply with its obligations to provide data or meet with the Coalition." Said APAMC Chair Daniel M. Mayeda: "The Coalition is very disappointed that Fox once again has violated its commitment to provide data on its diversity efforts and results. We call on the new leadership of the Fox broadcasting network to quickly come into compliance with its MOU so that the Coalition can work with them to increase API presence in Fox's programming."
JACL Executive Director David Inoue said, "As we continue to hear immigrants and religious minorities referred to as illegals or unpatriotic, it is important that our media provides realistic portrayals of minorities to reinforce the fact that minority stories are American stories. In the current 2018-2019 season, two shows center around Asian families as 'Fresh Off the Boat' (ABC) celebrated its 100th episode and 'I Feel Bad' (NBC) ran in the fall season. These shows demonstrate progress continues to be made, but there is much more that can be done to include APA actors in a wider variety of roles."
In an interesting sidenote, the top-ranked ABC's parent company, Disney, in March bought most of Fox's entertainment assets for $71 billion. The deal, however, did not include FBC, nor its owned-and-operated network affiliates, as well as Fox News Channel, Fox Business Network and Fox Sports.
The APAMC has issued TV network report cards since 2001. To read the full report, visit https://tinyurl.com/y5vy4q59.