Hirahara is acknowledged for her work in preserving the Japanese American Story in the City of Anaheim.
ANAHEIM, CALIF. — The Anaheim Union High School District Board of Trustees recognized Patti Hirahara, a lifelong resident of Anaheim, for her contributions to the Anaheim Union High School District community on Jan. 16 at its monthly board of trustees meeting.
Hirahara, who has been a facilitator of U.S.-Japan relations for 40 years, felt the time was right to focus on the rich and storied history of the Japanese pioneers in her hometown of Anaheim. She wanted to find a way to give back to her own community by preserving the Japanese American legacy as she had helped do with the Smithsonian National Museum of American History's Japanese American Collection and History Endowment.
Hirahara thus created "The Poston Experience," a special educational program held at historic Anaheim High School on Aug. 24, which highlighted the true experiences of Japanese American students from AHS who were sent to the Poston, Ariz., incarceration camp during World War II.
With 800 people in attendance, this was one of the most successful programs produced by the AUHSD and a first to talk about the history of Anaheim's Japanese pioneers in an educational setting with videos created or performed by current students from both the AUHSD and the Anaheim Elementary School District.
Two videos that were created especially for this program, one from the AUHSD Film Academy students entitled "Remember Us: An Historic Chapter at Anaheim High School" has just been selected for the fourth edition of the International Documentary Film Festival RushDoc, which will be held at the end of this month.
The film is representing the United States in this international competition and talks about the incarceration of AHS's Japanese American students and their forced evacuation during 1942.
The second video, "Cherry Blossom," was created by AHS Dance Production students with choreography by dance director Oscar Gonzalez. Dedicated in honor of the 120,000 Japanese Americans forcibly incarcerated during WWII, as well as those from the AHS Class of 1942, this moving dance interpretation was selected to be shown at this year's 2020 Films of Remembrance for the category "Art Inspired by the Camps," presented by the Nichi Bei Foundation on Feb. 22 in San Francisco and Feb. 23 in San Jose, Calif.
"It is wonderful to see the student's work being honored by the Nichi Bei Foundation as well as being selected to tell the Japanese American incarceration story in an international film competition for more people to be educated about what happened 78 years ago," Patti Hirahara said.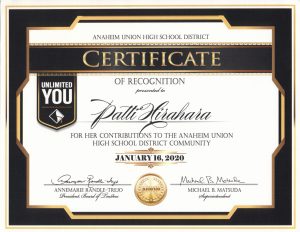 "For 21 years, I have worked to preserve the history of Anaheim's Japanese pioneers, and it had been my dream to have the City of Anaheim become a model for cities around the country to see how one American city can tell our story. Not only is this story focusing on Anaheim's Japanese families but those that attended my alma mater of Anaheim High School before the war, which was founded in 1898. It is amazing to see how everything is coming together, and now, we are discussing on how this can be added to the curriculum in Anaheim schools," Hirahara continued.
"Dreams can come true with the help of an entire community, especially with the support shown by the Anaheim Union High School Board of Trustees, AUHSD Superintendent Michael Matsuda and the staff and students of the AUHSD for giving me this opportunity," Hirahara concluded.
In addition, the AUHSD board of trustees cited Hirahara for her help in creating the Anaheim Muzeo Museum exhibition "I Am an American: Japanese Incarceration in a Time of Fear" for the City of Anaheim that was on display from Aug. 24-Nov. 3, 2019.
The exhibit revealed stories of incarceration, survival and success of Anaheim's Japanese Americans, as well as their time at the Poston War Relocation Center during WWII.
During the exhibit's run, more than 3,000 people came from all over the U.S. to see this unique exhibition, which featured the unknown history of this Anaheim Japanese community.
Due to this successful exhibition, the City of Anaheim will be holding a second Japanese American-inspired exhibition in 2021 at the Muzeo.
Hirahara is a member of the board of directors of the SELANOCO JACL and was honored last year by the JACL PSW District and SELANOCO JACL for her efforts on this Anaheim endeavor.