Journalist, activist also authored redress book titled 'Born in Seattle.'
By P.C. Staff
Robert Sadamu Shimabukuro, known to readers of the newspapers Pacific Citizen and International Examiner as Bob Shimabukuro, died March 29 of natural causes. He was 75.
According to his widow, Alice Ito, Shimabukuro was born in Maui, Hawaii. He attended Portland, Ore.'s Reed College, where he earned a philosophy degree.
In addition to his editorial stints, Shimabukuro's written-word output also included the book "Born in Seattle: The Campaign for Japanese American Redress," a project of the Seattle JACL Chapter.
Ito said the chapter specifically chose Shimabukuro to write the book for a few reasons. In addition to his journalism experience, he served as president of the Portland JACL Chapter during the time of the Commission on Wartime Relocation and Internment of Civilians hearings in the early 1980s and assisted in preparing former incarcerees to speak publicly about their experiences, which for many proved to be a cathartic experience after decades of repression.
In 1996, the Seattle Chapter recognized Shimabukuro for his activism and community service with its Don Kazama Human Rights award.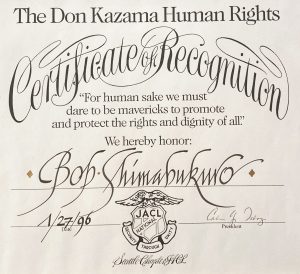 Shimabukuro's daughter, Mira Shimabukuro, told the Pacific Citizen that her father's community activism extended beyond the Japanese American community, noting that he also started the Asian Pacific AIDS Council (APAC) in Seattle to "both raise awareness and provide culturally relevant community education" about AIDS. "He worked for and ran APAC for many years," she said.
Mira Shimabukuro, who teaches at the University of Washington, Bothell, and authored the book "Relocating Authority: Japanese Americans Writing to Redress Mass Incarceration (Nikkei in the Americas)," noted that her father's interest in APAC stemmed from losing one of his brothers, Sam Shimabukuro, to AIDS in 1988.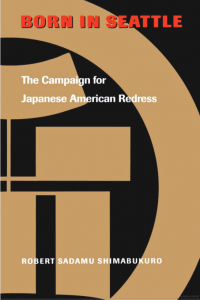 In addition to his writing skills, Bob Shimabukuro also was a carpenter and woodworker, which came in handy when Seattle's Wing Luke Museum of the Asian Pacific American Experience had its first commemorative exhibition about Executive Order 9066. Mira Shimabukuro said he was part of the team that built a replica of the type of barrack that housed Japanese Americans in the 10 War Relocation Authority centers during WWII.
She also noted that around the time her father began to step away from his activities with APAC, her brother, Zenwa Shimabukuro, from her father's second marriage to Ito, was born and he focused on being a caregiver for him "when he was a young guy."
J.K. Yamamoto, who worked at Pacific Citizen early in his journalism career, served with Shimabukuro at the paper. For a time while he was there, Karen Seriguchi was editor, Shimabukuro was the assistant editor and Yamamoto was the editorial assistant.
Yamamoto recalled that the 1980s was a period of high turnover at the Pacific Citizen. According to the paper's digital archive, Shimabukuro's name first appeared in the newspaper's masthead in the Jan. 18, 1985 issue.
Prior to that, Harry Honda, who had served as the newspaper's editor after the departure of Larry and Guyo Tajiri in October 1952 (at which time the newspaper moved to Los Angeles from Salt Lake City), was compelled to step away from the editorial operation in the early 1980s, and he became the general manager.
Honda was succeeded as editor by Peter Imamura in October of 1982, who resigned in May 1983 after being accepted in UC Berkeley's Summer Program for Minority Journalists.
Following the departure of Imamura, Seriguchi joined the paper as news editor in December 1983 and later became its editor. Her last issue as editor was May 10, 1985, after which she became the executive director of the then-nascent Asian American Journalists Association. At that point, Shimabukuro became Pacific Citizen's acting editor and Yamamoto became assistant editor.
During his time on the P.C. staff, Shimabukuro began writing a column for the paper, titled "One Thing Leads to Another," accompanied by a photo of him smiling and wearing a T-shirt. Although his words were indicative of his wit and worldview, that photo, Alice Ito believes, would later work against him.
"The fact that he was wearing a T-shirt in his headshot was not very well received. In those days, to be professional meant that you had on a collared shirt, if not a tie. Again, he was pushing the edge in those days of what people thought was appropriate," Ito said.
Shimabukuro and Yamamoto would continue to produce the paper, even as the Pacific Citizen moved from the JACCC, where it had an office separate from the JACL's Pacific Southwest District office, to 941 E. Third Street in what is now known as L.A.'s Arts District, encountering an unexpected problem that made producing the paper in the summer unbearable: an out of order air conditioning system.
Yamamoto recalled that one of Shimabukuro's highlights at the time was producing the 1985 Holiday Issue, which was devoted entirely to the topic of Interracial Families, which for the Japanese American press was a landmark. Mira Shimabukuro said she remembered that issue well, as she was pictured among the many photos on the cover, since she herself was the result of the mixed-marriage between her father and his first wife.
Yamamoto also noted that under Bob Shimabukuro's leadership, the issue included another first to of sorts, since it included an article written by Sam Shimabukuro on his gay interracial relationship with his partner, Bruce MacDonald. He also, Yamamoto recalled, added a different cartoonist named Shinji in the paper.
Mira Shimabukuro said she felt that her father was "always trying to push the edge a little bit at Pacific Citizen" about what the paper might cover or take on. While that might be considered forward-thinking now, Bob Shimabukuro's thoughts on the editorial direction of the paper, like that photo of him that accompanied his column, may have worked against him.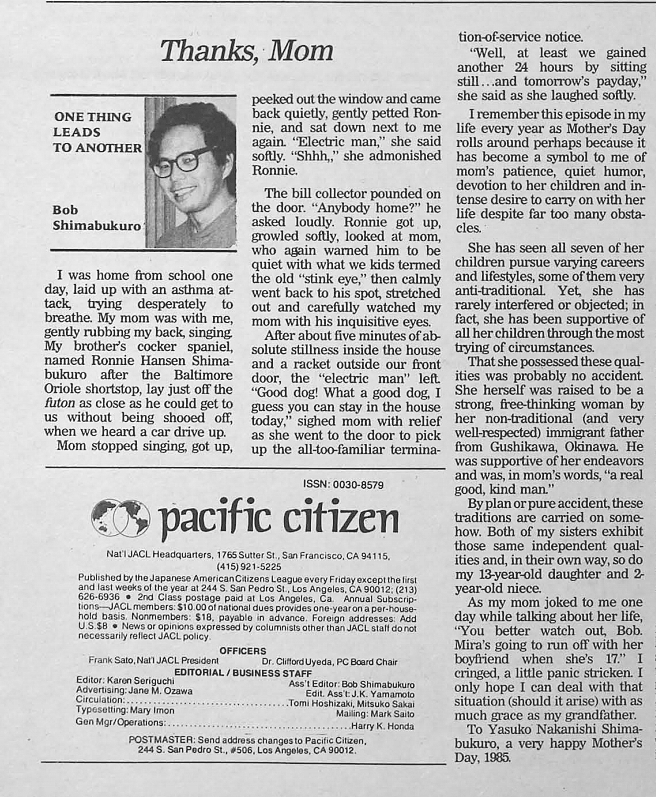 Although Shimabukuro proved he was capable at putting the paper out for more than a year, his bid to take on the role as Pacific Citizen editor failed. He was passed over in favor of Lynn Sakamoto-Chung, who became editor in August 1986; his last issue was the December 1986 Holiday Issue, after which he left Los Angeles for Seattle.
"He was perturbed that he was never made the editor of the newspaper and that was one factor in his decision to leave California," Ito said. "It was a disappointment to him, but I think, again, during that era, he thought perhaps one reason was that he was outspoken in his writings and in the way that he conducted work and that perhaps there was some thought on the part of the board of the Pacific Citizen that might have been one of the factors in their decision."
It may, Ito said, have been an example of the Japanese saying about how the nail that sticks up gets hammered down. But it must have worked out, since she and Bob married in Seattle in 1988, and he was able to care for his ailing brother.
For Mira Shimabukuro, her father's memory and legacy provides some solace amid the loss. "Losing him right now is incredibly difficult because he was such a multifaceted person and we were very close. He was an incredibly incisive storyteller that I think people can see in his writing. He was also an incredibly kind and gentle human being. Up here in Seattle, the community is really mourning him," she said. "He was an incredible father."
Bob Shimabukuro was predeceased by his parents, Zenshu and Yasuko Shimabukuro. In addition to his widow, Alice Ito, and children, Mira Shimabukuro (Wayne Au) and Zenwa Shimabukuro, he is survived by a grandson, Mako; siblings, Toki Shimabukuro, Ann Colunga (John Droegmiller), Roy Shimabukuro, Ned Shimabukuro (Dee); and Irene Whitaker (George); and nieces and nephews.

SHOPPING ON AMAZON? FIRST CLICK THE LINK BELOW AND HELP THE PACIFIC CITIZEN!