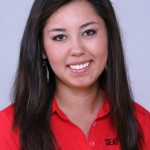 By Nicole Gaddie
In 1984, a group of JACL (Japanese American Citizen League) and OCA (formerly Organization of Chinese Americans) community leaders, each with varied historical and generational backgrounds, convened in the nation's capital to enter the national policy-making arena.
More than 30 years later, I joined another group of Asian American leaders to return to Washington D.C. and advocate in the same way our predecessors had.
My name is Nicole Horiuchi Gaddie. I am 22 years old and fourth-generation, Yonsei.
I live in the predominantly white state of Utah in a middle-class neighborhood. Although I have served in various school and community leadership positions during my mere 22-year lifespan, advocacy continues to be a term that overwhelms and intimidates me.
This is why I decided to attend the JACL/OCA Leadership Summit in D.C. —to understand what it means to be an advocate in a divided society and how I can support those whom I share values and beliefs.
Shortly after arriving in Washington, our newly formed group of JACL and OCA members traveled to the OCA National headquarters where we met Norman Mineta. His accolades stretch the gamut from serving as Mayor of San Jose and representing the 13th and 15th districts of California to serving as US Secretary of Transportation and Commerce under President Clinton and Bush.
Although Mr. Mineta's accomplishments are inspiring and indeed admirable, his belief of individual pride and flourishing are most memorable. "Be proud of who you are," said Mineta as he spoke about being interned at Heart Mountain during WWII.
Maybe it was Mr. Mineta's energy and wisdom. Maybe it was the fact that I was within miles or our country's leader and surrounded by monuments of our most formative fathers. Regardless, I was inspired.
During the following three days, we met individuals from a variety of AAPI and governmental organizations. We learned about the state of the American education and immigration system, which was daunting, especially considering that we would be meeting with senators to lobby the issues in less than 48 hours.
Education inequity infiltrates our education system, disproportionately affecting minority students. The All Students Count Act was introduced by Rep. Mike Honda (D-San Jose) in 2014. The bill calls on federal government to be more specific and segmented about race, gender and disabilities of students in grades K-12.
Japanese and Chinese American students have different experiences than Indian American, Hmong American or Filipino American students. Lumping together all data under the broad bucket of "Asian" hides the critical differences in educational experiences of subgroups, which includes 48 ethnic groups comprising "Asian-American" and 24 groups comprising "Native Hawaiian and Pacific Islander." It's important to identify these differences through data segmentation in order to know how groups are doing in school, and what can be done to provide a strong education for them.
The struggle of minority students is prevalent in my hometown of Salt Lake City. The North and South Side of the valley are starkly different. Neighborhoods grow dense and buildings become smaller the farther South you drive. In the South side, 32 percent of the 25,000 residents speak a language other than English. Over a quarter of South Salt Lake's youth are under the age of 18 and 46 percent are below grade level in math, 39 percent below grade level in language arts.
Rep. Honda's bill could drastically improve education in my city, its national consequences could prove to be even more extreme. My initial fears turned to eagerness as I prepared to meet with Sens. Orrin G. Hatch (R-Utah) and Patty Murray (D-Wash) to garner support for the bill.
After White House briefings, panel discussions and a brief visit with Reps. Mike Honda and Mark Takano (D-Riverside), we were off and running through the giant concrete maze that is Capitol Hill. Our legislative visits ran smoothly with productive conversation. All visits were ultimately a success due to the dialogue and relationships that were initiated.
Overall, my traditional perception of advocacy was dismissed. In its place grew a new appreciation. Advocacy does not need to be done alone. Battles are fought and won by passionate people coming together on the basis of creating change.
We, as Asian Americans, are united and can make a difference in the education sector, immigration sector or anywhere else that inhibits fairness and equality
(Thank you to the IDC who graciously sponsored my trip to D.C.)