Racism is a form of 'captivity trauma' that affects communities of color, panel says.
By Ray Locker, Contributor
As he prepared to take his young family on their first road trip, Dr. Arthur Evans packed a lunch of fried chicken, just as his mother did when he was young, and added some empty jars in case they had to go to the bathroom on the road.
Evans paused and asked, "Why are we doing this?" He realized that he was carrying on the trauma suffered by his African American family when racial discrimination prevented them from stopping at the restaurants or rest areas they wanted.
Now the president and CEO of the American Psychological Assn., Evans told a panel on May 19 about how and his other people of color have suffered from what fellow panelist Dr. Satsuki Ina, a 2020 APA Presidential Citation awardee, called "captivity trauma."
Evans and Ina spoke as part of the panel called "Healing Fractured Communities: Coming to Terms With Systemic Trauma" that was sponsored by APA, the Heart Mountain Wyoming Foundation and the JACL.
The panelists, including author and Heart Mountain Chair Shirley Ann Higuchi, emphasized the need for unity among groups that have been systematically oppressed during U.S. history.
That oppression includes the Japanese American incarceration during World War II, which affected both Ina and Higuchi. Ina was born a prisoner in the Tule Lake incarceration site in California, where her father was forced into the camp jail, while Higuchi's parents met as childhood incarcerees at Heart Mountain in Wyoming.
Evans has visited Heart Mountain and said his "allyship comes out of being in a group that's been systematically oppressed.
"The way oppression works is that you never want the people who are being oppressed to get together," Evans said.
Coping With Systemic Trauma
Too often, Evans said, psychologists treat the biological aspects of mental health but ignore the effects trauma can have on long-term mental health.
"That pervades how we do the work," he said, "but there are external factors we need to consider. We need to understand the social determinants and understand how history matters."
Moderator Aura Newlin, secretary of the HMWF Board of Directors, asked the panel how they manifested signs of long-term trauma in their lives.
Higuchi said she has reacted during her life to the signs of trauma exhibited by her mother, Setsuko, who remained fixated with real estate after her family was forced from their home in San Francisco.
"She always wanted to be able to move quickly," Higuchi said.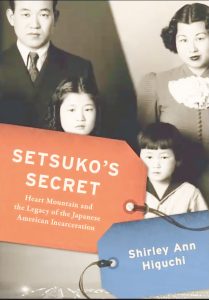 Higuchi detailed the incarceration and its effect on her life and other Japanese Americans in her new book, "Setsuko's Secret: Heart Mountain and the Legacy of the Japanese American Incarceration." Much of what happened to the Japanese American community that Higuchi documented in her book was due to racism.
Racism, Ina said, "is a form of captivity trauma. It is so pervasive as a result of the supremacy of whiteness that has been embroidered, woven into almost every aspect of our lives."
Oppressed people react to captivity trauma by either identifying with their oppressors and trying to please or by resisting, Ina said.
Many incarcerated Japanese Americans during WWII reacted by seeking favor from those who had imprisoned them. They tried to be more patriotic than Caucasian Americans and often shunned Japanese Americans who resisted their treatment.
Higuchi detailed the harsh treatment of Japanese Americans who resisted the military draft in her book and said her mother wanted her family to be more American than their neighbors.
The Corrosive Effect of 'Weathering'
The panel was joined by David Inoue, executive director of the JACL, and Dr. Maysa Akbar, the head of diversity for the APA.
Akbar described how racism and oppression causes "weathering" among the people subjected to it.
"Day in and day out, they feel that drip, drip, drip of oppression, and if you constantly have that drip, you're going to see an erosion," she said.
"If you're living up to the Model Minority myth, that's a weathering for the Japanese American community," Akbar said.
In "Setsuko's Secret," Higuchi wrote about how living up to the expectations of the Model Minority myth contributed to the early death of her older brother, Ken.
Members of all communities "have to build solidarity and coalitions with each other," Akbar said. "Ultimately, that's the only path to reconciliation."
SHOPPING ON AMAZON? FIRST CLICK THE LINK BELOW AND HELP THE PACIFIC CITIZEN!