Dual immersion and family are depicted in Lulu Wang's wonderful telling of an immigrant family.
By Connie K. Ho, P.C. Contributor
With Warner Bros. Pictures' "Crazy Rich Asians" premiering last year, ABC's "Fresh Off the Boat" currently on television and Disney's "Mulan" set to debut next year, there seems to be a rising tide for Asian American representation in Hollywood.
Not since the telling of "The Joy Luck Club" in the 1990s has the stories of Asian American families appeared so frequently. The recent release of writer-director Lulu Wang's story heralds another wonderful telling of an immigrant family.
"The Farewell" centers on Billi (played by Awkwafina), who lives in Brooklyn, N.Y., and her grandmother (Zhao Shuzhen), who lives in Changchun, China. They communicate regularly and have a close relationship, and it devastates Billi when she finds out that her grandmother has been diagnosed with cancer and handed a death sentence.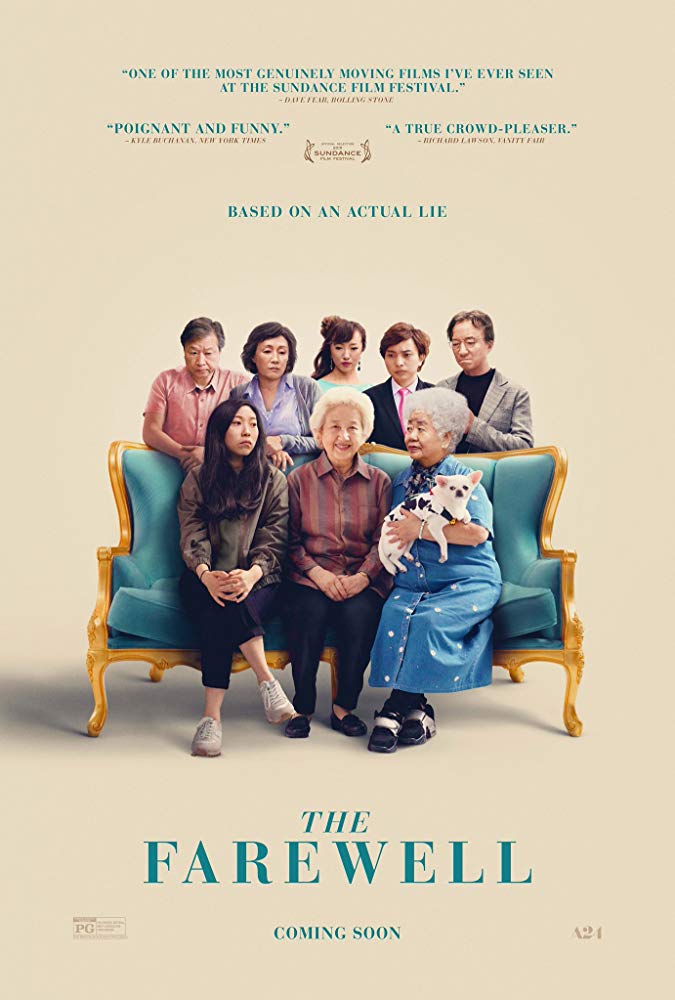 Billi's family has decided not to tell her grandmother the diagnosis, and they go about planning a return home to China under the guise of a wedding for a cousin, who is a marrying a Japanese girlfriend. Billi is asked not to attend the reunion, with her parents afraid that she will blow their cover. She decides to go anyway, and the narrative follows her experience abroad.
Wang's story was first told as a segment on the radio show "This American Life," and much of "The Farewell" dovetails with the piece; on the clip, Wang described how she came to China to spend time with her grandmother and how she was asked to keep the same ruse for her family's sake.
Even though much of the film is in Chinese with subtitles, there are universal themes to which many can relate. A theme weaved throughout is the experience of leaving home and how that may cause anguish, whether for the individual who finds him or herself in a new country and has to navigate a new way of living or the pain that a parent may feel when left in the home country, having to cope with a child living abroad and no longer close at home.
Another theme is the comparison of values and living styles of East vs. West.
Billi is told that many Chinese families would not choose to tell an elder that they are dying of a disease. An uncle who immigrated to Japan notes that not telling his mother her prognosis is allowing him to shoulder for her the emotional toll and burden of having to face death, something that he believes resonates with those who live in a society with Eastern philosophy.
The uncle sees Billi as selfish in wanting to tell her grandmother about her lung cancer, saying how those in the West may view telling the truth as necessary, but it is more a way to remove his/her own burden and responsibility.
In "The Farewell," viewers are made to confront their own mortality as well. There's an exploration of Buddhist memorial services, where bows are made at shrines with pleas to ancestors. Incense and items are burned as offerings while tables are decorated with flowers and candles. It's a rare and unique look into the ways that those with Buddhist philosophy would worship and mourn family members.
With the infusion of religion, there is also the debate of what's right, and what's wrong, what is truth, and what is a lie. The family has opted not to tell Billi's grandmother about her diagnosis, and each relative has a differing perspective on the lie. Moviegoers are asked to consider when the circumstances for a lie are good, when the lie is bad and how a lie can impact others.
In addition, there's the feeling of code switching that many immigrants may feel and experience on a daily basis, where individuals are alternating between multiple languages and cultures.
The main character speaks with her grandmother in Chinese, but between long, tense moments of dialogue, she reverts to English to speak with her parents to inject opinions or thoughts that she doesn't want others to necessarily understand. Billi also often asks for clarifications on terms or words as others who grow up speaking a second language may identify with.
As an Asian American growing up in Southern California, it's not often that this particular viewpoint is reflected and represented in the media — the feeling of being split between two cultures in the East and West — and so it is heartening to see some of those experiences highlighted onscreen.
There's a clear juxtaposition of American culture with Asian culture where characters are seen in a variety of scenes that sprinkle in cultural activities, whether that be exercising and doing Tai Chi out in a courtyard, taking glamour photos in a studio for a wedding album or relishing dinner at a banquet with feasts of delicious seafood along with a round of karaoke.
There is also a sense of the politeness culture found in Asia and a focus on "saving face," where families believe in putting up a strong front rather than showing any signs of weakness.
Similarly, the depictions of the characters break stereotypes of Asian representation in mainstream media. The family members all grapple with multidimensional issues, whether that's striving to achieve a better life through education or dealing with both the benefits and deterrents of technology.
In one scene, Billi attempts to take a look at her grandmother's old home, where she had spent time playing when she was young; Billi is seen looking into the past and coming to terms with how that relic of her childhood is no longer there.
The director paints a layered image of these situations and emotions, pulling at the heartstrings and noting the range of moments this one family experiences.
The movie is a colorful exploration of these various ideas. It is encouraging to see the nuanced storytelling, and it is something that leaves audiences wanting to discuss, prod and converse on the topics furthermore.
The cast lifts the film in more ways than one, with actress/rapper Awkwafina adding her comedic timing, Zhao relaying a warmth and energetic spirit to the role of grandmother Nai Nai and Tzi Ma providing a stern yet conflicted take as Billi's father.
The film opens nationwide on Aug. 2. Details are available at tickets.thefarewell.movie.