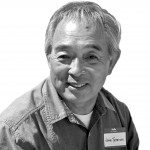 By John Tateishi
I was born in Los Angeles, spent my formative years from ages 3-6 in Manzanar and, after the war, returned with my family to West Los Angeles.
Sawtelle to the locals.
The Sawtelle Japanese American community was a small, close-knit community contained within about a square mile, bordered by Sepulveda and Bundy on the east and west, respectively, and Santa Monica and Olympic, north and south.
It was the kind of community in the 1940s and '50s where everyone knew each other. No one ever went unnoticed, a place where just about everything and anything you did was known eventually by everyone.
At the heart of the Sawtelle community was a four-block stretch of Sawtelle Blvd., anchored at the north end by T & T Service gas station and Olympic Lawnmower Shop, and Tensho Drugs and Yamaguchi's at the south. Most of anything you needed could be found within that four-block stretch of Sawtelle: a couple of Nisei-owned grocery stores, a barber shop, a few mom-and-pop restaurants, a dry cleaners, Ikeda's Auto Repair (everyone knew Ikeda's), three gas stations, a TV repair shop and more. What you couldn't find on Sawtelle, you could find on Santa Monica Blvd, what I used to think of as the hakujin(ITAL) street. I don't remember a single Japanese American-owned business on Santa Monica in those days.
There wasn't much that distinguished us there. Guys from WLA were considered "nice guys" and the girls "sweet," and I guess we were those things. No tough guys, no duck-tail hair styles, no yogores(ITAL), just a bunch of innocent kids growing up in post-war America.
Perhaps the thing that most distinguished us from each other in Sawtelle was our religious affiliations. The Buddhist kids were more attuned to cultural traditions than those of us who grew up Methodist or Baptist. They spoke more Japanese than we did and maintained cultural arts and traditions, like O-bon(ITAL), tea ceremony (called chanoyu(ITAL), as I recall), and they seemed to understand better the seasonal ceremonies (like sakura(ITAL)). Me? What I liked were the different kinds of foods for different occasions during the year, like (and especially) o-sho-gatsu(ITAL).
Most of our fathers were gardeners who had routes in Beverly Hills, Westwood, Bel Air, Brentwood and what we used to call "the canyon," i.e., Santa Monica canyon, the areas in which some of Los Angeles' most wealthy lived in large, expensive properties, some sprawling estates so large it would take an entire day twice or three times a week to maintain the property.
By the time we reached junior high school age, my friends and I spent our summers helping our dads on their gardening routes. Up at the crack of dawn and trying to get the last minutes of sleep in the cold discomfort of pickup trucks (trucks in those days didn't have heaters), we'd head out to the beginning of long days of work.
I don't think any of us liked having to go gardening, but it was good work and our fathers made a comfortable living at it. Japanese gardeners in those days were premium because they were the best and in high demand. The notion of "stealing" a Japanese gardener wasn't uncommon in those days. I saw my father more than once parlay an offer from a potential customer into a negotiation for higher pay with his current customer. In retrospect, what's interesting to me is the fact that my father's customers, like those others with Japanese gardeners, saw past the racism and bigotry that was so pervasive after the war and hired our fathers because they were good at what they did and were worthy of the trust placed in them.
In many ways, those were lessons for us as we watched our fathers interact with some of L.A.'s wealthiest individuals, some of them moguls of business, others big-name celebrities (Marilyn Monroe was one of my father's customers). In my father's case, these wealthy customers got no greater respect or attention than did the little old lady in Santa Monica whose small property my father also attended for years. If anything, he did more for her outside of his gardening work than he ever did for the others, like working on her plumbing or doing some carpentry work around her house. It always meant longer days, but I didn't mind. Some people you just help because they need it.
That was part of growing up in Sawtelle in those years marked by our innocence. It wasn't as if the ugliness of post-war America didn't touch our lives, because it did, sometimes in lasting and hurtful ways, but within the enclave of the Sawtelle community, we had each other and sometimes that was enough.
Sawtelle is still there, transformed by progress, but some of the stores and businesses have survived the passage of time. Friends I knew are still there, and many of the homes they grew up in are still there as well. Walk through some parts of the neighborhood and it's like walking into the past.
Things change, they always do. But it's nice that a place like Sawtelle has preserved so much of what made it such a great place to grow up.
John Tateishi is a former JACL national director.
Originally published on January 17, 2014