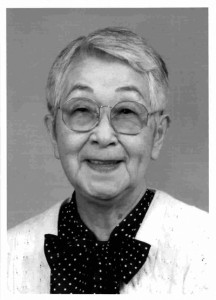 Ishibashi, Shizuye, 100, Sept. 18
Shizuye Ishibashi (1914-2014) passed away peacefully on September 18, 2014. She enjoyed and was known for her batik and shodo works. She is survived by her loving children, Amy (Aki) Niwa, William (Priscilla) Ishibashi, Johnny Ishibashi, Jean ( Alberto Saldamando) Ishibashi ; grandchildren, Stephen Niwa, Katherine (Lawrence To) Ishibashi, Lauren (Jon Asaoka) Ishibashi-Asaoka , Shizu Saldamando; grandchildren, Sage and Willow Ishibashi-To, and Melanie Asaoka.
Shizuye was a survivor of the U.S. concentration camps for Japanese Americans during WWII and raised a family with her husband while working as a waitress, seamstress, farmworker, domestic, and more. She valued education and modeled creating beauty in the midst of adversity. Her spirit lives on in the lives of all who came to know her and kodomonotameni.