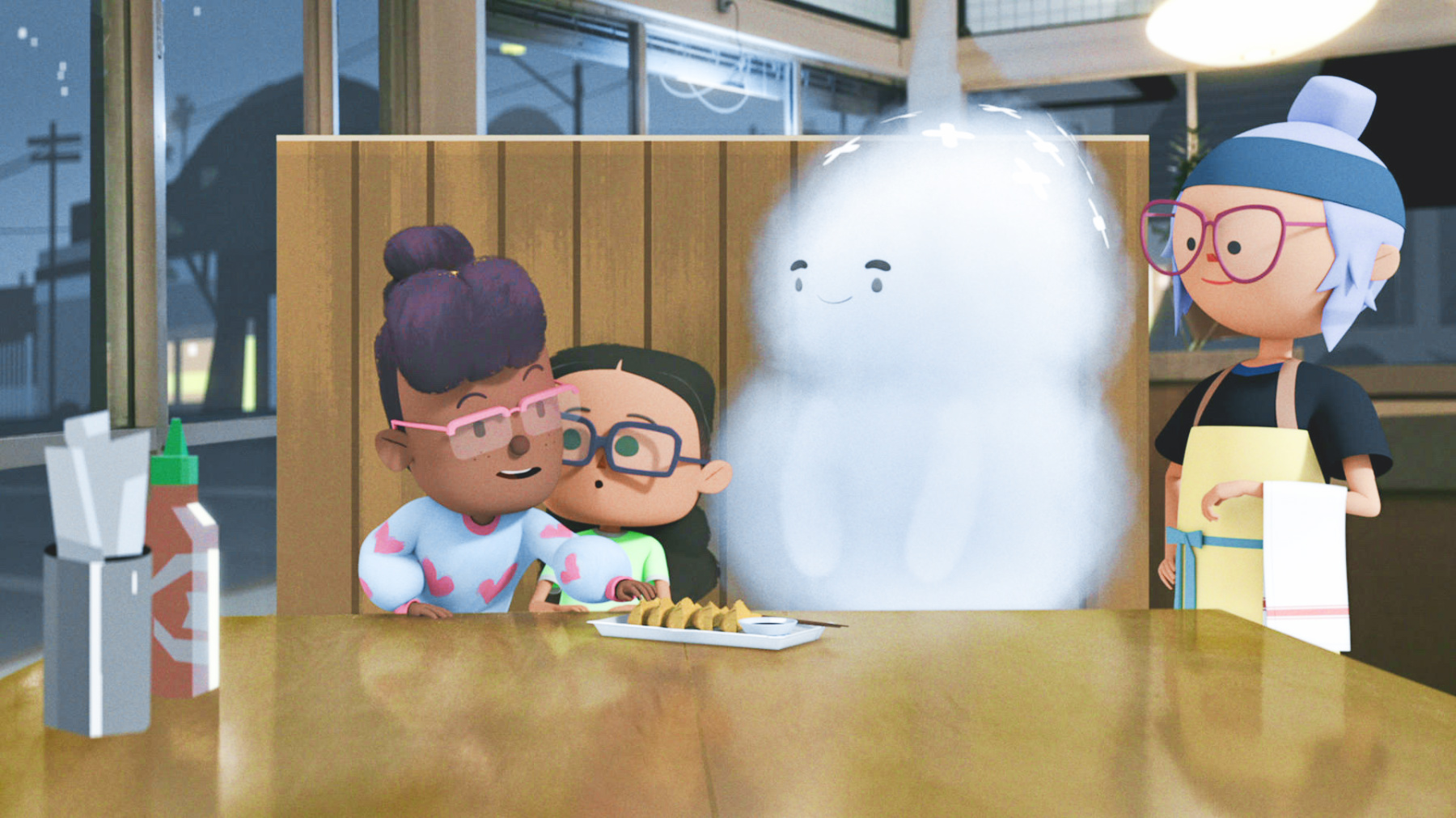 Episode of "City of Ghosts" titled "The Sort of Japanese Restaurant"
The Netflix cartoon combines kids, apparitions and a new view of L.A.
By P.C. Staff
One of the delights of 2021 for fans of both animation and residents of Los Angeles was the six-part streaming series "City of Ghosts."
Created by an animation industry veteran and a Los Angeles-raised local, Elizabeth Ito, "City of Ghosts" checks many boxes: love letter to overlooked L.A. neighborhoods, the supernatural, precocious-yet-innocent kid detectives of the Ghost Club and photorealistic backdrops populated by stylized, nonphotorealistic characters.
Netflix dropped "City of Ghosts" in early March, with both critics and viewers responding positively to the gentle and inclusive vision of Ito, who also co-wrote and directed episodes. Her team included another Japanese American, Ako Castuera (they met while working on "Adventure Time"), as well as other Asian American animation talent.
Two constants throughout: ghosts and kids. Fortunately, they aren't the frightening types of ghosts, but the type that want to teach and share their stories. And the kids? They sound like real kids and not trained actors because that's what they were; that, too, was by design.
"I really wanted them to sound like real kids," Ito said. "For that reason, I kind of requested kids that were younger than normally people ask for. In some cases, I think some of them couldn't read yet."
This presented challenges, since that meant someone would need to recite the lines and have the child actors repeat them, a practice opposite her experiences on other shows dealing with trained actors who don't like being told how to recite a line of dialogue.
Ito also said there was just a narrow window in which to record the kids while their voices had a particular quality that could change quickly.
Even the dialogue from the adults, Castuera pointed out, came from the interviews that were conducted with people from the different communities. "They were all hired because they were themselves," Ito added.
"City of Ghosts" came about when Netflix became interested in a short Ito had made titled "Welcome to My Life" with Cartoon Network. But it was tied up at CN, so when Netflix asked her whether she had any other ideas, she drew inspiration from growing up in Los Angeles.
"I did sort of have this vague idea about doing a show about all the stuff in L.A. that I would wonder about, like this random building where I would wonder, 'Why is this old building in this new development?' or little homes that don't look like the homes around it and how could we explore that," Ito said.
Ito combined that with a memory from when she was 6 years old and saw a ghost and how that related to VR (virtual reality), where "you feel like a ghost."
Castuera, whose mother is Japanese American from Hawaii and whose father is an immigrant from Mexico, also grew up in Los Angeles County and could relate to Ito's vision.
"I don't have the generational roots that Elizabeth does, but it put me in touch with different perspectives, people who were immigrants themselves or have roots that go back thousands of generations," Castuera said, referring to the "Tovaangar" episode.
Those threads and sensibility came together for the show, as evidenced by episode titles like "Koreatown," "Venice" and "Leimert Park," as well as neighborhoods like Boyle Heights and locations like the Bob Baker Marionette Theater, all giveaways that "City of Ghosts" takes a different tack at depicting L.A.
In "City of Ghosts," the City of Angels and its denizens are characters, and in a city that is so big, so sprawling and so diverse, there might be no end to the stories that could be told.
"I've appreciated everybody's reaction to the show," Ito said. "No matter whether there are more [episodes] or not, I'm really proud of what me and the whole crew made, so I'm really happy for everybody who worked on it, to see how much people love it, how much people love hearing their voices and how excited it makes people. So, I'm glad to have made something so meaningful for all of these communities that I'm now friends with."