JACL National President Gary Mayeda reacts to Major League Baseball Commissioner Rob Manfred's decision to defer punishment for Houston Astros player Yuli Gurriel's racist gesture until the 2018 season. (Photo: George Toshio Johnston)
By P.C. Staff
The morning after the Los Angeles Dodgers defeated the Houston Astros and forced a deciding Game 7 of the 2017 World Series, JACL National President Gary Mayeda joined a coalition of community groups that expressed dismay in Major League Baseball Commissioner Rob Manfred's decision to delay the punishment of Astros' player Yuli Gurriel following his racist mockery of Dodgers pitcher Yu Darvish in Game 3 on Oct. 27.
On Oct. 28, Manfred announced that Gurriel would have to undergo sensitivity training and be suspended without pay for five games beginning in the 2018 season, allowing the Cuban-born player to continue to play in the series.
During the Oct. 27 game, which the Dodgers ultimately lost, Gurriel hit a homerun off Darvish and upon returning to the dugout was seen on national TV making a mocking "slant eye" gesture in reference to Darvish and saying chinito, Spanish for "little Chinese boy." Darvish is a Japanese national of Iranian and Japanese heritage.
The incident caused a social media uproar among Asian American community organizations and fans, as well as amongst baseball supporters in general.
Gurriel later issued an apology to Darvish for his actions.
At the Nov. 1 news conference, which was held at the Japanese American National Museum in Little Tokyo, Mayeda compared Manfred's punishment to a parent disciplining a child months after misbehavior.
"Baseball is a test of skills, but more importantly, it is a test of character and respect," Mayeda said. "Commissioner Manfred, you fell short of that test and should have suspended Yuli Gurriel immediately."
Mayeda, asked by the Pacific Citizen whether he had watched the live broadcast of Friday night's game and Gurriel's gesture, said he had not.
"I found out about it over social media, the Internet and just seeing all the images come out, and I was just shocked and appalled," he said. "I thought it was an older picture. I really couldn't believe it was a current image from the game that was on the night before."
Mayeda said he also received supportive comments from different individuals and community organizations following the incident.
"It was a shock," he said. "I really couldn't believe this would happen today. It was a lesson for our community to figure out how to react to it."
Also at the news conference, Rev. Tim Yee of the Union Church of Los Angeles cited church member Hagi Kusunoki and her late husband, George, a member of the 100th Battalion/442nd Regimental Combat Team.
In WWII, the segregated U.S. Army unit, comprised mostly of Americans of Japanese descent, famously rescued 211 members of the so-called "Lost Battalion," the 1st Battalion of 141st Texas Regiment that had been trapped behind enemy lines for several days. The 442nd suffered more than 800 casualties in the rescue and its members were famously made "honorary Texans." George Kusunoki was awarded the Bronze Star in that battle.
"Hagi and George made incredible sacrifices for their country so that we would always remember the pain and injustice that racism can lead to," Yee said as he held up a photo of Hagi Kusunoki. "So, when 40,000 fans give a standing ovation to Yuli after being cleared to continue playing in the World Series, I think that Hagi's story has been forgotten."
The Media Action Network for Asian Americans called on Manfred to not only have Gurriel undergo sensitivity training but also make such training a requirement for all Major League ballplayers. MANNA's Guy Aoki also wanted Gurriel to come to Los Angeles for a meeting and tour of the Japanese American National Museum to "learn how at least one community has suffered because of ignorance, stereotypes and racial animosity."
Mitch Maki, president and CEO of the Go For Broke National Education Center, also weighed in, saying that "Major League Baseball failed to seize the moment. They failed to take the opportunity to say to Americans across the nation that racism has no place in baseball."
Asked if an "official letter" had been sent to Major League Baseball regarding the concerns of the organizations represented at the news conference, JANM COO Rick Noguchi said letters would be sent to both the League and Gurriel.
To read JACL National President Gary Mayeda's full statement, visit www.jacl.org.
JACL and other Asian American community groups express dismay over MLB's ruling regarding Yuli Gurriel's offensive gesture and derogatory comment aimed at Dodgers' pitcher Yu Darvish.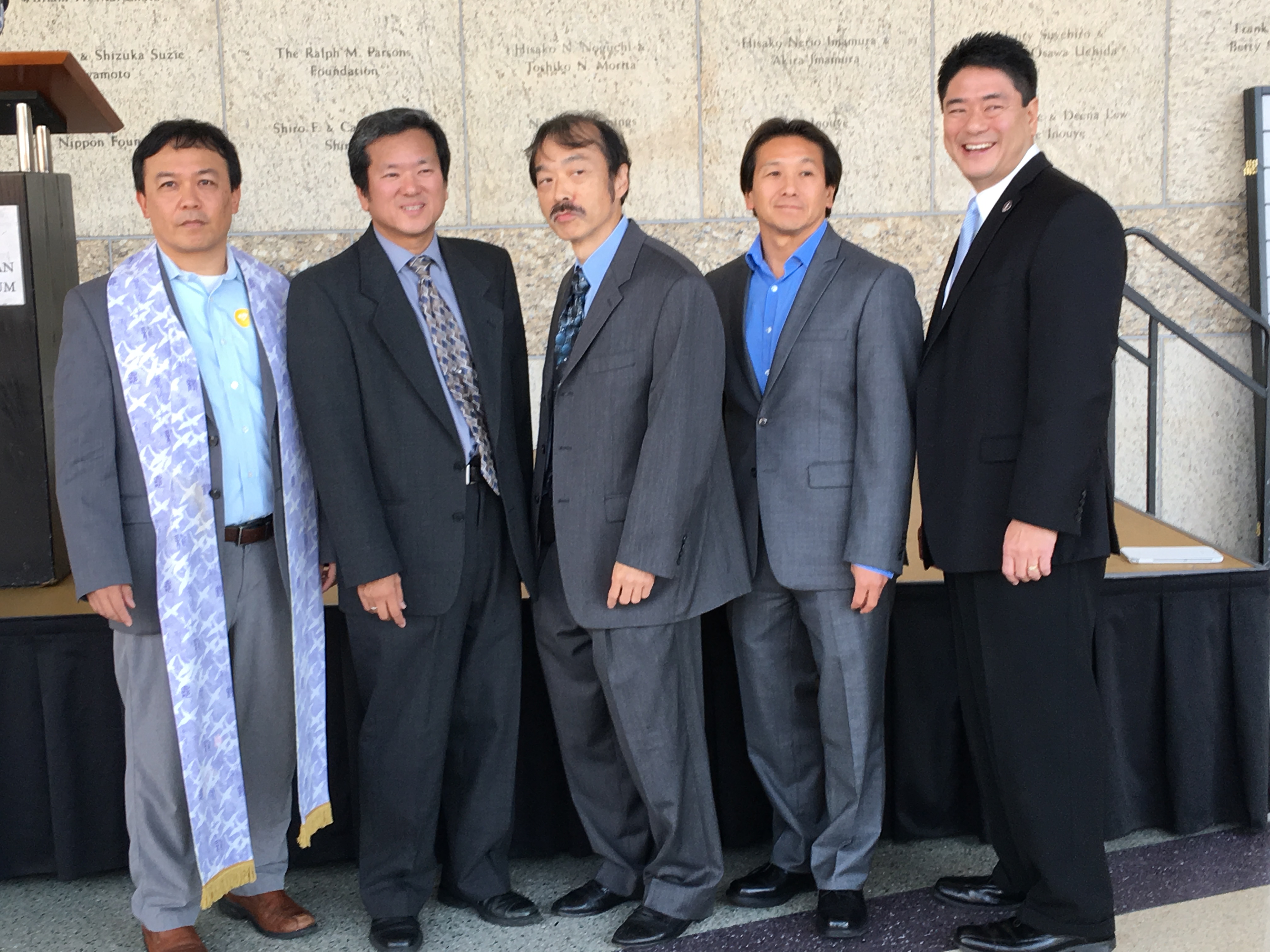 From left: Rev. Tim Yee, Union Church of Los Angeles; JACL National President Gary Mayeda; Guy Aoki of MANAA; JANM COO Rick Noguchi; and GFBNEC President and COO Mitch Maki. (Photo: George Toshio Johnston)