I look forward to seeing you in Little Tokyo Los Angeles to be "Rooted in Community," July 20-23. This year's National Convention theme tells us that we can be completely culturally immersed in Little Tokyo's museums, history and community organizations. It reminds us that we must have the creativity and flexibility to adapt to new situations while remaining committed to our mission and values.
The pace of change in the world is accelerating, and though we continue to honor and reflect upon our past, we must extend our view to formulate a sustainable vision for the future of our organization. Our National Convention gives the opportunity to deliberate the issues that affect us, share ideas to revitalize our membership and inspire those who will become our future leaders.
The Convention Committee has arranged for workshops and speakers that will educate and inspire our delegates. There are also a whole assortment of tours and activities that will initiate folks to the rich history of one of the last remaining Japantowns in the United States.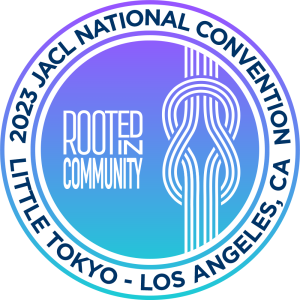 The legacy we have been given is one of perseverance, sacrifice and accomplishment. We are here today because of the truly extraordinary leadership that guided our community. This is a legacy we need to continue, and it is on our shoulders that this responsibility rests.
The JACL and those we represent are affected by the events and changes in the political and economic environment and the rapidly changing demographics in our country. We embrace these changes as an opportunity to set a course that adheres to our historic mission and effectively achieves our goals.
We recognize the need to assess and adapt our organizational structure and programs while fostering new generations of leadership in our ever-changing society.
Conventions are much more than the dreary business of the organization, and I hope that more of you will take advantage of the educational and cultural experiences that are available to convention attendees in Little Tokyo.
Convention is an opportunity to put a finger on the pulse of the organization, to find out what it's doing and how well. Delegates can actually adjust the future direction of JACL.
Our chapters and individual members have been busy doing the good work of JACL this past biennium, and there are several outstanding members and chapters that have been doing great things for our community and our nation. We will be honoring some of them at this convention. Come and see what others have accomplished.
Conventions are heady times. For delegates, the experience of participating in governing the organization is an obligation that is very rewarding. You have a hand in determining the direction and focus for the organization for the remainder of this biennium and the future.
The Convention Committee has planned many interesting and insightful activities for delegates and boosters. Being an Off-Year Convention, we take the opportunity to provide more educational activities to inform our members of topics that we are unable to accommodate during business sessions.
A complete list of individual events is available online at our website, www.jacl.org. I will see you "Rooted in Community" in Little Tokyo from July 19-23!
Larry Oda is the national president of the Japanese American Citizens League.