Kaori Becker's new cookbook offers delectable recipes that showcase her love and passion for the sweet Japanese dessert.
By Allison Haramoto, P.C. Executive Editor
With the promise of a new year just mere weeks away, so, too, is the anticipation of enjoying delicious Japanese food to celebrate Oshogatsu: sushi, teriyaki chicken, broiled octopus with miso sauce, shrimp, kuromame (sweet black beans), namasu (daikon and carrot salad) and, of course, good luck Ozoni soup oozing with freshly made mochi.
Ah, mochi! That deliciously sweet, sticky, satisfyingly chewy rice cake that is often enjoyed during New Year's but is gaining increasing popularity as a year-round dessert of choice for its versatility that can be enjoyed either plain, filled with anko (red bean paste), dusted with matcha powder, broiled with bacon, glazed with sweet soy sauce and baked in brownies and doughnuts — the options are endless.
For Kaori Becker, her lifelong love of mochi inspired her to create "Mochi Magic," a newly released cookbook of all things mochi that people of any culinary skill level can make.
With plenty of time on our hands these days while we're at home, there's no better time than the present to try one of Becker's 50 recipes featured in her book. Mochi for many of us brings memories of our childhood, pounding mochi during the holidays with a mallet at church, forming the steaming-hot mounds in our hands while laughing with family gathered around the kitchen counter, fun discussions on what's the best way to eat it — mochi equals pure love and joy, and that is Becker's primary inspiration.
"Every step in mochi making — the mixing, the steaming, the pounding and especially the filling process — is an activity that brings out stories, jokes and smiles," wrote Becker in her book. "My job is made of rice, sugar, water and love."
Becker, 32, originally began her career as a high school English teacher, but she always enjoyed cooking while growing up in the San Francisco Bay Area, especially learning Japanese recipes from her mother, Yukiko Zinke.
Zinke, originally from Fukushima, Japan, first taught Becker how to make mochi when she was in graduate school, working toward her English teaching certification in Ohio.
Becker would often call her mother in California to talk about cooking, especially making mochi, as there was something about it that spurred her curiosity to learn more. During her conversations with her mother, Becker also learned that her grandmother in Japan once owned her own ramen shop in Fukushima, specializing in made-from-scratch noodles. Eventually, Becker's calling for cooking was something she could no longer ignore, so she switched gears and started teaching cooking classes.
"A light bulb went on for me that I could teach classes based on my Japanese heritage and what I grew up eating," Becker recalled. "I started with a ramen-making class, and then I started expanding into some other cooking schools in the (Ohio) area teaching Asian cuisine. I really enjoyed doing it, so when we (along with her husband, Alan) moved back to the Bay Area in 2016, I decided I was going to focus on building a cooking-class business and go from there."
Becker created Kaori's Kitchen, and she asked her mother to join her.
Their cooking classes in the Bay Area became a huge success on Verlocal and Airbnb Experiences (both offer classes in a variety of fields taught by local experts), with their schedule often booked teaching at schools, private parties and corporate team-building events.
"I was doing ramen classes there, but mom and I then had the idea of doing a mochi class — I thought it would be very popular because I was looking at classes available in the area, and nobody was teaching that," Becker said. "Most people love mochi, but they don't know how to make it."
Together, Becker and Zinke started teaching mochi classes, beginning the session by pounding mochi where participants would use the mallet and pound the rice out as a group. Classes would include lessons on how to make various types of mochi, including daifuku mochi (the most traditional form made with any kind of sweet filling), ozoni soup, matcha daifuku mochi with strawberry and red azuki bean paste, white mochi made in a microwave, mochi doughnuts and mochi ice cream.

With her cooking classes taking off, Becker established her website KaorisKitchen.com. She and her mother also would sell their own homemade mochi at Eon Coffee in Hayward, Calif.
"We'd randomly have a pop-up at Eon Coffee in Hayward, Calif., from time to time selling mochi there, and it was very popular," Becker said. "During that time, I also began doing different experiments with mochi fillings."
Becker discovered that with mochi, it basically was like a blank canvas, and it could be filled with virtually any ingredient. She experimented with cream cheese and mixed it with powdered sugar and matcha; she made white chocolate truffles out of mochi and filled them with black sesame seeds; she incorporated rose water into mochi. Becker also drew upon her personal mochi-eating experiences while visiting family in Japan to incorporate into new recipes with one goal in mind: "Demystify mochi for a lot of people," she said. "My goals … are to spread greater awareness of Japanese food culture in the U.S. Many Americans, and even Japanese people, don't know how to make mochi at home. I would love to share more about the many fun and delicious ways mochi can be made and enjoyed."
In spring 2018, Becker realized that there weren't that many mochi books on the market, and those that were available often didn't have many step-by-step photos in them.
Therefore, she decided to work toward self-publishing a mochi book, but the intricacies of what it took to see her dream through to fruition left Becker unsure of the process. So, she reached out to another cookbook author on Instagram, Leslie Jonath ("Feed Your People"), for help.
As luck would have it, Jonath also happened to be a book agent, and she was immediately intrigued and inspired by Becker's idea. Together, they wrote a proposal and pitched it to different publishing houses, among them, Storey Publishing, who picked it up.
Storey approved the project and gave Becker a deadline of November 2019 to come up with 50 recipes. Fortunately for Becker, she already had several from her classes, and she also had help from some of her mother's friends in the Japanese American community and people who had taken her mochi classes in the past who would submit reviews of her recipes and serve as taste testers.
"It was a team effort for sure in coming up with the recipes," Becker said. She also had help from her friend Koka Yamamoto, who is really talented at making cute mochi animals (as seen on the book's cover).
Life became even busier for Becker, as she and her husband decided to move back to Ohio during this time, all while having to finalize the book's recipes.
In February 2020, right before the start of the coronavirus pandemic, Becker flew to San Francisco to meet with Storey's art director, Carolyn Eckert, along with photographer Wendi Nordeck and food stylist Jeffrey Larsen to finalize the book.
"Mochi Magic" was released on Nov. 24 and is available thru Amazon, Barnes and Noble and Workman Publishing.
Becker marvels at the success her love of mochi has brought upon her life.
"Mochi is like opportunity," she said. "There's so many ways you can go with mochi. It has shifted our whole family. … I don't have to have a traditional job. There's other ways to use your passion. For me, it's been a really fun journey."
These days, life for Becker and her husband, Alan, and their two small children in Ohio continues to revolve around mochi. In addition to still teaching cooking classes (virtually for now), Becker started "The Mochi Shop" with her friend, Junna Kanazawa, on Instagram, delivering mochi doughnuts made from scratch to Columbus, Ohio, area Farmer's Markets, with plans to expand to a permanent location next year.
Meanwhile, Zinke also continues to teach cooking classes online in the Bay Area, with Becker's dad helping now, too. She also continues to sell mochi at Eon Coffee for curbside pickup.
For their family, mochi has infinite possibilities.
"Mochi grows on you for sure," Becker said. "Sometimes the texture might be weird if you've never had it before, but there are so many different ways you can make it. I'm sure everyone will find something to enjoy. In life, as with love and mochi, the possibilities are endless!"
"Mochi Magic" is available now for purchase. Visit www.kaoriskitchen.com and www.storey.com/books/mochi-magic for more information. You can also follow Kaori Becker on Instagram @kaoriskitchen.
❖❖❖
The Meaning of Mochi
In Kaori Becker's "Mochi Magic" cookbook, mochi is a "form of sticky rice cake made from Japanese short-grain rice called mochigome … that is naturally sweeter than ordinary table rice."
Becker writes, "Mochi has been held in high regard within Japanese culture for generations, with rice itself being revered as the 'gift of the gods' and considered an omen of good fortune. These little cakes were first enjoyed exclusively by the emperor and nobles, but they were later used as religious offerings to the gods in Shinto rituals. With time, this auspicious delight became an integral part of the Japanese New Year, Girl's Day and Children's Day celebrations, as well as enjoyed in households throughout Japan both for festive occasions and as a treat in everyday life. …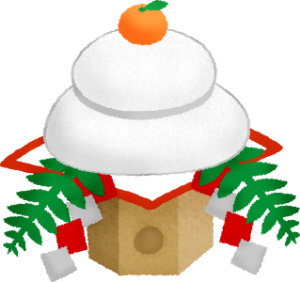 "Plain mochi is consumed most often by Japanese people at the start of each new year. Every new year, Japanese families will place kagami mochi (a large mochi cake topped with a small mochi cake and a citrus called a daidai) on an altar to bring good fortune."
❖❖❖
RECIPIES
Coconut Chi Chi Dango
by Kaori Becker
I first enjoyed chi chi dango on a trip to Honolulu with my husband and daughter. Not being from Hawaii, I didn't grow up with this treat, so the concept was foreign to me: mochi pieces without a filling? I was soon won over. The coconut chi chi dango I enjoyed at Fujiya Hawaii was the softest piece of mochi I had ever eaten, and it had a slightly sweet, addictive flavor I continued to crave afterward. Not just for coconut lovers, this is the perfect mochi dish to bring as light dessert bites for any barbeque or get-together. You'll need an 8-inch square baking dish for this recipe.
Ingredients:
Canola oil or cooking spray to grease the baking dish
1-1/2 cups mochiko
2/3 cup sugar
3/4 tsp. baking powder
1 (13.5-ounce) can coconut milk, such as Chaokoh brand
2/3 cup water
3 tbsp. condensed milk
1 tsp. pure vanilla extract
1 cup cornstarch or Japanese potato starch, for dusting
Directions:
Preheat the oven to 350-degrees F. Grease a square 8-inch square baking dish.
Sift together the mochiko, sugar and baking powder in a large bowl. Add the coconut milk, water, condensed milk and vanilla and stir until completely mixed and uniform in consistency.
Spread the mixture into the baking dish. It should go 1 inch up the sides of the dish, but no higher than 2 inches, as chi chi dango is supposed to bake as a sheet of mochi.
Bake for 45 minutes or until the mochi is bubbly and a uniform color. If the middle looks slightly uncooked, bake 5 minutes longer or until the mixture looks uniform in texture.
Let cool to room temperature. Cut the mochi into strips 1 inch wide and 8 inches long and dust each liberally with cornstarch to prevent from sticking.
Cut each strip into thirds to yield small mochi rectangles about 2-1/2 inches long. Coat each piece in cornstarch, then shake or brush off the excess. Store in an airtight container at room temperature for up to two days; in hot weather, refrigerate after one day.
Yield: 25 bite-size squares
Chocolate Mochi Brownies
by Kaori Becker
Crispy on the outside and ooey-gooey mochi-licious on the inside, these brownies come together quickly and pack a serious chocolate punch! They are a perfect dessert or snack for when you get the nighttime munchies. Special thanks to my friend, Yuki Peterson, and her mother for inspiring this treat. You'll need a 9-by-13-inch baking dish for this recipe.
Ingredients:
Butter or neutral cooking oil for greasing pan
3 cups mochiko
1/2 cup unsweetened cocoa powder
1 tbsp. baking powder
1/2 tsp. salt
2 large eggs
2 cups packed light brown sugar
2-1/2 cups whole milk
1/2 cup vegetable oil
1/2 cup melted butter
2 tsp. pure vanilla extract
1 cup semisweet chocolate chips
Directions:
Preheat the oven to 350-degrees F. Grease a 9-by-13-inch baking pan.
Sift together the mochiko, cocoa, baking powder and salt in a large bowl.
Beat the eggs in another large bowl. Stir in the sugar, milk, oil, butter and vanilla. Mix well. Scrape this mixture into the bowl with the mochiko mixture and whisk until uniform in texture (make sure there are no lumps). Stir in 1/2 cup of the chocolate chips.
Pour the remaining batter into the prepared pan, then scatter the remaining 1/2 cup chocolate chips on top.
Bake for 50-60 minutes, until golden brown. Enjoy hot with vanilla ice cream or let cool to room temperature. Cut into squares and store in an airtight container at room temperature for two days or in the freezer for up to one month.
*For a nondairy alternative, replace cow's milk with a different type of milk and replace the butter with oil.
SHOPPING ON AMAZON? FIRST CLICK THE LINK BELOW AND HELP THE PACIFIC CITIZEN!