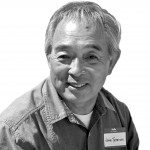 By John Tateishi
The image is burned into my memory.
Craig Dixon, the nation's top hurdler and one of the best, if not the best, in the world, standing at a hurdle with his head hanging in tearful disappointment after he had tripped over one of the last hurdles, causing his elimination from the 1953 Olympic Games.
I was in junior high and had gone with my brother, Bill, to the U.S. Olympic track and field qualifying trials at the L.A. Coliseum. Bob Watanabe, who was on the UCLA track team with Dixon, had managed to get tickets and invited a few of us from West L.A., where he rented an apartment from one of our friend's family.
It was my first time in the Coliseum, which wasn't full but had more people than I'd ever seen in one place. This was the U.S. Olympic trials, and the nation's top track and field athletes were there.
For us kids, it was a big deal because Bob Watanabe was a big deal to us, and although he wasn't competing on that day, we were happy to be there with him to cheer on his UCLA teammates who'd been invited to the trials, including Dixon. We knew how special this day was.
And it was like the whole stadium was waiting for Craig Dixon in that final heat.
The 100-meter high hurdle race is over in a matter of seconds. The runners are separated by tenths of seconds, sometimes one-hundredths. In the finals of the 100-meter high hurdle race, Dixon was a clear favorite to win. He had not lost this event in over a year and had a string of 60 consecutive wins coming into the trials. No one among the country's best could catch him.
And when the eighth hurdle in that final heat brought him down, there was a collective gasp and a hush in the Coliseum. The world's best had just fallen.
The memory of that moment came back to me last month as I watched the 2014 Olympics figure skating qualifying competition on television, a sport that normally doesn't interest me much and that I generally only watch when the Winter Olympics come around every four years.
Not surprisingly, therefore, I knew nothing about the huge controversy in this year's U.S. Skating Championships in Boston until I watched the post-competition program the next day and saw Mirai Nagasu on the ice. She struggled to hold back tears as the crowd gave her a standing ovation when she was introduced, and she skated a beautiful performance as tears streamed down her cheeks. When, finally, she finished, the crowd gave her a standing ovation that grew and grew, and she stood there holding back sobs.
The controversy, as I learned that day as she skated, was that she had finished third in the competition and had won a place in the Winter Olympics. Historically, the top three finishers are named to the U.S. Olympic team, but on that day, the U.S. Figure Skating Assn. selected Ashley Wagner to replace Nagasu, despite Wagner having fallen twice during her routine, coming in a distant fourth behind Nagasu.
In this unprecedented move, the USFSA stated that its decision was based on an "objective analysis" of the skaters, noting that Wagner's body of work over the past year warranted her place on the team, especially in comparison to Nagasu's apparently less-than-stellar year.
Clearly, the USFSA's insistence that its analysis was "objective" was another way of saying that something like race or ethnicity had nothing to do with its decision. That is to say, there was nothing subjective about its decision: Race had not entered into its consideration to make such an unprecedented decision.
Granted, Wagner, who's apparently the sweetheart of the figure skating world (at least in the U.S.), may have had a more consistent year and may have had more first-place wins, but the question about race still lingers.
One wonders whether the USFSA would have made a similar decision if the third-place winner had been African American. Would it have dared to raise the ire of the nation's African American community and risk accusations of racism? Would its "objective" analysis have discounted all the subjective issues that come with such a decision?
In short, would it have had the guts to remove a black girl who had won the right to represent the U.S. in favor of a white one?
I think not.
Perhaps the decision to bump Nagasu in favor of Wagner was not based on racial considerations per se, but the action suggests that the USFSA did not fear an immediate and angry public outcry from Asian Americans protesting the decision for what it might look like.
It's difficult to charge racism in this situation, but you know the old saying about if it walks like a duck and quacks like a duck . . .
You judge for yourself.
I think about Craig Dixon, the best in the world, who lost his opportunity by his own mistake and wonder what was so different this time that the USFSA would ignore, if not the rules, then the integrity of the competition,
What I know is that there was a time when you had to earn your way to the Olympics, when it wasn't anointed, even to the best who may fail on any given day.
Originally published on February 7, 2014