Hate crimes against Asians are on the rise. Again.
And this time, there's a difference: The "mainstream" media, from newspapers to TV news, has been reporting on the spike. Hate crimes against Asians in America are nothing new, and certainly the numbers became noteworthy with the coming of the coronavirus pandemic and political leaders like the former president calling it the "China Virus" or "Kung Flu."
Amidst this wave of attacks, a group of Asian Americans in Denver calling ourselves the "Re-envisioning Denver's Historic Chinatown Project" have been working to remind people that the level of hate against Asians existed even in the earliest days of Asian immigration to this country.
On Oct. 31, 1880, there was an anti-Chinese race riot that left businesses and residences destroyed. One man, Luck Young, was beaten to death and then hanged from a lamp post.
The riot was sparked by a bar fight in a pool hall between two Chinese men and four white men. Within a couple of hours, thousands of white folks stormed through the Lower Downtown District — today called LoDo — chasing the Chinese out.
The riot didn't completely rid Denver of what had been a thriving Chinatown district. The first Chinese arrived in the 1870s, after the Trans-Continental Railroad was completed in 1869.
They started businesses along the alleyways of LoDo, and they established all sorts of business, including laundries and, unfortunately, opium dens. Because of the drug, which was called "hop" by users, whites referred to the district derogatorily as "Hop Alley."
But the area wasn't just about drugs. Chinatown was an ethnic enclave. Even with Chinese immigration closed off, the residents and business folk returned to Denver's early Chinatown and were part of Colorado's ethnic mix into the late 1800s.
Today, LoDo is thriving again. It's anchored at one end by Coors Field, and is bookended by Sakura Square and Union Station.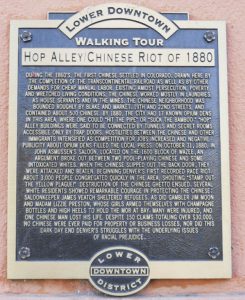 A small plaque is attached to the wall of a building kitty-corner from Coors Field at the bustling intersection of 20th and Blake Streets. The plaque is part of a "Lower Downtown Walking Tour" and is titled "Hope Alley/Chinese Riot of 1880."
It describes the growing Chinese district but focuses on the opium dens and the negative "hop alley" reputation. It describes the fight that started the riot and notes that "one Chinese man lost his life" without mentioning his name, but then goes on to name the white people who saved fleeing Chinese by letting them into their businesses.
I applaud that white people rescued some Chinese, but the description strikes me as a classic example of history written from a white-centered perspective.
At the time, I was a member of the Denver Asian American Pacific Islander Commission and the commission agreed to make it a priority to replace this plaque with a more accurate and appropriate plaque.
I helped draft a proclamation that was given by Denver Mayor Michael B. Hancock last year for the 140th anniversary on Oct. 31. Since then, the effort became a project led by a group that also includes former commissioners (me) and a couple of respected historians and academics, as well as a couple of architects.
Our immediate goal is to redo the plaque and then find artists to paint a mural (or murals) on the large wall of the building where the plaque is mounted. We also want to eventually place other markers to note Chinatown locations and hope to launch annual Lunar New Year celebrations in the area.
This is a long-term project. But it's heartening to be involved in a project like this that reflects and remembers the hardships that Asians faced a century and a half ago, and use that memory as one remedy to fight the hatred that we still face today. The persistence of hatred is terrible, but we can fight it with hope and education, looking to the past to create the future.
Gil Asakawa is former chair of the Pacific Citizen Editorial Board and author of "Being Japanese American" (Second Edition, Stone Bridge Press, 2015). He blogs at www.nikkeiview.com.

SHOPPING ON AMAZON? FIRST CLICK THE LINK BELOW AND HELP THE PACIFIC CITIZEN!