In a visit to Italy to record material for "Defining Courage," David Ono and Jeff MacIntyre came across this helmet that had been stored in a wine cellar for nearly 80 years. It is believed to have belonged to the 442nd's Stanley Hayami, who was killed in action. The hole in the top of the helmet was caused by corrosion. (Photo: Courtesy of David Ono)
TV newsman David Ono relays stories of the 442, MIS in 'Defining Courage.'
By George Toshio Johnston, Senior Editor
In his nearly 27 years in the Los Angeles market at KABC Channel 7 as an Emmy Award-winning and Edward R. Murrow Award-winning TV newsman, David Ono has not only become a fixture in local news, his body of work includes having traveled overseas to share with his Southern California audience the aftermath of 2011's disastrous earthquake and tsunami in Japan's Tohoku region.
Ono has generously spent his time and resources off the air doing things like sharing his home for Asian American Journalists Assn. Christmas parties or serving as the master of ceremonies for various other AAJA events, as well as for other community organizations such as the Go For Broke National Education Center, Japanese American National Museum and Japanese American Citizens League.
On the evening of Oct. 1 at Little Tokyo's Aratani Theatre, Ono again utilized his master of ceremony and journalism skills in a new setting and context: an "immersive experience" that combined live music and narration with multimedia storytelling to relay an overarching saga for which he has become an unabashed evangelist.
That event was "Defining Courage," a globe–trotting live and recorded tour de force culmination of more than 20 years of stories focused on the contributions to this nation by Nisei who during WWII served in Europe as soldiers of the Army's 100th Battalion/442nd Regimental Combat Team or in the Pacific in the Army's Military Intelligence Service. Those stories and the related story of Japanese American incarceration were supplemented with new material recorded this year in Italy and Japan.
Ono, who in November 2021 was awarded by the Japanese government an Order of the Rising Sun, Gold Rays with Rosette for his corpus of work over the years covering Japanese American and Japanese issues, has undoubtedly been motivated by journalistic curiosity about a community with which the Texas-raised Ono shared a cultural heritage.
Another part, however, was a mission to share his own journey of self-edification. As a lover of history, he was chagrined to learn after moving to California that much of the narrative of Japanese Americans living in the city and county to which he moved in his early 30s was new to him.
"I came to California when I was a 30-year-old anchor-reporter. And I actually had never heard about this chapter before. I didn't know anything about it. And I'd never heard of internment camps. I never heard of the 442nd — and I was a history buff. And I thought I had read every book out there about World War II," said Ono.
That admission came during Ono's introductory remarks to a packed house at "Defining Courage." But he was not alone in his former dearth of knowledge about the Japanese American experience or the contributions of the Nisei soldier during WWII.
Jeff MacIntyre, his producing partner on "Defining Courage," also grew up having learned little about this uniquely American saga — and he was born and raised in Los Angeles.
Noting that he had "a kind of distant knowledge" remembered from the "standard two paragraphs in our history book that did speak to Japanese American incarceration during WWII," MacIntyre would also share in Ono's journey beginning more than10 years ago with a project they worked together on titled "American Heroes," about the 442nd and MIS, which was made to coincide with the 2011 Congressional Gold Medal ceremony. (Editor's note: See the video at tinyurl.com/4usye4a9.)
"That really was a portal into that profound past and their incredible legacy. And that's what started my journey of learning," MacIntyre told the Pacific Citizen.
Ono was introduced to "Defining Courage" by actress Tamlyn Tomita, who has shared hosting duties with him at several community events over the years.
Special guests in attendance included Ono's ABC colleagues, including Chad Matthews, president, ABC Owned Television Stations; KGO San Francisco telejournalist David Louie, who retired in September after a 50-yearlong career; KABC President and General Manager Cheryl Fair; KABC VP and News Director Pam Chen; Consul General of Japan in Los Angeles Kenko Sone; JANM President and CEO Ann Burroughs; and GFBNEC President and CEO Mitch Maki.
Representing the Biden administration was Erika L. Moritsugu, deputy assistant to the president and Asian American and Pacific Islander senior liaison.
"I'm here today as a Yonsei, a proud fourth-generation Japanese American," Moritsugu said in her remarks. "I grew up in Hawaii, where the service of the 100th Battalion was so taken for granted as a part of everyday life. … I only recently learned to appreciate the power of our adage, okage sama de. Because of the heroism of the greatest generation, we are who we are because of them. And I personally have many people in my family who served in WWII."
One of Moritsugu's relatives was her grandfather, Bronze Star recipient Richard Y. Moritsugu. Both he and two of his brothers served during WWII; he originally was assigned to the 100th Battalion in June 1942 but was reassigned six months later to the MIS. She also mentioned her Uncle Curly, aka Pvt. Masato Nakae, who was posthumously awarded the Medal of Honor and now has a village square near Pisa, Italy, named after him.
But military service was not the only legacy of Moritsugu's relatives. She also noted how her great-grandfather and great-great uncle "were arrested and imprisoned in Hono'uli'uli, Hawaii." Although her great-grandfather was paroled, her great-great uncle would be incarcerated in New Mexico for being a Japanese community leader.
Moritsugu also mentioned two of her other uncles, Ronald Kuroda and Robert Kuroda, who were, respectively, recipients of the Distinguished Service Cross and the Medal of Honor as members of the 442nd.
She noted how in 2021, a Frenchman with a metal detector found a class of 1940 high school class ring, engraved on the inside with "R Kuroda," buried since Robert Kuroda was killed in action in October 1944. That man, identified in news reports as Sebastian, returned that ring to Kuroda's descendants this past June.
In an interesting parallel, "Defining Courage" also had its own "found history" account: the rediscovery of what is believed to be the helmet of Pvt. Stanley Hayami, a former Heart Mountain incarceree who enlisted in the 442nd and was killed in action on April 23, 1945.
Eyewitnesses saw medics remove his helmet as they tended to him, and it was left there until one of the villagers, the uncle of Roberto Oligeri, retrieved it — and left it in the family's wine cellar, where it lay for decades.
The chance rediscovery occurred in May when Ono and MacIntyre were shooting new footage for what would become "Defining Courage" while in San Terenzo, Italy. That was just one of the new twists to the stories of Japanese Americans overcoming societal obstacles and the triumphs and tragedies along the way that the program would include.
Interestingly, the Oct. 1 program was the third iteration of the live event, with the second a daytime performance for a private audience taking place a few days in advance.
The first version was done at the AAJA's national convention in Los Angeles on July 29, exceeding all expectations.
"The vast majority of those journalists had never even heard the story before," Ono told the Pacific Citizen. "Even though they're Asian, you know, they weren't [necessarily] Japanese American, they weren't West Coasters. And so, they had never heard of it, the vast majority, and I had banked on that, that this would be new to them. And it was."
Ono's travels to gather new material also included a trip to Okinawa in July to supplement the role the Nisei in the MIS had in saving the lives of hundreds of Okinawans, who were indoctrinated by the Japanese military to commit suicide rather than surrender to American troops.
Most unique about "Defining Courage" was the live musical and vocal accompaniment that supplemented the visuals and Ono's live narration. The conduit for that was vocalist and 2001 Nisei Week Queen Lauren Kinkade-Wong, who is involved with a gospel choir, Raise Choir, led by Chris Wade.
She recalled that when she performed at a Go for Broke National Education Center annual "Evening of Aloha" fundraising dinner, Ono was also a part of the program. According to Kinkade-Wong, he had already been contemplating doing a "deconstructed documentary" with live music. GFBNEC's Maki suggested that the two work together.
"David and I met, and we discussed what he was planning on doing and how he wanted to have this whole presentation come across," Kinkade-Wong told the Pacific Citizen, noting that the initial idea was to do about a "short 20-minute version of what became 'Defining Courage.'"
Kinkade-Wong brought Wade, and he brought Raise into the mix. Wade would soon become the musical director.
"We started to talk about the types of music that David was looking for," she told the Pacific Citizen. "He was looking for music that would be familiar, but not necessarily extremely mainstream, so that it wouldn't detract from the message. … We came up with some wonderful ideas."
Thanks to Wade's skills as "an amazing music arranger," he would "create the layout of the music within the presentation itself."
Having completed three presentations of "Defining Courage," Ono and MacIntyre are assessing what will be next, namely how to literally take the show on the road — a far more challenging task compared to distributing a movie nationwide.
"In the short run, I've been asked to do it in cities across America, and so we're contemplating what that means," Ono said. "From Hawaii to San Francisco, Seattle, Chicago, Washington, D.C., Dallas, Houston, Denver, Portland — all of those cities. San Diego, too."
That dream also includes New York City — and Ono's dream would be to have "Defining Courage" take place in the one venue most-associated with immigration to America: the Grand Hall of Ellis Island. "I feel like symbolically, that's a wonderful place to do it," Ono said.
Ono admits, however, that it would be a big, time-consuming and expensive undertaking. For one thing, he would need to be present at each venue to narrate — and each performance in each city might have its own unique attributes, like what happened in Los Angeles with Mario Mariani and Roberto Oligeri from Italy present at the Oct. 1 show, which also included honoring Nisei veterans Shigeru Hayashi, Ralph Matsumoto, Edward Nakamura and Yosh Nakamura onstage.
Nevertheless, Kinkade-Wong is confident that taking "Defining Courage" and the live music on the road is quite feasible.
"I think the great thing about Chris Wade is that he has a lot of contacts throughout the country. A lot of it could be local hires that we bring in," she said. "The music is already written, so it's more of a factor just reading the music. So as far as that's concerned, we've discussed that possibility and then just bringing in some of the key players like the soloists, but it's definitely doable and something that we are setting our sights on achieving."
For MacIntyre, telling these stories in this unique manner is inspirational and necessary in today's divisive climate.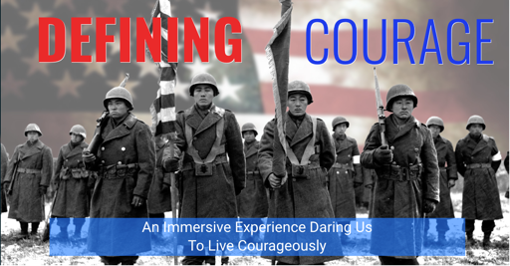 "The lessons have never been more relevant," he said. "I think that's one of the inherent values of 'Defining Courage' because we're still staring down prejudice, hate and discrimination. The JA experience is really such a sock to the gut. … It's a reminder that we must remain vigilant and courageous. And that's really the lasting message that we hope 'Defining Courage' means to people."
As for Ono, he is as inspired by the stories of his community as ever.
"The stories we know are still just the tip of the iceberg when it comes to the stories that are out there," he said. "I think Stanley Hayami's helmet is a perfect example. … If you're a Japanese American, and you've studied anything about the 442, then you've heard about Stanley Hayami and his incredible diary and how revered he is. Yet, we can take the simplest of things — 'Let's go to San Terenzo and sniff around a little,' and lo and behold, we actually find his helmet.
"I feel like there's an infinite amount of these wonderful stories to tell," Ono concluded. "And I'm always gathering more, and we have more shoots scheduled. We're going back to Italy. We're going back to France and capturing some of these great stories. So, there will be more content coming for sure. I'll always be devoted to the Japanese American story."