Documentary tracks musician Kishi Bashi's journey to understand an inherited history.
By Gil Asakawa, Contributor
Kaoru Ishibashi is a musician known by his stage name, Kishi Bashi. But since he was 13, most people have called him "K." He composed the music for and co-directed "Omoiyari," a film that follows his journey learning about the World War II incarceration of Japanese Americans, with co-director Justin Taylor Smith.
Ishibashi is a Japanese American of the generation that is not connected via family to the wartime incarceration of Japanese Americans. He was born in Seattle in 1975, but raised in Norfolk, Va., by his shin-Issei parents, who were both university academics. So technically, he is a shin-Nisei or new Nisei, and raised both very Japanese and very American.
"Well, I mean, initially there's a lot of, you know, like you, you know, having this kind of bicultural identity of being American, but also having a deep connection with Japan, like speaking Japanese, you know, something I was always exploring throughout my life," Ishibashi said about his identity.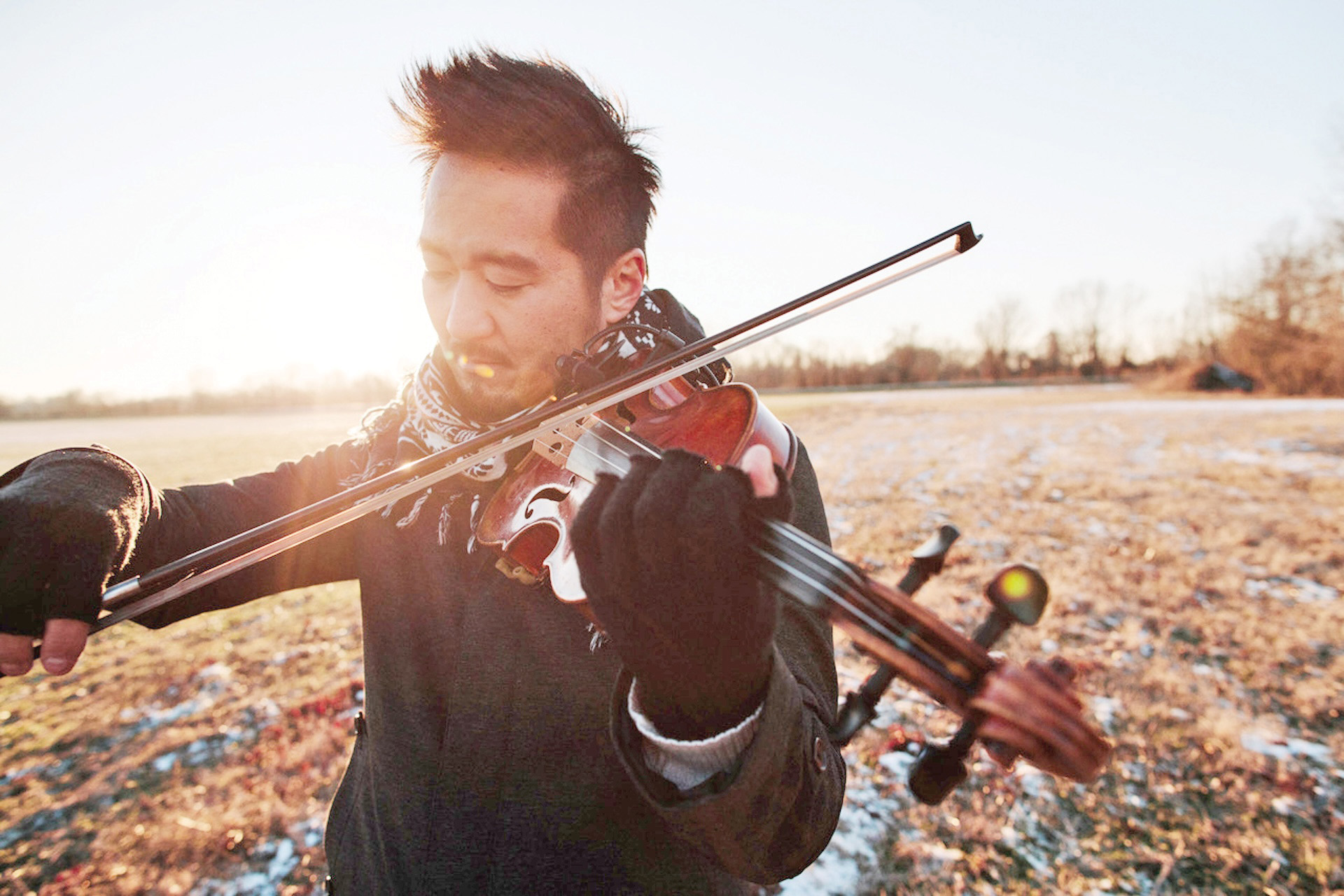 Ishibashi was inspired to look into his JA roots initially by the 75th anniversary of the bombing of Pearl Harbor, and the Japanese American incarceration that followed. "A lot of people were talking about Pearl Harbor and what happened after, you know, and then I was reminded of that and then Trump was just in office and there's a Muslim ban."
Ishibashi saw the political climate as a civil rights issue. "As an artist, it was a challenge, an artistic challenge," he said. "But it was something I really cared about. I read a lot, met lot of people who were concerned. I've met a lot of people who were like me, shin-Nisei, and learned you don't have to be connected to it to really care about an injustice."
Ishibashi's exploration of the injustice both then and now led to "Omoiyari," which means compassion or consideration in Japanese. It's a reflection of his immersion in the Japanese American history of eight decades ago, visiting concentration camp sites and reacting to them on the spot with music.
He improvises haunting melodies in the documentary on violin, like standing in an empty barrack and creating "Arrival," imagining the families who came to such cold, barren places. In other scenes, he improvises melodies standing in the desolate landscape of Heart Mountain with the wide-open skies above him.
The film follows Ishibashi as he travels to places to speak with both camp survivors and non-JAs, like former Wyoming Sen. Alan Simpson, who struck up a lifelong friendship with Norman Mineta — who would himself become a U.S. representative and then commerce secretary and transportation secretary (during 9/11) — when he was imprisoned with his family as a boy at the state's Heart Mountain War Relocation Authority Center. Ishibashi also performs a "Japanese Incarceration Awareness Concert" in the film in a barrack in Powell, Wyo., for curious locals.
In the concert, he starts strumming a Dobro guitar and sings the one Japanese song that many Americans (especially older ones) know: "Ue O Muite Arukou," better known in the U.S. by the nonsensical title "Sukiyaki." The song was a No. 1 Top 40 hit in 1963, and the audience claps and sings along.
Ishibashi weaves that spirit of a musical bridge between Japan and America throughout "Omoiyari."
The documentary opens with a concert in New York City in a packed theater of young people who cheer as he and his band take the stage. Ishibashi begins playing a pretty melody on his violin, then says "New York City, how are you tonight? It's so good to be back," like any bigtime rock performer to his hipster fans. The crowd applauds as he and the band dive into a dynamic, raucous version of "Marigold," one of his songs inspired by his visits to Heart Mountain.
Ishibashi narrates the movie and explains how the rise of hate speech, anti-immigration policies and anti-Asian hate crimes led him to his journey. When people referred to Japanese American incarceration as a model of how to treat immigrants today, he knew about it from high school, but wanted to learn more.
The film intercuts a lot of historical images and archival film footage of JA history with contemporary scenes of protests by leaders like Satsuki Ina of Tsuru for Solidarity, speaking out against repeating the history of incarceration. (JACL members will likely get a kick seeing an appearance by since-retired Midwest District Regional Director Bill Yoshino.)
"Omoiyari" premiered at South By Southwest Film Festival in Austin in 2022, and then was signed up for distribution by MTV Documentaries. The past year has been spent editing and polishing the film for a new wider release.
"The past six years that we worked on this movie was a big transformation for me," Ishibashi said. "I went from just being a selfish musician. There's been a lot of growth for me, and I just don't make music for music's sake anymore. I realize that I have an audience who would listen to what I put out, so I have an opportunity to maybe change some minds or create new perspectives."
Ishibashi also recorded a companion album — his fourth album — titled "Omoiyari" that expands on themes from the film and expresses them in his genre-busting styles including pop, rock, folk, classical, jazz and progressive musical styles. The cover of the album may be familiar to JAs with incarceration in their family — it's a photo of beautiful bird pins crafted in camp.
Between this well-crafted and engaging documentary and album, his dynamic and stylistically diverse musical palette and the clear passion for social justice and passing on the history to younger generations, Ishibashi — Kishi Bashi, or just K — is forging new territory for the Japanese American community.
("Omoiyari" opened in New York and Los Angeles on Oct. 6 at IFC Center (N.Y.) and the Laemmle Glendale (L.A.). To view the "Omoiyari" trailer, visit tinyurl.com/mr2p5ajc.)
This article was made possible by the Harry K. Honda Memorial Journalism Fund, which was established by JACL Redress Strategist Grant Ujifusa.