Readers can now access and search digital issues dating back to the newspaper's inception in 1929.
The Pacific Citizen staff is pleased to 
announce that the newspaper's 
online archives are now available on its 
website (www.pacificcitizen.org) under the heading "Digital Archives."
The digital archive includes the most up-to-date collection of the newspaper's issues, 
arranged by decades beginning in the 1920s. Readers can also now search key words and 
titles within each issue, as well as download and print completed PDFs.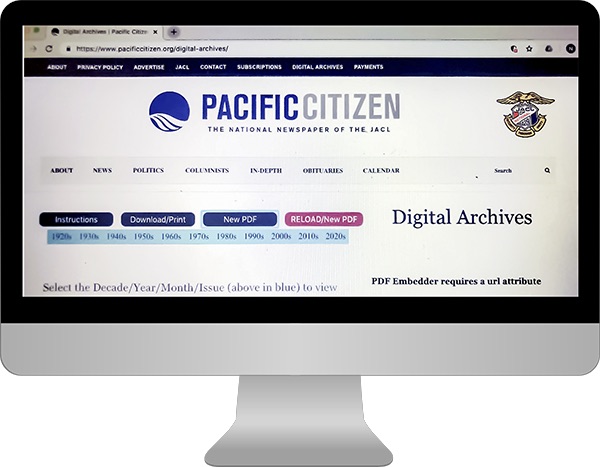 "After what has amounted to years of work by the P.C. staff, the newspaper's archives are now available on our own website, free for all readers to access," said Executive Editor 
Allison Haramoto. "Staff is still scanning and uploading a few missing years that are, at the moment, only available on microfilm, but for the most part, nearly every issue since 1929 is now completely searchable and accessible."
For now, however, the archive is not yet compatible on the Safari search engine — improvements and adjustments are still being made.
"The P.C. is a valuable research resource. We're still working on completing the final product, but for now, we wanted to launch what we do have so that readers don't have to wait any longer to access issues," said Haramoto. "By the time this archive is completed, the newspaper's legacy will live on forever."
The digital archive has been made possible thanks to donations made by Tsutomu Ige, Spring Campaign contributors and a grant from the JA Community Foundation.
— P.C. Staff