An official ceremony led by the mayor of Laval-sur-Vologne, Rene L'Homme, dedicated the memorial to Yohei Sagami.
Hervé and Sylvie Claudon keep the memory of the 442nd and 100th alive in Bruyères, France.
By Connie K. Ho, Contributor
(Originally published in the Dec. 16, 2016-Jan. 26, 2017 Holiday Issue of Pacific Citizen.)
Barbara Berthiaume could finally put a name to the place. It was 2014, and she had arrived in Bruyères, France, in search of the story of her uncle, Yohei Sagami. Hervé Claudon, a native of Bruyères, had figured out the site where her uncle had died during World War II, and there was going to be a ceremony held in his memory.
Berthiaume had lived in Europe for 17 years and knew that her uncle was killed there, but her mother never talked about it. In 2013, she went to hear a talk about Bruyères at the Nisei Veterans Committee Memorial Hall in Seattle and figured out that her uncle might have been killed there during the war. She subsequently emailed Claudon, who connected her with George Sakato, a veteran who was living in Denver and had been at Bruyères with her uncle when he died. On the day of the ceremony in Bruyères, Sakato sent a letter.
Since [I] received the Medal of Honor in 2000, I have had the privilege of being able to speak to schools, veterans and service organizations about my wartime experiences. It has been important to me that people know what was going on at the time of war for the Japanese American people.
I am sure many of you in France are more aware of the 442nd and the 100th than many here in the USA. Yohei Sagami is always among the first stories I tell.
It was our first day of real battle. We did not know what incoming and outgoing artillery sounded like. Yohei was sitting on the ground, and I was standing near him as we were talking. Suddenly, BOOM! Suddenly, I was several feet away from where I was initially. I picked myself up and looked back at Yohei and realized he had been hit. I rushed over and tried to stop the bleeding, but the shrapnel had hit his jugular, and I could not stop the bleeding. He died in my arms.
I believe that he was the first Nisei to be killed in France. He was definitely my first friend to die in the war. I carry his memory and memories of all the other boys I lost in the war.
During my talks, I always want people to know that I am not a hero. But I proudly wear the Medal of Honor as a tribute to all those who did not come home from the war.
You can imagine how surprised I was to hear that Yohei's niece wanted to come to Colorado to meet me. I was flooded with memories of that fateful day, and memories of all my old friends. I began to think about why we went to war. We felt it was important to prove that we are loyal Americans and to fight for our country, but more important that we were willing to give up our lives for our children and our family's children would have a better life and future.
Meeting Barbara and her husband validated that our "Going for Broke" was worthwhile. I know Yohei would be touched that his family and their children remember and honor him. I am proud of them, and I am proud to be part of this celebration of Yohei today.
The letter was a heartfelt tribute to her uncle, and Berthiaume was touched by the ceremony and the words of her uncle's friend. The next few days were packed with more activities. Along with the ceremony, Berthiaume was able to see some of the terrain and get a better understanding of what members of the 442nd Regimental Combat Team might have experienced.
"I had no grasp of the enormity — you could read about what great cost, but to go and see the side of the road and see hundreds of foxholes after 70 years that are clearly visible, you can't help but feel very moved," said Berthiaume. "Hervé introduced me to many of the Free French, and it was a treat to meet them."
This past October, Berthiaume returned to Bruyères to attend a ceremony that Hervé had organized with the mayor of Laval-sur-Vologne to put up a granite commemoration of her uncle and a plaque for another soldier.
"For the Japanese American community, I think it's especially important that we keep those connections alive; it could be another page in reading a history book and helps put a real connection to family members that have served. Even for family members who didn't serve, it's part of our Japanese American heritage. I think going to somewhere like Bruyères helps you understand those sacrifices," said Berthiaume. Hervé Claudon had long heard from elders about the Americans who had liberated the area in 1944.
"I wanted to learn more about this story that surely had changed their lives," he said.
Hideki "Dick" Obayashi and his wife were the first Japanese American visitors to make the trip to Vosges in 2010; they were met by the Claudons, who acted as guides and helped them trace the journey and the battles of the 442nd.
"Some Niseis or their descendants wanted to see again or discover where a part of the story of the Japanese Americans has been written," Hervé Claudon said.
The Claudons took the couple all over the village, from following the original march of the first troops that went into Bruyères and the site of the Los Battalion to the foxholes and a church that still has the markings of bullet holes on its wall. From that first trip, Obayashi has traveled to Bruyères almost every year. He told others about the trip, and it started a chain reaction where many families have made the pilgrimage to the French village since.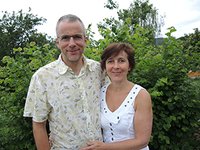 "Hervé and Sylvie are by far the most passionate, gracious people I've ever met in my life — they are so passionate and so grateful and indebted to our Nisei soldiers," said Obayashi.
Hervé Claudon has about a dozen huge boxes of correspondence that he has worked on since he was a teenager. Around the 1980s, he began interviewing many of the Free French and documented their experiences through audio and handwritten texts.
His intense research extends to the locations of where soldiers might have perished, and he has diligently placed a marker in the spot where a soldier died to commemorate the memory of the individual. He is also knowledgeable of the Free French who are still alive and aims to connect them with travelers when they arrive. Hervé Claudon noted the importance of introducing both young and old community members to the visitors who frequent Bruyères.
"We really noticed that our visitors had really no idea [or a wrong one] how are the Vosges, the ground, the 'foxholes' (trenches), the forest but also the scenery," said Hervé Claudon. "The Niseis have talked about a miserable country with bad weather, cold, etc. . . . Instead, they discover a very beautiful landscape with not especially bad weather and a peaceful resting place."
He describes how the meetings between locals and visitors are his favorite part of the experience.
"You will always be able to see the battlefields but not the locals who were there in 1944. It's always happiness in these meetings even if there's sometimes tears to explain what had happened at that time," said Hervé Claudon. "When Sylvie and I have proposed to some locals to welcome some Americans in their homes, all have immediately agreed. To us, it's the best reward to get friendship thanks to the saddest thing ever."
The Claudons had the opportunity to visit the United States recently and were able to speak about their experiences in Bruyères with groups in Honolulu, Los Angeles and Seattle. Much of the trip was funded by those who had visited them, and many of the venues were packed with attendees who wanted to hear their stories. They stayed in the homes of friends and tried out new cuisines at local restaurants.
"[It was] a [once-in-a]-lifetime trip, and we are very grateful to all who have been involved in this experience," said Hervé Claudon.
Berthiaume believes that the trip also gave the Claudons an opportunity to learn more about the community that they host in France.
"The beautiful part of this is that Hervé has been so invested and knows so much about the 442nd, but for him to see where the Nisei came from was very moving for him," Berthiaume said.
She also hoped that the trip stateside would expose more people to the history of Bruyères.
"The level of awareness of Bruyères was dramatic, and that's what we wanted. More people who didn't have the opportunity to travel to Bruyères could learn more about it," said Berthiaume. "It's not lost on people that people like my uncle were serving over there while their families were incarcerated here — I think that's a really powerful thing for people to remember. When they go, it reinforces the sacrifices that [the soldiers] made and that they were loyal Americans. We are revisiting some distant drumbeats from people who have had fear about national security and people who look like the enemy and worship like the enemy so I think, and all that history that went on with the 442nd is incredibly pertinent today."
Back in France, Hervé Claudon has even advocated for the soldiers and their families during times of crisis. Berthiaume and Obayashi spoke of an instance where a windmill company wanted to do construction next to the Epinal American Cemetery. Hervé Claudon tirelessly campaigned to not have it there, and he was able to successfully defeat the proposition.
Next up for the Claudons is upkeep of a monument that was erected in 1947. In 2011, while on a business trip to Paris, Carl Williams of Sacramento visited Bruyères, where his wife's uncle had fought in the October 1944 battle that liberated the city and several other towns in the region. A monument had been erected a few years later to honor the sacrifices of the young Japanese Americans who had fought so valiantly in battle. During his visit, Williams noticed that the monument was in poor repair, showing its age and the effects of occasional vandalism.
"I was so moved by my visit to this quiet memorial that I promised myself that I would do something about the monument's condition," he said in a statement.
Over the next few years, Williams made a number of attempts to gain approval for a proposal to rehabilitate the monument, but he had no luck. In 2015, he read about a trip the Claudons were taking to Los Angeles to speak at the Japanese American National Museum, and, through the museum, he was able to connect with Hervé Claudon.
On his behalf, Hervé Claudon contacted Yves Bonjean, who was the new mayor of Bruyères, and the matter was subsequently taken up by the city council and approved. The approved plan included not only the clean up of the site but also the addition of a memorial element.
Hervé Claudon continues to work on this project and has others in the pipeline. To him, it is important to keep the voices of the 442nd and 100th alive, whether in the form of a plaque and a memorial or a speaking opportunity at a local high school. It is quite clear that those who visit him and his wife in Bruyères think of him fondly, and they show the same love and admiration for their visitors.
"It's like a second family," Hervé Claudon said. "It's first a story of human beings."
Travel Details
Contact Hervé and Sylvie Claudon to find out more about visiting Bruyères — the best time to travel there is from April-June or September-November. They can be reached at Battle of Bruyères Tours, +33-336-8467-1960 or email herve.claudon@gmail.com.