Age discrimination against people age 50 and older robbed the economy of $850 billion in 2018, a new AARP report has found.
Research by AARP and the Economist Intelligence Unit shows that the 50-plus population contributed 40 percent of the U.S. Gross Domestic Product in 2018, creating 88.6 million jobs and generating $5.7 trillion in wages and salaries through jobs held directly or indirectly.
But, older workers would have contributed a massive $850 billion more in 2018 to the GDP if they could have remained in or re-entered the labor force, switched jobs or been promoted internally, based on the new report.
The elimination of that bias in 2018 would have increased the contribution of the 50-plus workers to the GDP from $8.3 trillion to $9.2 trillion, the study shows. The research also projects that the potential contribution of the older population could increase by $3.9 trillion in a no-age bias economy, which would mean a total contribution of $32.1 trillion to the GDP in 2050.
"This important report shows the cost to the entire economy of discriminating against older workers," said Debra Whitman, executive vp and chief public policy officer at AARP.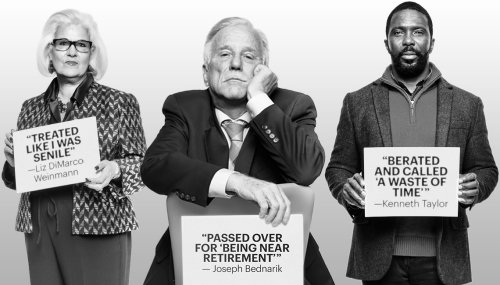 "The economy in 2018 could have been 4 percent larger if workers did not face barriers to working longer."
Whitman also added: "Studies have shown that older workers are highly engaged, with low turnover, and often serve an important role as mentors. Their expertise helps businesses and pays big dividends for the economy as a whole. Employers who embrace age diversity will be at an advantage."
The groundbreaking AARP report comes on the heels of approval by the U.S. House of Representatives of bipartisan legislation to combat age discrimination — the "Protecting Older Workers Against Discrimination Act" (POWADA).
"The House vote sends a strong bipartisan message that age bias has to be treated as seriously as other forms of workplace discrimination," said Nancy LeaMond, executive vp and chief advocacy and engagement officer at AARP. "Age discrimination is widespread, but it frequently goes unreported and unaddressed."
Backed by AARP, POWADA would address an adverse 2009 Supreme Court decision that made it much more difficult for older workers to prove claims of illegal bias based on age. The legislation would restore longstanding protections under the Age Discrimination Employment Act (ADEA), which covers workers age 40 and over.
The new study includes a survey last July and August of 5,000 people age 50-plus to identify how they have experienced age discrimination at work or while looking for work.
The survey analyzed:
Involuntary retirement due to age bias
50-plus workers involuntarily in part-time jobs
Missed opportunities for wage growth
Lost earnings following involuntary job separation
Longer periods of unemployment compared to younger workers
People age 50 and older who dropped out of the labor force but want to continue working
The study makes it clear that in order to benefit from age "inclusion," employers need not only to recognize age bias, but also actually "actively" stop it.
They need to "bust myths" about older workers, be it that they cost too much or are not tech-savvy; recognize the value that experienced workers bring to the workplace, such as their dependability and ability to problem-solve and remain calm under pressure; and build and support a multigenerational workforce (per the discussion above).
For more information on AARP workforce-related resources, visit aarp.org/work/employers.
Ron Mori is a member of the Washington, D.C., JACL chapter and manager of community, states and national affairs — multicultural leadership for AARP.