Growing up as a fourth-generation Japanese American in Los Angeles, Lunar New Year was not something my family celebrated. For us, like many Japanese American families in my community, we celebrate the New Year on Jan. 1.
I can still remember our large family gatherings where all my relatives would come over to my great-grandmother, Yukiko Okazaki's home. We called her Grandma "O" for short. She cooked all the traditional Japanese food and would make enough food to feed an army.
Which is why it was always a tradition for us to keep the feast going into the next day. My grandmother, Amy Tanaka, eventually took over the cooking and carried on the tradition. I, of course, enjoyed all the dishes she would make, including her sushi and shrimp tempura, but I loved her kimpira gobo!
To this day, I have not been able to find anything that compares to hers. My great-grandmother and grandmother have both since passed, but I am grateful to both for helping me stay connected to my Japanese heritage.
Lunar New Year became a much bigger deal for me when I started working at AARP. Before Covid-19, we would have a big Lunar New Year celebration with lots of food and fun activities. We even handed out the traditional red envelopes to each AARP employee. Though the envelopes did not contain money, we made sure to include some lychee candy and a note explaining the significance of Lunar New Year.
It was always a great way to bring members of our Asian American Employee Resource Group together and the broader AARP community. During the pandemic, we have still found ways to celebrate virtually, but we are all looking forward to when we can gather again in person.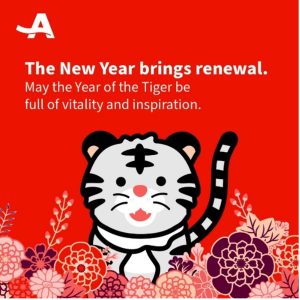 I do hope that this New Year brings you and your family renewal and that the Year of the Tiger be full of vitality and inspiration.
New year, new beginning; it's time to acknowledge the year that was and boldly move forward in the year to come. AARP wishes everyone joy and happiness, peach and health in the New Year. And to help you achieve these goals, AARP will be there every step of the way.
Visit https://www.aarp.org/aapi for a wealth of resources and services to help you move forward toward a fresh start on your new year.
Scott Tanaka is a member of the JACL Washington, D.C., chapter and is a policy, research and international affairs adviser at AARP.
SHOPPING ON AMAZON? FIRST CLICK THE LINK BELOW AND HELP THE PACIFIC CITIZEN!