The sad reality is that many of us are dependent on prescription drugs. While prescription drugs are an essential part of our lives, prices for these essential prescription drugs are not affordable.
AARP recently released new data and information illustrating the impact of high prescription drug prices on Americans — specifically people living with cancer, prediabetes or diabetes and heart disease.
As a part of AARP's nationwide Stop Rx Greed campaign to lower drug prices, AARP unveiled a new infographic at the National Academy for State Health Policy annual conference in August to show the impact of high prescription drug prices.
The skyrocketing cost of prescription drugs is leading more and more Americans to ignore their doctors' orders when it comes to how often and how much of their medicines they should be taking.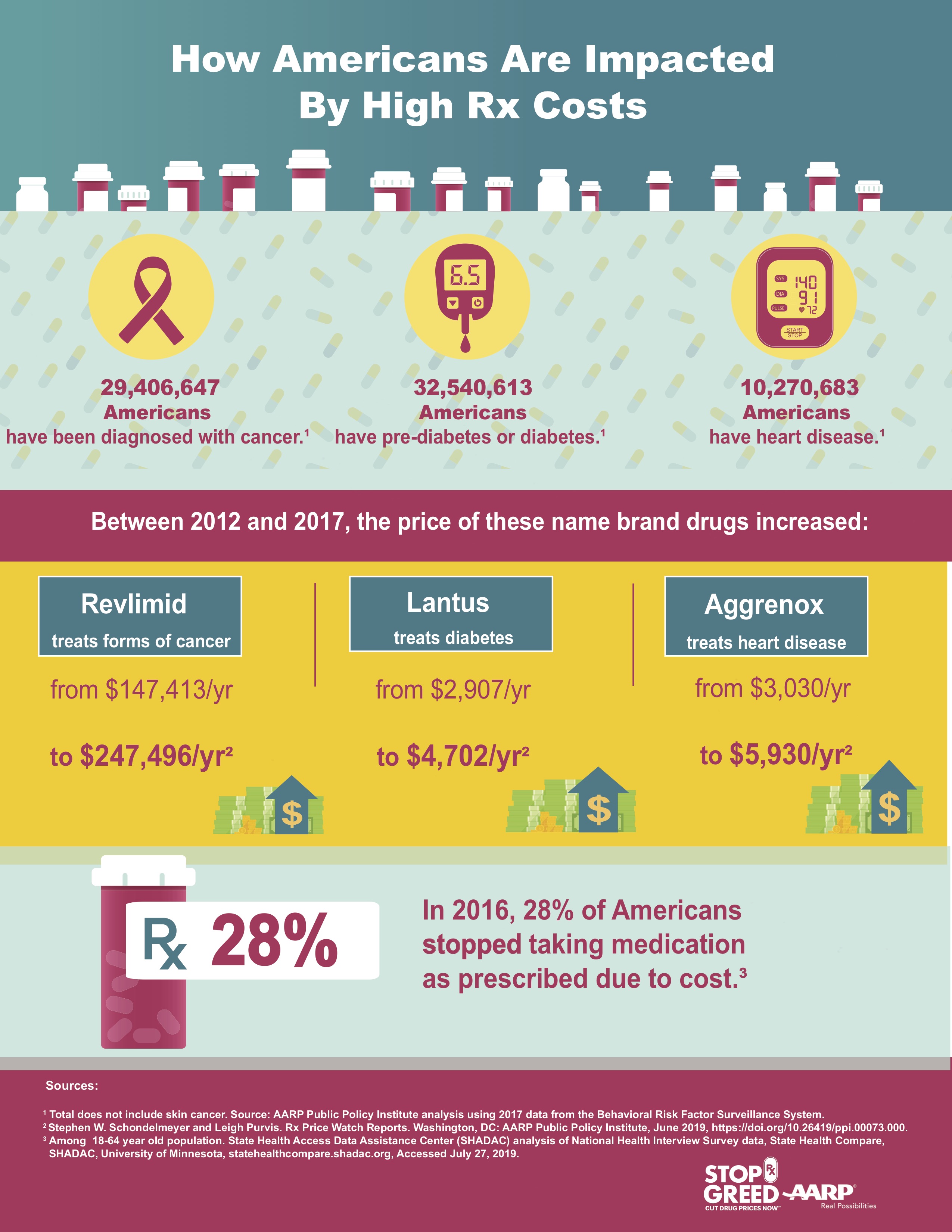 On average, 28 percent of pre-Medicare-age adults say they aren't adhering to their prescriptions as written because of the high cost of medications. Instead, consumers are asking their doctors for a cheaper drug, delaying refilling their prescriptions, taking less than the prescribed dosage, skipping doses, using alternatives to prescription medicines or going outside the country to buy their drugs.
"That there is a relatively high percentage of the population not taking their medicines is a sign that this is a pervasive issue," said Leigh Purvis, director of health services research for AARP.
Purvis also said that the data indicates "a clear link between people being inadherent and higher health care costs down the road."
It's a lot less expensive to take medicine, she said, "Than going in for heart surgery or having a heart attack 10 years down the road."
The data shows that nationally in 2017, nearly 11 percent of Americans over age 18 were diagnosed with diabetes and nearly 13 percent with prediabetes. The annual price of the Lantus SoloStar insulin pen, commonly used to treat both conditions, went from $2,907 in 2012 to $4,703 in 2017 — a 62 percent increase.
In 2017, nearly 83 million American adults reported having a diagnosis of high blood pressure. The annual price of Benicar, a drug commonly prescribed to such patients, went from $1,643 in 2012 to $3,509 in 2017 — a 114 percent increase.
"It's despicable that nearly one-third of Americans have to choose between filling life-saving medications or paying rent and buying food," said Elaine Ryan, vp of state advocacy and strategy integration for AARP. "AARP is deeply committed to winning the fight against skyrocketing drug prices on behalf of our 38 million members and all Americans. We strongly urge Congress and state legislatures to continue taking meaningful action on this crisis now."
In 2016, 28 percent of Americans stopped taking a prescription drug as prescribed due to cost, according to the State Health Access Data Assistance Center and as shown in the infographic. The infographic also highlights recent price increases for three prescription drugs commonly used to treat cancer, diabetes and heart disease.
For more information about the analysis, as well as to learn more about AARP's Stop Rx Greed campaign, visit www.aarp.org/rx. To view infographics state by state, visit www.aarp.org/rxstates.
Ron Mori is a member of the Washington, D.C., JACL chapter and manager of community, states and national affairs — multicultural leadership for AARP.