You can't watch the evening news 
without at least one brain health supplement commercial running. The ads look and sound legitimate, and they even seem to imply that clinical tests have found that the supplements featured help improve your brain health. The truth is: You can't believe everything you see on television or read on the Internet.
Several weeks ago, the Global Council on Brain Health released a new report that concluded that dietary supplements do not improve brain health or prevent cognitive decline, dementia or Alzheimer's disease, and it recommended that most consumers not take supplements for this purpose.
The GCBH reviewed the scientific evidence on various supplements and determined it could not endorse any ingredient, product or formulation designed for brain health. Instead, the council recommended a healthy diet as a way for most people to get the nutrients they need to benefit their brains. The GCBH is an independent organization, created by AARP in collaboration with Age UK, to provide trusted information on how consumers can maintain and improve their brain health.
"It's tempting to think you can pop a pill and prevent dementia — but the science says that doesn't work," said Sarah Lenz Lock, AARP senior VP for policy and executive director of the GCBH. "The good news is, we know what will help to keep your brain healthy: exercise, a healthy diet, plenty of sleep, challenging your thinking skills and connecting with others. Rather than buying a dietary supplement, spend your money on new walking shoes or a salmon dinner."
Many dietary supplements marketed to consumers as improving brain health have claims like "clinically shown to help with mild memory problems associated with aging" and "scientifically proven nutrients for a healthier brain."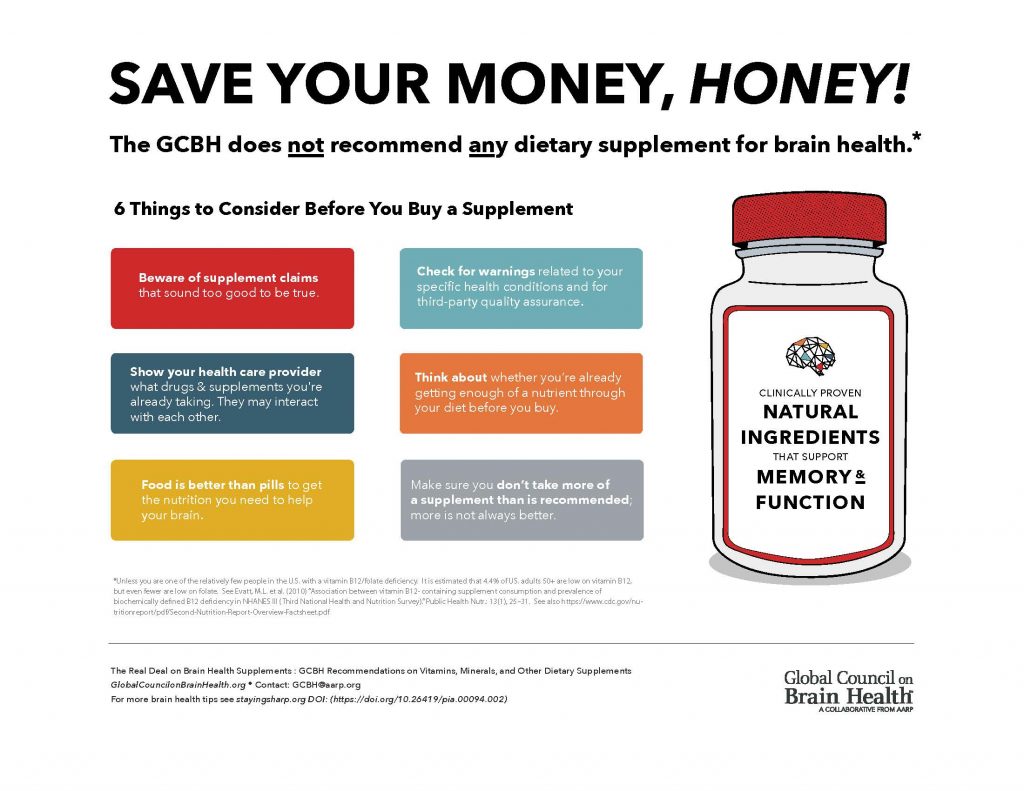 While all medications sold in the U.S. are regulated by the Food and Drug Administration, dietary supplements are not considered medications — they can be sold without premarket review of their safety, efficacy or truthfulness of their claims.
Brain health supplements generated 
$3 billion in sales in 2016, and new research conducted by AARP found that 26 percent of adults age 50 and older in the U.S. take one or more supplements to improve or maintain their brain health.
The GCBH report highlights practical tips for individuals, including:
Discuss with your health provider any vitamins and supplements you are taking, as well as their possible risks, benefits and interactions. Your health provider may recommend a supplement if you are nutrient-deficient or are at risk of becoming so due to diet, lifestyle or other health issues.
Before taking a supplement, ask yourself whether you are already getting enough nutrients through your diet or a multivitamin. Are any claims about its benefits supported by high-quality research?
Remember that more is not always better — some vitamins, minerals and other ingredients can be toxic at high levels.
If it sounds too good to be true, it probably is. Beware if a supplement claims to improve brain health or memory, make you smarter or cure a disease.
The GCBH report also recommended that health providers routinely ask about patients' use of dietary supplements and evaluate patients for potential vitamin and mineral deficiencies. It includes summaries of the current scientific research on vitamins and selected supplements that are marketed for brain health. 
The full report can be found at www.GlobalCouncilonBrainHealth.org.
To learn more about the actions consumers can take to help maintain and improve their brain health, visit www.stayingsharp.org.
Ron Mori is a member of the Washington, D.C., JACL chapter and manager of community, states and national affairs — multicultural leadership for AARP.