It's midsummer, and it's a good time to make a mental check to see if you have taken a vacation. If not, consider the unexpected health outcomes of travel, according to an AARP survey.
The survey finds that 81 percent say that they notice some improvement in their health or well-being while away, and traveling often puts people in a better mood after they return, with 73 percent of boomers reporting at least one positive impact on their health post-trip.
Most of us report boosts to our physical or mental health not just during and after a trip, but even before one. Planning a trip is a positive experience for about 86 percent of boomers, who say it makes them feel happy, excited or relaxed.
These findings are part of a national online survey of about 1,500 adults conducted by AARP. The results show that though people don't necessarily book a trip with wellness at the top of their itineraries, they often enjoy health perks from travel.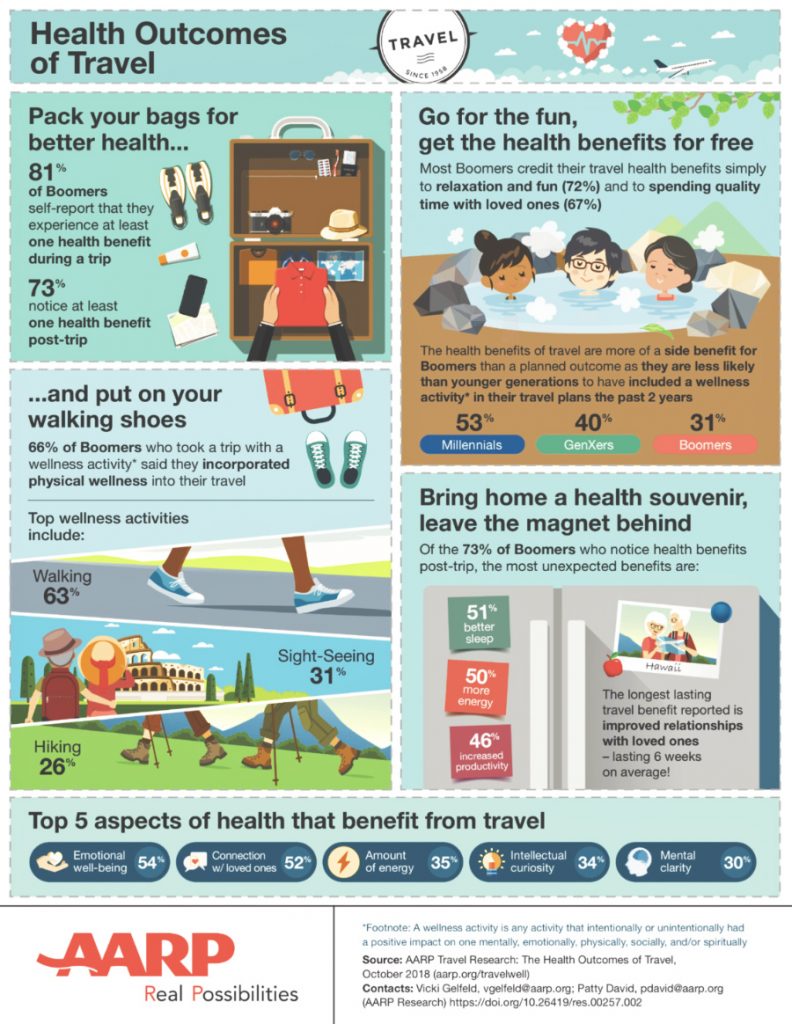 The most commonly reported contributors to the health benefits of traveling are relaxing and having fun — cited by 72 percent of AARP respondents. Other top-ranked factors leading to health benefits reported include spending quality time with friends and family (67 percent) and getting out of the day-to-day routine (63 percent). Most health improvements appear to last between three and four weeks post-trip, with improved relationships with loved ones on average lasting six weeks.
While the push to hit the road may be motivated by a desire to merely kick back, the survey shows several other benefits that travelers may not have considered in planning their getaway. Topping the list of unexpected travel bonuses are better sleep (51 percent), more energy (50 percent), increased productivity (46 percent), improved overall health (46 percent) and mental clarity (45 percent).
Post-vacation blues can happen. About 20 percent report feeling tired following an enjoyable trip, but it's usually only one week on average. The majority of people do not experience any negative health issues post-trip.
Interestingly, wellness is not always an intentional part of travel. When boomers map out a trip and head off, less than one-third (31percent) incorporate some wellness activity, while 53 percent of millennials (age 21-37) and 40 percent of Gen-Xers (age 38-53) do.
Those boomers who incorporated these wellness activities into their trip say it was a side benefit, with most such activities somewhat planned (46 percent) or unplanned (45 percent). Just 9 percent of their trips were exclusively centered on wellness, the survey discovers.
As for specific kinds of wellness, physical wellness emerged as a top benefit when compared to other forms of wellness, such as mental, emotional and spiritual.
Among boomers, about 66 percent cited physical wellness as being a part of their wellness vacation experience, and 40 percent noted physical wellness as the aspect from which they benefited most. Most boomers got their exercise from walking (63 percent). Other top activities: sightseeing (31 percent), hiking (26 percent), swimming (24 percent) and spa services (20 percent).
Boomers who were active on vacation look back on the value of their wellness activities favorably, and more than 90 percent would likely choose such activities again in the future. Meanwhile, 38 percent of these repeat wellness travelers are more apt not to plan and just let an activity happen.
Not surprisingly, the younger the traveler, the more likely a wellness activity was a part of his/her leisure travel. No excuses, now is the time to plan your next vacation and remember the positive health benefits.
So, pull out the suitcases and start packing — it's time to take a trip for your health!
Ron Mori is a member of the Washington, D.C., JACL chapter and manager of community, states and national affairs — multicultural leadership for AARP.