The ABC series finds its novelty in reversing the dominant, top-down narrative surrounding Asian America.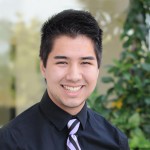 By Ryan Kuramitsu, JACL MDC Youth Rep

On Feb. 4, ABC premiered "Fresh Off the Boat," a sitcom inspired by restaurateur and food personality Eddie Huang's 2013 memoir of the same name. The show, the first to feature an Asian American family since Margaret Cho's "All-American Girl" (which ran from only 1994-95) has been widely heralded by viewers and cultural critics alike for its wry casting, intuitive satire and unique take on the Asian American and Pacific Islander immigrant experience.
The series follows a fictionalized version of a young Eddie (played by Hudson Yang), whose Taiwanese-born parents depart from D.C.'s Chinatown and supplant themselves in Orlando suburbia after the family patriarch (Randall Park) decides to open a Cattleman's Ranch Steakhouse — what mama Huang (Constance Wu) grumblingly refers to as "a cowboy restaurant."
Eddie navigates his new social environment with equal parts confusion and unflinching confidence: He gawks at his classmates' reactions to a pungent home-prepared lunch, begs his mother to buy him "white people food"; he centers basketball and hip-hop music, an "anthem" for "outsiders" like him and his affinity for black culture marks him as even more outstanding — and odd — amongst the Caucasian students at his private Christian school.
Many of my AAPI friends have expressed admiration at the way a mainstream TV show has finally embraced the task of telling the story of a delightfully unexceptional nonwhite family. As one Chinese American viewer tweeted, "I've already seen more of my life in the first 10 min. of #FreshOffTheBoat than I have in my entire relationship [with] TV."
The Huangs (in real life and on the show), as immigrants, have had to traverse the foreign language of work visas and trans-Pacific expatriation, all while acclimating to a new land. According to a 2013 report by the Pew Research Center, 74 percent of all Asian Americans are foreign born, many more the direct children of immigrants. Meanwhile, a minority of Asian American families have been in this country for significantly longer; as a recent Department of Labor publication reveals, only 40 percent of Japanese Americans were born outside of U.S. Families like mine have been here for five generations, which means that the typical immigrant narrative is completely alien to our experience here (unless you count adjusting from Hawaiian to mainland culture).
While I can't identify with all the traditional staples of first-generation Asian American life as depicted on the show (parents speaking in accented English, a teacher calling me by my "real name"), other scenes can't help but resonate.
Fretting over stinky snacks at school, hearing my unassuming grandmother throw out incisive phrases in an unfamiliar tongue — these have been amusing to relive. At the same time, remembering the biting glances and insensitive slurs I witnessed growing up also strikes too close to home. I'm reminded that, as an Asian American of Japanese ancestry, my home country is a world that will always see me as an uninvited guest, a perpetual foreigner who frustrates our culture's black/white racial binary.
One function of modern racism is that whenever Asian Americans are considered by dominant groups, our cultures are filtered through the lens of orientalism — East Asians are othered and exotified for mysterious cuisine, demure personages, quirky customs and ancient secrets.
Yet, "Fresh Off the Boat" finds its novelty in reversing the dominant, top-down narrative surrounding Asian America, instead placing the audience in the shoes of the Huang family.
In this telling, it's not Chinese culture and values that are foreign, but suburban '90s Americana— it is not the Huang's strangeness that presents the laughs, the stumbling block to viewers, but white America's bizarre fascination with uninspired celebrity ("Melrose Place," Eric Clapton), Henry Ford-esque sameness and consumerism (Lunchables, perms), and bohemian politics (rainbow sticker-clad report cards).
Part of me knows that keeping up with the Huang family week after week will probably never bear out the kind of critical racial conversations that mainstream America remains so loathe to acknowledge. Part of me worries that, as "Fresh Off the Boat" reaches greater cultural penetration, Eddie's brood will be seen as emblematic of all Asian Americans, a starchy model for us to imitate.
"Fresh Off the Boat" is simply great entertainment, the Huangs excellent and charming houseguests. As Cho quipped about family in the pilot of "All-American Girl": "It's sick, and yet there's something almost beautiful in the dysfunction of it all."
After a more than 20-year dry spell, Asian Americans are jumping at the chance to see our stories splayed across the small screen, sans rice hats, rickshaws and other familiar racial tropes.
Jenji Kohan, creator of the Netflix series "Orange Is the New Black," has confessed that her show's central character (a white, well-to-do young woman named Piper) is a "Trojan horse" of sorts. By pitching the show as if it were about Piper's experiences as an inmate, Kohan claims she is able to smuggle in the "fascinating tales" of black and Latina women, poor folks, the elderly, convicted criminals — stories, in other words, that give the show its splash — and that otherwise would never get this kind of play in television.
"Fresh Off the Boat" is far from perfect. But if the Huang's financially embattled, quaint and sometimes stereotypical household must serve as a noncontroversial foil on the path toward airing the more complicated, real-to-life stories of our families, we could honestly be a lot worse off.