Japanese American author Naomi Hirahara's new mystery series "Murder on Bamboo Lane" follows 23-year-old Hapa bicycle police officer Ellie Rush as she pedals during the day through L.A. and rides the subway home at night.
By Nalea J. Ko, Reporter
Fans of Japanese American author Naomi Hirahara's mystery novels have voraciously read for years about the fictitious antics of amateur detective and gardener Mas Arai, a character inspired by her late father, Isamu.
Now, the Pasadena, Calif.-based Japanese American writer has penned a new series "Murder on Bamboo Lane," following newbie bicycle police officer Ellie Rush. The 23-year-old Hapa Japanese American character finds herself involved in a murder investigation of a Vietnamese American college undergrad in the newest Hirahara book that was released on April 1.
Hirahara, 51, is preparing to promote the new series at scheduled events across the United States, including an appearance on May 24 at the Japanese American National Museum in Little Tokyo.
The Pacific Citizen spoke with Hirahara about how she found the inspiration to create another mystery character and what's in store for Mas Arai in the last installments of that series.
What was the inspiration for Ellie Rush?
Naomi Hirahara: Well, frankly I didn't think I would be writing another mystery series beyond Mas Arai. But my father, who was the inspiration for Mas, got ill. He got stomach cancer. During that time, actually after he passed away, I was trying to do things out of the box. So, I had participated in this Alcohol, Tobacco and Firearms and Explosives Citizen's Academy. It was through the Mystery Writers of America organization.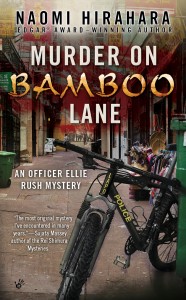 Basically, it was an eight-week course, once a week. You just learn different aspects of law enforcement.
I thought because I write about mysteries, I need to do my homework and learn about it. That's when we went to the shooting range. I'd never shot a gun before. We went on surveillance exercises.
Were you a good shot?
Hirahara: I was OK. I was a lot better than I thought. I thought that I would be blown back because we were shooting some powerful weapons. But I played like a lot of JAs in L.A. I grew up playing basketball. It's all about stance, right? So, when you shoot, you just have to have your feet planted on the ground.
At the same time, a professor at UCLA, an Asian American Studies and English professor, got ill. Actually, it was professor Valerie Matsumoto who recommended that I take over this class.
It was a creative writing workshop. It was 15 students, and I fell in love with my students.
That's right. You thanked them in the opening of your book.
Hirahara: Yeah. It's been awhile since I've been in college.
But in the class, it was a really interesting picture of the 21st century because I had Hmong students, Cambodian students, Vietnamese students. There was [also] one Japanese American, who was, of course, fourth generation. It was so exciting.
For most of them, writing was new to them. They were doing it as a requirement or as a fun elective. They had really great stories
That's probably more freeing to not be restricted by writing rules. They must've had interesting stories.
Hirahara: Exactly. And some of them were scared. One student wrote something that was dark, and he kept saying, "I don't know why this came out of me." (Laughs)
This was the fall of 2010. My dad was still alive. He was in hospice care. I was teaching the class and was taking this other class, this ATF class, just on a lark because I just really believe sometimes you have to do things out of the box. And they intersected. Then this character Ellie Rush, who is of mixed race, came into being.
Was it in the UCLA class that you picked up the lingo Ellie uses with her friends?
Hirahara: What was interesting is, a lot of my stereotypes were broken because I think people say these blanket statements like, "Oh, young people they're all into technology. They're all this, they're all that." But I guess teaching the class made me see that you can't make these blanket statements.
Time will tell if I really picked up their voice of twentysomethings or not. I think as a writer you always have to be listening to people, no matter their age.
I'm still full aware that I'm a middle-aged woman writing about a younger person. So, it's going to be a slightly different book than if a person that age was writing it. But it's OK. You have to experiment.
Did you get your inspiration for Ellie from a specific student in that UCLA class?
Hirahara: We were talking about this, because I had a signing last night in Pasadena, and we were talking about the character, and I think some of it is me at that age. But replace policing with writing.
It is more than bike riding or policing, I think it's about a young woman trying to find her calling in life. I think that part of it is based on something I felt at that age.

Do your friends and family think they're the inspiration for the characters in your books?
Hirahara: It's funny. I use a lot of names of people I know. Ellie, I'm playing on the whole thing about L.A. That's kind of my silly word play there. But other characters are kind of named after people I know. But then I know more people with the same name.
So, one person thinks I named it after her, but I really didn't — I named it after another friend. (Laughs)
And you don't tell them?
Hirahara: No, of course not! But it was funny because I was reunited with my fourth-grade friend. We hadn't seen each other since fourth grade. She was my first Jewish friend, and her name is Abbie Gellman. In different books that I've written, I've had a Jewish attorney, Gellman. In my other book, I had an Abbie there, who's celebrating Hanukkah or something. Abbie read all my books, and she said, "You know, I was telling my mom, there's an Abbie and there's a Gellman, maybe that's me?" And her mother's like, "Abbie, don't be silly! She's thanking her first editor, who was named Abbie. I'm sure it's named after her." And so when we got together after not seeing each other for more than 40 years, I said, "No, Abbie that was you." That was my tip of the hat to this person
She must have felt so vindicated and went back to her mom.
Hirahara: A lot of times I like to name my characters after people who I feel were really wonderful, but they weren't famous, so they didn't get much credit. It's kind of my way to say, "Hey, I remember you. I remember you were so kind to me when I was in college or when I had my first job."
You spent a few months in Ghana after college. Is that where this book's Father Kwame character comes from?
Hirahara: Right! Oh, you picked that up! And with this series, it's mass-market paperback, it's designed to be a fun read. So, I really tried to lean into things that I already knew about rather than trying to open up a whole different can of worms — different research that would take months. I said, "Well, what do I know already? What things do I like already? What can I write about?"
Did you get on a bicycle and race through downtown?
Hirahara: No! It's funny. One of my colleagues who is a total biker — he took me to task. He was grilling me about my bicycle know-how. (Laughs)
I always wonder if it gets harder as technology advances — with the omnipresence of cell phones and surveillance cameras — to write a mystery novel.
Hirahara: I think it really does.
I try to make Ellie more of, not a nerd, but she's not totally into certain things that other people her age are into. But yeah, it is difficult.
I can't remember. Do you have children?
Hirahara: No children. I think the fact that I haven't had a kid, I think in some ways it frees me up to write about younger characters. I think sometimes if you have children at a certain age, you think all young people are like your kids.
Your own perspective binds you.
Hirahara: You make these assumptions like, "My kid's that way, so everybody is like that." No, I think it's just your kid. (Laughs)
But I think when you write a character like Ellie, you have to step into her shoes. You're not her mother; you're her.
I think that's what writing is: envisioning yourself in someone else shoes.

You must be a great observer. Your characters are each so well developed. I feel like you must spend a lot of time people watching.
Hirahara: Yeah, I love it. Most of us writers do. My mom told me growing up one of the teacher's said, "Naomi is very good at observing things." I'm happy to be an introvert in that way because I think it helps.
How far along are you on the second Ellie Rush book?
Hirahara: Oh, my gosh! It's due in like two months!
Like I said, with this mass-market format, they do have an expectation of one mystery a year. That's why I think I should try to write things that I kind of know about because it doesn't allow for the luxury of doing original research. I hope I'm able to continue. It's really been fun. It's been liberating to promote a book with a young character.
What was it exactly that made you hesitate to do another mystery series?
Hirahara: I couldn't conceive of a good character, and then also I didn't want to do another amateur sleuth because it's really challenging to figure out why this ordinary person is encountering all these dead bodies. I'm still going to write a couple more Mas books. But it's going to end at seven.
The sixth Mas Arai book will be at Dodger Stadium. It will be around baseball. And the last one, I want to take him back to visit Hiroshima.
Where do you see most of your book sales? Online?
Hirahara: What's weird, I'm kind of unusual. It really differs with each author. When I first started out with the Mas Arai series, my girlfriend told me, "Naomi, you're actually going to have to get out there and actually meet people so they will know what a Japanese American is." Actually, what she said was absolutely right. The comments that I got about Mas were like, "I didn't know there was a difference between a Japanese person and a Japanese American."
With Asian American writers we have to fight for that sale. One book at a time. We're not household names.
Did you ever imagine you would have published so many books?
Hirahara: No. No.
Will you teach again?
Hirahara: I was just filling in that one semester. So, we'll see how it goes. I mean, I'm still learning about writing myself. I want to challenge myself, so I'll be able to teach others. The thing is, I didn't major in English. A lot of things I learned on the job.
Just like Ellie Rush. Well, thank you for speaking with me. I'm excited to finish the last few pages of "Murder on Bamboo Lane" on the L.A. train tonight.
Hirahara: That's so appropriate. (Laughs)
For more information about Naomi Hirahara's upcoming book signing events, visit www.naomihirahara.com.
Originally published on April 4, 2014