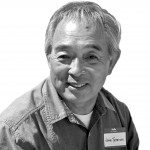 By John Tateishi
When I began writing this column on Friday morning, my opening statement was this:
"It's possible and maybe even likely that Eric Shinseki will have resigned as the Secretary of the troubled Department of Veterans Affairs by the time this column appears in the P.C.
"I hope not."
As it turns out, it was too much to hope for because by that afternoon, the media announced his resignation. Much maligned and under ferocious attack for the VA scandal that surfaced at the Phoenix VA earlier this year, Shinseki had been under fire to resign, mostly by Republicans, joined in the end by some Democrats.
What began with a whistle-blower report of corrupt administrative practices at the Phoenix VA facility erupted into what appears to be a systemic problem throughout the VA service.
An inspector general's preliminary report of the VA system issued May 28 presented a scathing picture of serious malfeasance at over half of the VA's hospitals and added fuel to the fire for those who demanded Shinseki's resignation.
The problems at the VA were not of Shinseki's making. He inherited them. They existed for decades, long before he was sworn in as Veterans Affairs secretary. Let's face it: The VA for decades has labored as a dysfunctional bureaucracy that is badly understaffed and has had to face increasing demands as thousands of veterans returning from Iraq and Afghanistan have sought care.
In his five years as Secretary, Shinseki asserted a bold vision to eliminate homelessness among veterans by 2015 and to overhaul much of what didn't work within the system. While he was surprisingly successful in dealing with both issues, he was blind-sided by the more recently publicized waiting-time scandal.
Shinseki was willing to take responsibility for the current scandal. At heart, he's a good soldier who is willing to fall on his sword to allow the president time to repair the political damage caused at the VA.
But Congress must also bear some of the blame. Forty-one Republican senators filibustered earlier this year to kill a bill that would have provided landmark funding for badly needed resources at VA facilities around the country. In fact, it was those same 41 Republican senators who clamored the loudest for Shinseki's resignation.
The only words I have for such shameful hypocrisy cannot be printed in these pages.
Throughout the ordeal of this witch hunt, Shinseki was abandoned by virtually everyone. Michael Blecker, a Vietnam veteran and the director of Swords to Plowshares, was one of the only voices heard publicly in Shinseki's defense.
The JACL, I noticed, remained curiously silent throughout the ordeal.
I regret that Shinseki wasn't given the opportunity to deal with the corruption and malfeasance reported at VA facilities around the country. I have every confidence that, if given the chance, he would have done much to correct what only recently had become known of the appointment time problems at so many VA hospitals. These were fixable problems that could have been corrected while investigations continued.
Eric Shinseki has had a long and distinguished career serving this nation, 38 years as a highly decorated soldier and five as the Secretary of the Department of Veterans Affairs. He survived two combat tours in Vietnam but could not survive the embittered battlefield of Washington politics.
As he leaves Washington, I wish him well.
John Tateishi is a former JACL National Director.
Originally published on June 6, 2014