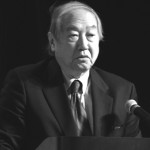 By Grant Ujifusa
JACL honored Masaoka's contributions to the field of civil and human rights during its Sayonara Banquet at the National Convention. Following is Ujifusa's speech.
I want to thank David Lin and Priscilla Ouchida for inviting me to speak tonight. David, always the complete gentleman, shows that JACL has become an Asian American organization. Priscilla joins a group of extraordinary Japanese American women who have stepped forward to lead us – among them Grayce Uyehara, Cherry Kinoshita, and Etsu Masaoka.
And I am so happy that the National Council voted unanimously yesterday for the resolution offered by Mas and Marcia Hashimoto to praise and honor Mike Masaoka.
I think this: Because Mike was the father of the 442, he is also the father of JACL as we have known the organization for more than 70 years. How did this come to be? We need to know because origins matter and mostly determine identity. We need to know in particular that Mike Masaoka was the number one "inu" in the camps. To bewildered and shocked internees, he counseled loyalty – shall we call it Allegiance? – to the only country Japanese Americans really had. He then asked young Nisei men to fight and die for that self-same country – one that had grievously betrayed them.
Initially only 1256 men volunteered out of the ten camps, which showed the influence that sometimes included physical violence wielded by the vocal pro-fascist Japan faction among the internees. Eight hundred of the volunteers were selected to serve. These early few, especially those who were killed in action, proved what we tragically had to prove, and thatwas Japanese American loyalty to the United States of America.
Try arguing, Mr. Redneck politician, with the young man who has come home in a box. I once asked Mike if he ever lost any sleep about sending young Nisei men to fight and die in Italy and France. He said, "Not a minute. Under circumstances, blood had to be shed."
One of his brothers was killed in action, and another was severely disabled.
I also asked Mike if he ever regretted counseling cooperation with the government AFTER 9066 came down. He said, "No. They had the guns. We didn't." We need to remember that Min, Gordon, and Fred were all young bachelors.
Mike was like that. He could think and act with clarity and precision.
As a 27-year-old wartime leader in 1942, Mike was already thinking about what our lives were to be like after the war was won and the camps were closed. And what Mike wanted, we soon enough got: acceptance into the American mainstream of a small group of people once as intensely hated and feared as perhaps no other in our country's history. Newspaper headlines about the Bataan Death March and the Rape of Nanking did nothing for us.
Under the circumstances, the brutal truth was that the alternative to what Mike wanted was a post-war Japanese American legacy of No-No and Renunciation and a convenient justification for the existence of the camps.
What happened instead we owe to Mike, to the 442, and I will say to JACL. Together I think he, they, and we wrote an immigrant story more powerful than that of the Pilgrims at Plymouth Rock. To me, that story – of young Nisei men out of the camps dead in Italy and France – gives our being together tonight the depth of immeasurable gratitude and the weight of inconsolable loss, as it has for JACLers for more than 70 years.
Mike was the principal author of the Japanese American story. Which is one reason why we honor him tonight.
As our political leader and representative in Washington, Mike was both IQ smart and street smart. And what did we expect of our leader? The answers to two questions, the second usually more important than the first: What should we do and how should do we do it?
In the twilight of his life, Mike was an indispensable leader of how we did redress.
Understand that Mike was a big-time problem-solver, as adept at making things happen in Washington, a very strange place, as any lobbyist in town – after 50 years in the trade, he was connected and trusted nearly everywhere.
A conversation I had more than once with Mike after dinner around 9 in the evening: "Mike, the wheels are coming off this thing, in Washington and inside JACL. Let me tell you what Mr. X is up to now. What are we going to do?"Mike would say, "Give me the night to think about it."
"But, Mike, you don't understand. The wheels are coming off this thing."
"Give  Me  The  Night  To  Think  About  It."
An example of a big problem Mike solved.
In January of 1987, Barney Frank told me in his office that he was going to push our bill in a big way. This after years of being bottled up by subcommittee chairmen before him.
But Barney wanted bi-partisan Republican cover on his subcommittee, which meant that he was not going send HR 442 to the full Judiciary Committee and then to the House floor where a vote could be taken unless Pat Swindall, the number one Republican on the subcommittee, would agree to support the bill.
I said, "Barney, this guy is a born-again Christian from Georgia. A really tough get."
"I need to have him," Barney said, "and you have to get him."
I called Mike and asked him what to do. He said, "I need the night to think about it." In the morning, he called and told me to call Dave Brodie, the chief congressional lobbyist of the Anti-Defamation League, and ask to meet with him. Mike said that Brodie had taken many Southern born-again members to Israel on "fact-finding trips" – also called junkets.
Mike knew that this was one way the Jewish Americans allied themselves with the more numerous born-agains. Both a big stake in Israel being taken care of. And so, besides the trips, campaign money was often raised for incumbent Republican politicians in places like Georgia.
I saw Dave in his office at ADL. On his desk, he had a small award maybe 20 years old from the JACL. Dave said he would set up a meeting with Swindall.
Dave and I met with Swindall, though I knew that Dave had already talked to him. Swindall so eager to make sure Dave was happy that joining us that day in the Congressman's office was his wife and their infant daughter. Effusive introductions were made all around, including to the daughter.
The Republican Congressman from Georgia then told me that he was going to support the bill in Barney Frank's subcommittee. He added that an aide who was half Japanese was also for the bill, and that helped. On the day of the vote on the House floor, Swindall made a speech supporting Constitutional rights for Japanese Americans, rights he then said should be extended to the unborn.
Mike knew, as perhaps no one else on the planet did, that to get Swindall on board in Barney's subcommittee, you needed first to travel through Tel Aviv and Jerusalem
I think Mike Masaoka is the single most gifted leader we have had in our proud history in America. With nothing more than a shoe shine, a smile, and the savvy of his indomitable wife Etsu, Mike got Congress, in his time dominated by Southern segregationist committee chairmen, to agree to Issei citizenship, to the War Brides Act, and to the Hawaiian statehood bill. Then there was Mike's indispensable role in the success of HR 442.
That's what Mike Masaoka did. Now. Tell me. Just exactly what have you done?
A rooting interest on the correct side in what passes for the compelling issues of the day doesn't count.
For me, Mike's critics, academics and others supremely confident of their opinions, stand on his shoulders and box him about the ears.
But tonight, Mike, JACL honors you for all you did for JACL, for Japanese Americans, and for our country. I was honored to have known you. Rest in peace.
For reversing President Ronald Reagan's opposition to HR 442, Grant Ujifusa was knighted by the Japanese government in 2012.  He was also made an honorary member of K Company, 442 Regimental Combat Team.
Correction: 8/25 Grant Ujifusa's speech has been revised and edited from its original publication in the printed Convention Issue 7/24/15