Support for the Black community and an emphasis on social justice issues highlight the weekend of events for Tsuru Rising.
By Ray Locker
As much of the nation protested the killing of George Floyd in Minneapolis, a coalition of activists led by the group Tsuru for Solidarity led a combination of virtual and in-person activities as part of "Tsuru Rising" on June 6 and 7 to support the African American community and highlight social justice issues.
Starting on the morning of June 6, the group conducted a panel discussion led by Dr. Satsuki Ina, a Tsuru founder, that included representatives of Black Lives Matter and multiple social justice groups.
"Racism and state violence have been with us since the start of the country," said Mike Ishii, a Tsuru co-chair.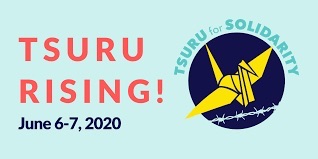 The legacy of the Japanese American incarceration resonated with many of the participants, as they said it was one of many manifestations of racism perpetrated against people of color throughout our nation's history.
"You know what it's like to be the target of an illegal act," said Sen. Mazie Hirono, the Hawaii Democrat who was the event's keynote speaker.
"It's not easy to end racism," Hirono said. "We need to come together and vote. We have a choice to make."
African Americans have lived under structural racism for centuries, said Silky Shah, executive director of the Detention Watch Network, which monitors the detention of immigrants throughout the country. "These systems were created based on racism, specifically anti-Black racism."
Bruce Embrey, co-chair of the Manzanar Committee, said Asian Americans have been the target of racist attacks since the outbreak of the COVID-19 pandemic and need to "become an ally" of the African American community following the Floyd's killing and subsequent Black Lives Matter protests.
Cranes Everywhere
On June 7, Tsuru activists joined with members of the African American community and others at a series of events to hang cranes and speak out against other examples of structural racism, such as the systematic imprisonment of Black men for minor infractions.
In many cases, the spread of COVID-19 has become a death sentence for jail and prison inmates.
Cori Nakamura Lin stood outside the Cook County Jail in Chicago to protest the continued incarceration of people awaiting trial when they faced the spread of the disease that has already killed more than 120,000 Americans this year.
"One in six of the COVID-19 cases in Chicago are because of the jail," Lin said. "This is as close as we have been to transformational change."
Tsuru for Solidarity activists have protested at multiple Immigration and Customs Enforcement detention centers this year because they have become incubation centers for COVID-19. The Chicago activists were joined June 7 by Cassandra Greer-Lee, whose husband, Nickolas Lee, died in the Cook County Jail from COVID-19 in April.
Greer-Lee said she repeatedly called Chicago and Cook County officials seeking help for her husband but got no answer. He eventually contracted the coronavirus and died from it while still in jail, where he was awaiting trial.
In Washington, members of the city's Japanese American Citizens League chapter, as well as David Inoue, the organization's national executive director, marched downtown to the newly named Black Lives Matter Plaza, which is just north of Lafayette Park and the White House.
"Where is the law and order," Inoue said, "when we see Black men killed by those sworn to protect the law and to protect and serve us?"
A Time to Heal
The event concluded on June 7 with a series of healing circles featuring Japanese Americans and others. The circles are the creation of Tsuru Co-Chair Ina.
The details of the circles are private because many of the participants discussed deeply personal details about their struggles with the legacy of the Japanese American incarceration and other traumatic events.
"The Healing Circles for Change really demonstrate the Tsuru for Solidarity mission of healing through action," said Julie Abo, a Heart Mountain Wyoming Foundation staff member whose parents were incarcerated in the camps at Tule Lake and Minidoka. "After a weekend of participating and observing political actions and performances, this structured format for sharing our deepest thoughts and emotions while listening with empathy made us feel connected to this diverse community that is committed to social justice."
◊◊◊
Solidarity in New York
Tsuru for Solidarity members speak out against injustice.
New York Tsuru for Solidarity members Emily Akpan, Becca Asaki, Linda Morris and Lauren Sumida gathered outside of Elmhurst Hospital on June 7 to remember and honor community members lost to the pandemic, state violence and white supremacy.
Elmhurst Hospital, the New York epicenter of the COVID-19 epidemic, is within an immigrant neighborhood heavily targeted by ICE even during the pandemic. Drawing upon their own family histories, Tsuru for Solidarity members spoke out against the injustices of ICE, policing and incarceration, as well as called for defunding police at a time where financial support to address our ongoing health crises and underresourced community services is so important.
Families for Freedom provided a written statement, which Tsuru for Solidarity read, supporting Black Lives Matter and condemning the ongoing police brutality, ICE raids, deportations and incarceration of minority communities.
Through a candle-lighting ceremony and hanging strings of tsuru on the fence across from Elmhurst Hospital, NY members honored all those whose lives have been lost to police brutality, the pandemic and white supremacy.
In addition, Akpan sang "Blue Hands" by duendita, a song in honor of Sandra Bland, with Lauren Sumida accompanying on cello.
NY Tsuru members concluded with a call to divest from the systems that do not value Black lives — to divest from policing and reallocate those funds into Black communities, housing, education, social services and health care, so that hospitals will never again have to shoulder a crisis like COVID-19 without the necessary funds needed to provide care.