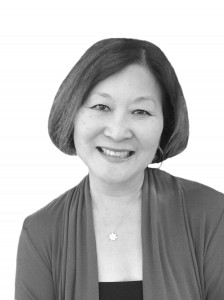 By Marsha Aizumi
I recently received a very kind note from a Portland JACL member named Herb. In his note, he talked about reading "A Mother's Take" and expressed his amazement at my bravery. He also said, "This may be easy for me to tell you, but live each and every day to the fullest with gratitude." His note came at a very important time for me … and here is the reason why.
I was on a plane from Dallas/Fort Worth to Los Angeles recently. It had been a very successful trip with a LGBTQ training in Shreveport, La., followed by a leadership summit in New Orleans. I was feeling good about everything that had happened on this trip.
We were 90 minutes into a 2.5-hour flight back home, when the pilot came on the PA system. We were being diverted to the closest airport to check out something that was off in the cargo area. I thought, "Oh no, not another problem," since on my way to Louisiana, we had an air-conditioning problem that delayed us two hours in Dallas. But what happened next sent a ripple of fear through me.
The pilot calmly indicated that we would land in Albuquerque, N.M., in about 10 minutes. The flight crew needed to pick up all drinks and food and prepare us for an emergency landing and immediate evacuation. I knew at that point it was not just a simple problem. As attendants rushed around to pick up our drinks and food, they announced that we should look at the safety brochure to get familiar with an emergency landing. Then a flight attendant demonstrated the two ways that we could get into emergency position if we were advised to brace.
For the next eight minutes, everything was quiet. One woman was quietly crying. The 18-year-old girl sitting next to me kept asking her mother sitting in front of her, "Are we going to be all right, mom?" The mother reached behind and held her hand. I was scared, but kept trying to keep my thoughts positive. Inside, I could feel myself shaking. The woman in front of me grabbed my hand to give me assurance and so did the man across the aisle from me. One of the flight attendant's face had lost all its color, and another looked very concerned. The lead flight attendant did a final sweep through the cabin but stopped to ask me if I was OK. I said, "No, I was nervous," and she said, "The pilot says we might not have to evacuate." That gave me some assurance. The next few minutes seemed to move so slowly with fear of the unknown hanging in the air.
In the end, the landing gear came down, there was no fire in the cargo area, and we taxied down the runway uneventfully past at least 15 fire engines and emergency vehicles with flashing lights. We did not have to get in an emergency landing position, but you could tell that the airport was prepared for something major to happen, so the potential severity of the situation sent another jolt of fear through me.
We all cheered and clapped when the plane wheels touched down. I remember holding hands with my seat partner, even though we had barely spoken a word before, and I could feel the tears running down my face in relief.
The findings were that a faulty sensor had signaled heat in the cargo area. Since the pilot did not know what was causing the heat, he decided to land at the closest airport and sent out a distressed plane signal. Thankfully, his greatest fear of fire in the cargo area was not the cause of the sensor reading hot.
I have often heard that life holds no guarantees, and during those eight minutes, I realized how true that statement was. I had no card that said that I was going to get out of this situation alive. All I knew was I was trusting this pilot to make the right decisions to get us on the ground safely, but I had no guarantees about that as well.
The next day, I decided to stay in bed to recover physically and emotionally from the trip. It gave me time to reflect on what had happened the day before. The scared part of me wanted never to get on another plane, to stop doing advocacy that would take me out of the Southern California area and to just enjoy being a retired person. I could dote on my plants, organize all the photos I have always wanted to do and read all the books that I bought but never cracked the cover. The determined part of me wanted to double up on my advocacy, accept every speaking engagement or project that came my way, because who knows how many more days I have to live. But these two reactions were based on me being afraid, and I never want to make decisions based on fear.
And so Herb, I choose to live my life to the fullest with gratitude and with love. I am grateful for my family and want to have time and space to be there for them. I am grateful for time with my two sons and daughter-in-law, to laugh while working on a puzzle, to travel to share our story, to wave goodbye from my porch as they leave our house or share a meal together. I am grateful for time with my husband while we make dinner together, explore new restaurants or walk our dog, Mochi. And I am grateful for my LGBTQ advocacy, which has given me a purpose and connection to amazing people that I have fallen in love with. I will continue to do all those things I love.
Life has no guarantees except for this moment. And a sweet note from a man from Portland has reminded me to savor each moment and be grateful for the life that I am living. So that is what I am going to do, Herb …
Marsha Aizumi is an advocate in the LGBT community and the author of the book "Two Spirits, One Heart: A Mother, Her Transgender Son and Their Journey to Love and Acceptance."