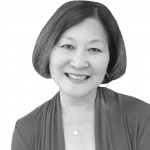 By Marsha Aizumi
Last month I returned to Washington State to attend the 92nd Annual Seattle JACL banquet.   One year after first meeting the leaders of the Seattle area, who were interested in bringing greater support to Asian Pacific Islander lesbian, gay, bisexual and transgender families, I came back for two reasons. One was to accept an award from Seattle JACL, a Special Civil Rights Award, and the other to meet with JACL leaders, who wanted to grow our visibility in the Seattle area for API LGBT families. Both reasons were close to my heart, so I was excited to come back to the Pacific Northwest.
I brought back with me my husband, my son, Aiden and his new wife, Mary. I wanted them to be there to see me receive my award, but more importantly I wanted all in attendance to know that they were not only honoring the work I was doing, in the LGBT community, but they were also honoring my family who has been an integral part of my journey. My husband, Tad, has supported every dream that I have ever had—Seattle JACL was honoring him. They were also honoring my son, Stefen, who was at college, but with us in spirit, continuing to be our role model of unconditional love and acceptance. And then there was Mary, Aiden's new wife, who traveled with us, as a loving and nurturing partner in our work. JACL was honoring her. Finally, they were honoring my transgender son, Aiden, whose courage and deep love for our family started us on this amazing journey as he became our guide, our cheerleader and our inspiration.   He has faced so much in his 25 years of life, but has emerged stronger, more resilient and now more hopeful for his future.
A highlight for me was having Priscilla Ouchida, JACL executive director, come up to me and my family right after my acceptance speech and thank us for our work. It was Priscilla's encouragement three years prior that created a belief in me that one mother's voice could make a difference.
The day after the gala, I met with three Seattle JACL leaders: current president Toshiko Hasegawa, president-elect Paul Tashima and former president Bill Tashima, as well as an executive board member of PFLAG Bellevue, Karen Gold. PFLAG is a national organization of over 350 chapters that support families of LGBT individuals. We planned on how we would expand visibility and support for API LGBT families. Often families feel so alone and don't want to talk about LGBT issues, out fear of being ostracized by their community, their family, religious, work or ethnic community. Raising awareness and offering resources would send a message that these families were not alone.
Shortly after Seattle, I traveled to Chicago to speak to the JACL Midwest delegates and also to do a presentation at a JACL and Christ Church of Chicago co-sponsored event. Working with Bill Yoshino, the Midwest regional director, I hoped to find leaders who wanted to be a beacon of hope to API LGBT families in their area. I also wanted to support churches, who voted to become open and affirming places of worship, where LGBT individuals and their families could find a spiritual place to belong. In the back of my mind as I do this work, I see the tear-stained face of a JA college student who came up to me following one of my presentations. She was crying because she didn't know how to help her family. You see, she has a gay brother that has not been totally accepted. And so his sister weeps for him, for her parents and for their family.
There is so much work left to do. We need to educate our community to understand that being LGBT is not a choice. LGBT individuals are born with an orientation, gender identity or expression. As Aiden has said to me many times, "I would not choose to be this way. Why would I, knowing what I will have to face in the future? But it is who I am and I must be true to myself."
The work that JACL is doing for the JA community, the API community and the LGBT community are one and the same. We are working not only for the greater good of our API families, but for the greatest good for all families. Because according to Martin Luther King, "Injustice anywhere is a threat to justice everywhere."And so I continue to work toward a world that is safe and accepting for both of my children, and a world that is safe and accepting for your children as well.
Marsha Aizumi is an advocate in the LGBT community and the author of the book "Two Spirits, One Heart: A Mother, Her Transgender Son and Their Journey to Love and Acceptance."
Originally published on April 18, 2014