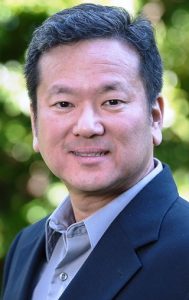 By Gary Mayeda, JACL National President
(Originally published in the Dec. 16, 2016-Jan. 26, 2017 Holiday Issue of Pacific Citizen.)
Happy holidays everyone! The season of joy with family and friends is upon us. We count our blessings and wish for health and prosperity for all of our loved ones.
As 2016 closes, we reflect upon our JACL chapters' accomplishments. Many chapters have finished pounding tons of mochi for our communities. I've seen videos, and the efficiency of how thousands of pounds of rice are steamed, pounded, cut, rolled and packaged looks like a professional operation. After all, we have been doing this for generations. From San Jose to Washington, D.C., mochi from a JACL chapter with a tangerine on top will adorn homes all over the nation.
This is just one example of how the JACL brings culture and community together across the U.S. It's comfort food, and it's amazing how we can spend hours sharing with others how we eat something so simple. Mochi toasted, grilled, with shoyu and sugar, kinako or daikon oroshi certainly tastes delicious, always leaving us wanting more later for a midnight snack.
This is the fun that shares the stage with JACL's core values of civil rights and education.
Looking back, 2016 also brought us chilling news that a new presidential administration is thinking of using the Japanese American internment as a way to create a registry for Muslims entering the U.S. How can the darkest chapter in American history ever repeat itself? What can we as a JACL nation do to see that the country we love will not make the same mistake again? Education!
This year, our staff, led by our Interim Executive Director Bill Yoshino and Interim Associate Director Stephanie Nitahara, was able to utilize a $165,000 grant from the National Endowment for the Humanities, allowing us to reach and educate 72 teachers from throughout the U.S.
JACL is uniquely positioned to combine our network of chapters that are engaged with the public to continue the message that the internment experience tore up over 120,000 lives. An apology and redress did not take away the pain, and we continue to discuss the impact of that dark period 75 years later.
With our materials already prepared by our own Education Committee, JACL can be the nation's expert on an interactive educational experience at Manzanar. But we need money and manpower to get this message out.
We need more volunteers to help with chapter events. We need more money to hire additional staff to get the job done. We couldn't ask for a more dedicated National and Pacific Citizen staff. If I could, I would put at least two more people at every office and still want more growth. And to make that happen, we need more generosity to reach our goals.
I am grateful to lead the JACL and am thankful to have the opportunity to earn the trust of our members ever since I was elected as your national president in July at our National Convention. I am grateful to work with an amazingly talented JACL staff. I am grateful to meet so many passionate members across the country. This means that I must work harder to see that the mission of JACL is achieved — to be the premier civil and human rights organization in the U.S.
Next year marks the 75th anniversary of the signing of Executive Order 9066. At July's JACL National Convention in Washington, D.C., we will be able to see this document and be reminded of how much E.O. 9066 changed and affected so many of our lives.
Please join me in giving generously to JACL and help us find new members so that we as an organization can continue to secure and protect the civil rights of all communities.