2023's Kakehashi's Group A and B visited Japan in March, reviving the Japanese Ministry of Foreign Affairs and the Japanese International Cooperation Center-backed cultural exchange program after a 3-year-long Covid 19-imposed hiatus.
Thirty-seven participants travel to Japan to broaden understanding of their cultural ties and promote better U.S.-Japan relations.
By JACL National, Cheyenne Cheng, Bridget Keaveney, Scout Hayashi and Halle Sousa
JACL is pleased to have once again taken part in the Kakehashi Project in conjunction with the Japanese Ministry of Foreign Affairs and the Japanese International Cooperation Center. MOFA has worked with JACL since 2014 to send more than 1,000 Japanese American students and young adults to Japan on trips that broaden their understanding of their cultural ties to Japan and facilitate exchanges that promote better U.S.-Japan relations. (See related story, "Reflections: Gratitude for My Kakehashi Experience," here. )
In late March, 37 participants and three chaperones from across the country returned from the first in-person Kakehashi Project trip in three years! Attendees were divided into two groups, with Group A visiting Gifu and Group B visiting Okinawa, where they participated in several site visits, cultural experiences and exchanges with local communities.
Participants also had the opportunity to meet high-ranking representatives of the Japanese government, including Deputy Chief Cabinet Secretary and Special Adviser to the Prime Minister Kihara Seiji and Parliamentary Vice Minister for Foreign Affairs Yoshikawa Yuumi.
JACL looks forward to seeing what lessons participants have learned and will share in their respective communities now that they've completed their trip. With more than 1,000 alumni across all of its Kakehashi Project trips, JACL is excited to be able to offer this wonderful experience to Japanese American youth again and looks forward to continuing its relationship with MOFA and JICE.
For more information on the Kakehashi Project, visit www.jacl.org/kakehashi.
◊◊◊
Following are reflections by JACL Chaperones Bridget Keaveney, Norman Y. Mineta Fellow, and Cheyenne Cheng, youth and programs manager, as well as personal insights from 2023 Kakehashi Project participants Scout Hayashi and Halle Sousa.
Group A Experience
By Bridget Keaveney
In Gifu Prefecture, students and young professionals alike were able to visit a number of cultural sites that evoked feelings of reconnection and inspiration. Participants began their visit to what is known as the "Heart of Japan" and "Land of Clear Waters" by traveling to Ogaki City, where they visited Ogaki Castle and the quaint riverside town known as Kawaramachi.
Participants were soon whisked to partake in the art of crafting wagashi, a traditional Japanese confection, thanks to a locally operated-and-owned wagashi shop. Continuing onward with their cultural experiences, participants also had the chance to visit the timeless village of Shiragawa-Go, a historic mountainside settlement registered as a UNESCO World Cultural Heritage Site.
On the last day of their visit to Gifu Prefecture, participants visited the Gifu Sekigahara Battlefield Memorial Museum, where Japan was reunified under the Tokugawa Shogunate in 1600.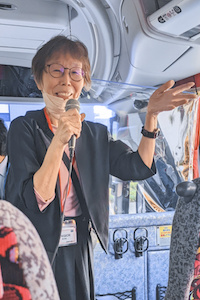 Participants ended their last day by returning to Ogaki City, where they met and interacted with local community members as generously organized by members of Gifu World Youth.
Community members and participants alike were treated to a traditional Japanese iaido performance that showcased the martial art of drawing a katana (sword) methodically.
Our participants' visit to Gifu would not have been possible without the tireless efforts of the JICE coordinators, Hiroko Taniguchi and Haruka Tsuda, as well as local travel agent Ryohei Shimizu, all of whom went above and beyond in ensuring that each participant was not only accounted for but also had the opportunity to fully immerse themselves in the rich history and traditions of Gifu Prefecture.
Their seamless leadership and coordination of the trip will forever be ingrained in the minds and hearts of our Kakehashi participants who had the privilege of visiting beautiful Japan.
Group B Experience
By Cheyenne Cheng
Group B, aka the BEST group, had the lovely experience of going to Okinawa, where we visited many historical sites, engaged in a number of cultural experiences and engaged in conversation with the amazing community!
After touching down at Naha Airport, we started our time in Okinawa at Shuri Castle, the palace of the Ryukyu Kingdom. Participants were able to partake in the reconstruction efforts by breaking down rubble from the 2019 fire back into sand for later building projects. They ended the day at Kokusai-dori, the main tourist and shopping street in Naha, where we all were able to secure lots of omiyage to bring back to the U.S.!
Our second day in Okinawa was long but incredibly meaningful. Our first stop was at the University of Ryukyus, where participants did an exchange with students and discussed topics such as Okinawan culture, immigration and experiences of being a student under the Covid-19 pandemic.
Afterward, we went to the Himeyuri Peace Museum where (JACL National VP of Membership and Services) Dominique Mashburn and I presented 1,000 cranes on behalf of her family and JACL. Fittingly, we ended the day at Sefa-Utaki, the sacred birthplace of the native religion of the Ryukyuan people.
Our last day in Okinawa was spent in the Yomitan village, where we had many hands-on cultural experiences. Participants had the privilege of experiencing homestays with Okinawan families, though it was only for a few hours rather than a few days.
Many were able to try on bingata, play the sanshin and cook traditional Okinawan food all while attempting (or succeeding) to communicate with their homestay families in Japanese!
After a tearful departure, we spiced things up with an eisa and karate experience.
Eisa is a form of folk dance that originated in Okinawa, and participants were able to wear costumes and play the drums. We were taught a brief history of martial arts and martial arts equipment, then saw a kata demonstration and learned a few of the moves!
Participants left feeling full … emotionally, spiritually and physically. We all left Okinawa thankful for the brief time we were there and for the connections we made.
None of this would have been possible without the work and coordination with our local travel agent, Airi Goto, and our JICE coordinators, Sachiko Moridera and Keisuke Matsuzawa.
I Am Proud of Who I Have Become, Growing Up Japanese and American
By Scout Hayashi, Kakehashi Participant
Few things are more comforting than feeling ordinary.
It's a minority opinion in the ethos of American exceptionalism, where being unique is always a good thing. But I was the only Nikkei child I knew in the suburbs of North Carolina, comfortable in neither white spaces, nor in Asian American ones. Being unique just meant being alone.
My parents, who came from large Japanese American families, did their best to offset this feeling. You will always be different, they told me, but that is something to be proud of.
However, it is one thing to be told a fact, and another to believe it. I was not proud when I failed my weekly kanji quizzes, nor when enduring "banana" (white on the inside) jokes.
Still, I laughed. It was easier than explaining how four generations in America and the World War II incarceration had taken a language and culture from me. I became quite adept at diluting the enormity of my Japanese American experience into a palatable, if anemic, performance. Sure, I can write your name in Japanese. OMG, of course I love matcha-flavored anything!
The March 2023 Kakehashi project was the first time I felt ordinary without having to perform. In the eyes of my Japanese American peers, I saw reflected this experience each of us had thought unique.
I never thought I would have the chance to discuss my complicated relationship with Japan with anyone, let alone with perfect strangers. But with every conversation, I felt a stone I didn't realize I had been carrying disappear.
We came from different states, careers and families, but we were the same in little ways that mattered. Most of us were not fluent, but we did not translate shinkansen or Anglicize the pronunciation of our Japanese names.
I played jan ken pon with a friend for the first time. And our group had the propensity to oooh and ahhh in perfect synchronization like a live studio audience … which would always prompt more laughter! We joked that it was due to our Japanese ancestry, but every time it happened, I felt a little more at home.
Our initial stay in Tokyo included a tour of the Japanese Overseas Migration Museum where, for the first time, I saw my family's place in history mapped on a wall in four different languages for all to see.
I don't know where in Japan my great-great-grandparents came from, but I know that they moved to Hawaii in the initial wave of 1885, which meant there is a good chance they were from Okinawa or Hiroshima.
The museum even had lesser-known details of the migration story. Decades of newspaper clippings documented early anti-Japanese sentiment and legislation in America. Some of which diverted Japanese emigrants to Brazil and Central America, where other diasporic communities took root.
The memories made in this museum prompted conversation about our family's histories for the rest of the program. I learned that some of our grandmothers and grandfathers had been incarcerated in Rohwer and Jerome together. I wondered if they had met. If they had, would they have ever guessed their descendants would meet in Japan so many decades later?
When our group traveled to Gifu Prefecture, we shared our families' stories with members of the Gifu community. Though I had assumed that Japan did not particularly care about those who had left the nation, it was clear some still do.
I spoke to a family who was interested in Japanese American culture. Though the kids were nervous about speaking English to an American, they told me about their plans to study art and music in university. I told them about my favorite artists from the Japanese diaspora (Kishi Bashi and Rina Sawayama).
In Gifu, we also got a taste of Japanese history. We toured the Sekigahara Battlefield Memorial Museum. The pivotal battle in 1600 that led to the unification of Japan is considered as impactful to a nation's history as Waterloo or Gettysburg. Yet, few of us had ever heard of it.
I was absolutely fascinated by the Shakespearean loyalties and betrayals of the daimyo involved; it was one of the first things I researched once I returned home.
We also visited a UNESCO World Heritage Site, Ogimachi village in Shirakawa-go, founded in the 11th century. The 250-year-old gasshou-zukuri-style houses scattered throughout throughout the village all face north to south, letting the sun melt snow off the heavily slanted roofs to water the crops. The roof's thick layers of thatching aided the village's sericulture by providing cool and dry habitats for silkworms and a covered space to spin the silk.
I loved seeing this depth of Japanese history layered beneath an exceedingly modern culture. The gabled roofs of traditional Japanese homes poking up between rectangular apartments felt so metaphorical. The knowledge that I visited the Sekigahara battle site and a Don Quixote (a gargantuan modern superstore) in a single day still gives me whiplash.
Back in Tokyo, we visited Meiji Jingu. My knowledge of Shintoism is tenuous at best, and my scientific education often causes some spiritual skepticism. But the sanctity of a Shinto shrine is undeniable.
I had the unshakable feeling that someone, or something, was listening to my prayer. I also felt the strongest connection with my ancestors, even the ones who spent most of their lives overseas. As a little joke to myself, I bought an academic success omamori and hoped it would last me the next four years of medical school.
I hope the lessons I learn from the Nikkei experience will translate to greater empathy for future patients with similar family histories.
As I decide which medical school to attend, I look at how active the local JACL chapter is and for opportunities to learn Japanese history and language alongside anatomy and cardiology.
But all of that won't come for another few months. Today, I stay involved in the Japanese American community by listening to the Yon-Say podcast (hosted by and introduced to me by my fellow Kakehashi alumni, Sachi Koide!).
A friend from the program, Finn Laubscher, and I realized we have more to say about our Japanese American identities and are now working on a blog. Our group chat is still actively making plans to meet up at cherry blossom festivals and the JACL convention this spring and summer. Not to fall into cliche, but I feel like I did make lifelong friends, that the parallel threads of our histories have knotted in a way that will not be easily unraveled.
As I've continued to read about Japanese emigration, I've also begun to unpack the nuances of my family's place in Japanese colonialism. Japan's complicated past in Asia necessitates careful engagement with my identity in pan-Asian spaces. In the Japanese American experience, there must be room for joy, as in the Kakehashi program, and accountability. Though, I am still learning what that looks like for me.
On the second to last day of the program, my favorite movie, "Everything Everywhere All at Once," wins seven Oscars. With its multiversal perspective on intergenerational trauma fresh in my mind, I think about the scars that emigration and incarceration left on my family.
I do not speak Japanese or celebrate all the holidays, so my children likely won't either. When I visit Japan, I speak too loudly and have to Google what to do at a shrine. My family and I will forever be guests in a place we used to call home.
I also think about a universe where my family had never left Japan. My dad, a Civil War enthusiast, may have obsessed over Sekigahara the way he does over Gettysburg.
Maybe I would call myself a seikagaku-sha instead of a biochemist. I'm sure we would have been happy, but I feel no sense of regret over these lives we would never live.
I'm glad to know the joy of cross-country practices in the muggy North Carolina heat. And it was America that taught me the value of protesting injustice and voicing a dissenting opinion.
I am proud of who I have become, growing up Japanese and American. Though I have felt profoundly alone in both countries, I never really was. I just needed to find a crowd I could get lost in, if only for a brief nine days.
The Experience Was Absolutely Life-Changing
By Halle Sousa, Kakehashi Participant
I am not afraid to say that I have often struggled with my connection to the Japanese in Japanese American. While I am ethnically Japanese, I cannot help but feel like a fraud when I tell people this. I am not even conversational in the language, and to say that my cultural knowledge is above average would be generous.
Unfortunately, generations of assimilation in the United States have deprived individuals such as myself from many parts of our heritage. That is not to say that our community has lost all cultural ties, and it goes without saying that the Japanese American identity is incredibly diverse and nuanced.
There are undoubtedly those whose experiences differ from mine. However, I find myself longing for what was lost when my ancestors emigrated all those years ago.
It is for this reason that I was immediately drawn toward the Kakehashi Program.
I desperately wanted to bridge these cultural gaps and knew that I could do so much more swiftly with the help of the JACL and the Japan International Cooperation Center.
Having returned from the program just under three weeks ago, I can say with full confidence that the experience was absolutely life-changing and strongly recommend it to anyone in a similar position as myself.
With such a packed schedule, it is difficult to summarize the entire trip in a single article. Nevertheless, I will do my best to provide some highlights. Our cohort was split into two groups, with both following an identical itinerary in Tokyo and surrounding areas, going our separate ways to different cities and then reuniting in Tokyo once again.
At the beginning of our trip, we heard an informative lecture from Glen Fukushima, a third-generation Japanese American professional with decades of experience in U.S.-Japan relations, and then visited the Japanese Overseas Migration Museum and the Nissan Global Headquarters Gallery in Yokohama.
As a history buff and genealogy enthusiast, I was particularly impressed by the museum and how Japanese immigration to the Americas and the events that followed were so well-documented and cared about.
I saw familiar faces in an exhibit featuring Japanese Americans such as Norman Mineta and George Takei and read stories from families whose experiences were so similar to mine.
My group then flew to Naha, the biggest city in Okinawa. I was particularly excited about this part of the trip, as I had heard so many great things despite knowing very little about it myself.
We learned extensively about the history of the Ryukyu people at Shuri Castle and the Himeyuri Peace Museum and interacted with locals through an exchange with Ryukyu University, a home visit in Yomitan village and a karate and eisa workshop.
It seems obvious that there would be parallels between our experiences, but I nevertheless found myself surprised by many of them. For example, we had a lot in common with the college students from extracurricular activities to life challenges.
However, I believe that one of the most striking was the issue of youth engagement. This was highlighted during our group's homestay in Yomitan village when one of the hosts mentioned the struggle to get young Okinawans interested in preserving local traditions.
With youth membership in the JACL continuing to decrease, I am well-aware that we face a similar problem back home. While I was saddened by the fact that this is not a confined issue, I am given hope by all of the passionate young people I met on this trip, both Japanese American and Okinawan alike.
Simply visiting Japan, let alone being led on a guided tour of some of the most famous parts of the country, is a privilege that many Nikkei never get to experience.
As such, I am incredibly grateful to both the JACL and JICE for providing me with this opportunity and kick-starting what I hope to be a lifelong journey of cultural reconnection and discovery.
I also got a lot more out of this trip than I expected, namely friendships that I hope to maintain for years to come. And while this trip still left me with a lot of questions, I do not think that this is necessarily a bad thing.
In fact, I look forward to returning in the near future, whether it be by myself, with family or with the friends that I made along the way and continuing to make up for all of the lost time.