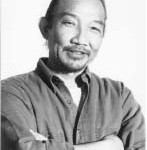 By P.C. Staff
The JACL announced Sept. 16 that Stephen Kiyoshi Kuromiya has been identified as the Nikkei activist who was injured in violent demonstrations in Montgomery, Ala., in 1965.
JACL had been seeking the name of the activist, described as a Japanese American from Monrovia, Calif., since the organization will participate in the 50th anniversary commemoration of the Selma-to-Montgomery March for voting rights that will take place in Selma in March 2015. Laura Iiyama, Derek Furukawa and Harry Kawahara assisted the JACL in identifying Kuromiya.
Kuromiya was an author and civil rights advocate who was born in Heart Mountain, Wyo., in 1943; he died in 2000 due to complications from AIDS. He was a lifelong civil rights and anti-war activist who was also involved in all aspects of the AIDS movement.
In addition, he was the founder of the Critical Path Project, whose newsletter was one of the earliest and most comprehensive sources of HIV treatment information. The organization continues to provide free access to the Internet to people living with HIV in Philadelphia and the region.
Raised in Monrovia, Calif., Kuromiya went on to attend the University of Pennsylvania. In 1968, he protested the use of napalm in Vietnam by organizing a protest in front of the university's Van Pelt library. Kuromiya also was an assistant to Martin Luther King Jr. and took care of King's children following the civil rights leader's assassination. He then went on to become active in the Act Up network, which provided empowerment and coalition-building to people living with HIV/AIDS.
In addition, he was the leading plaintiff in the Supreme Court Case Kuromiya v. The United States of America, which called for the legalization of marijuana for medical uses.
Originally published on October 3, 2014