The National Board meeting was held on Oct. 10 at the Capital Hilton in Washington, D.C. Photo by Tiffany Ujiiye
The national convention is set to take place in Las Vegas, Nev., for the next two years.
By Tiffany Ujiiye, Assistant Editor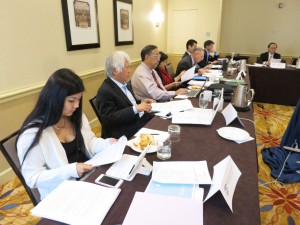 At the quarterly JACL National Board Meeting, JACL National Director Priscilla Ouchida and VP of General Operations Miko Sawamura presented further information on the 2015 and 2016 National Convention set for Las Vegas, Nev. While the contract hasn't been signed, the current proposal is from the Monte Carlo Hotel and Casino, situated on the Las Vegas Strip.
Suggested dates for 2015 are July 12-16. The 2016 dates are July 10-14.
Room rates proposed by the Monte Carlo for 2015 start at $60 a night for a deluxe room, $80 for a strip view and $120 for a Monaco Suite. However, a $20 hotel resort service fee per room, per day, plus tax (12%) may be added to the total room cost. The fee covers guestroom internet, daily newspaper, in-room coffee, fitness center access, two bottles of water and fax and copy services. No confirmation yet on whether the fee is mandatory or not.
However, the 2016 room rates will increase due to hotel renovations, starting at a quoted rate of $80 for a deluxe room, $100 for a strip view and $140 for a Monaco Suite. The listed room rates do not include the hotel resort service fee, increasing the deluxe room rate from $80 to an estimated $100.
Board members were informed that the 2015 National Convention will not have workshops but instead will host plenary sessions similar to the 2014 San Jose National Convention.
"The sponsors were happy with [the plenaries] because of the large audience," Ouchida explained, suggesting that the convention forego workshops in order to save money on multiple rooms and audiovisual equipment needed for the workshops. No official plenaries were announced at the meeting, but Ouchida explained that an LGBT plenary has been requested.
"Those are the trade-offs, and this was the best that I could do to maintain the lower price at $60," Ouchida said. "We're responding to what the members asked for."
The 2015 convention also will not have three hosted meals but instead have one combined dinner meal for the Gala, eliminating the Welcome Dinner and Youth Luncheon due to the decreasing budget. Registration fees for 2015 are projected to stay below $150 per person. The cost for 2016's registration fees is expected to increase due to hotel renovations. Ouchida hopes to retain the Awards Luncheon and Youth Luncheon for the 2016 year.
All proposals are pending and have not been finalized.
Originally published on October 17, 2014