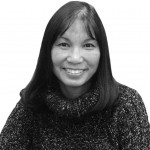 By Priscilla Ouchida, JACL National Director
Michael Brown. Trayvon Martin. Vincent Chen. Three deaths on a roll call of what it means to be colored in America. As I watch events in Ferguson, Mo., unfold, I connect to the emotions that are tied to a system that led to the shooting of Michael Brown — a death linked to negative stereotypes about young African American males — the same kind of racist stereotype that threw 120,000 Japanese American men, women and children into prison during World War II.
This is not the first conversation about racism and racial disparities. Unfortunately, it will not be the last. As the Japanese American Citizens League is well aware, this is not just a black-and-white issue. It is yellow, brown, red and black. It is the reality of racial profiling and being a person of color.
What does it mean to be a person of color in America? As a Japanese American, it is a personal story of pervasive racism. Grandpa immigrated to California with a desire to be an American. He would never realize his goal. Just as full citizenship was denied African Americans, U.S. policies denied citizenship to any immigrant from Asia.
The American dream of home ownership did not extend to Asian immigrants — Asian immigrants could not hold property. Grandpa and Grandma lived with over a hundred laws that restricted where they could live, where they could work or whom they could marry. They paid extra fees and taxes. Life was not equal under "yellow" Jim Crow laws of the 20th century.
They gave birth to the first generation of Japanese American citizens. Citizenship and the Constitution sank to a low point when they and their American children were imprisoned during World War II. Men, women, children, old and young were subjected to years of incarceration. My family lost everything. Dad, like many of his generation, served the nation with honor, fighting in both theaters of the war. He returned a wartime veteran to a country that called him "Jap" and denied him a job or a home. He lived in a house with his parents and sisters because very few wanted to rent to "damn Japs." The war ended, but not the racism.
In 1957, my mother came home crying after her house hunting trips — everywhere she turned, "all-white" covenants barred her from finding a home.
The 1968 Fair Housing Act provided a legal infrastructure, but it did not erase discrimination. In 1979, my husband and I bought our first home in a new suburb in Sacramento, and the next year, my mailbox was burned to the ground. We suffered the same fate as my 14 Asian American neighbors. "Go Home Japs" and obscenities were spray painted on garages. In 1994, the Sacramento Office of the Japanese American Citizens League was firebombed.
A report came out last year that anti-Asian bullying has significantly increased in New York City public schools. There are disproportionate numbers of Asian Americans among the long-term unemployed. Six were shot and killed at a Sikh temple in Oak Creek, Wis., two years ago.
How many decades does a person of color have to wait to be treated as a person rather than a stereotype? The people of Ferguson have been waiting for a long time. The JACL and the Japanese American community have been waiting for a long time.
Racism is not as simplistic as calling someone a derogatory name. It is a mental process that categorizes people by their physical traits and assigns stereotypes to those categories. The stereotypes are so deeply embedded that they subconsciously impact our views and our actions.
The president and the U.S. attorney general are taking command of the matter using federal resources. History tells me it won't be enough.
The responsibility for Ferguson is the responsibility of each and every one of the 314 million people who make up the United States. We have to change the way we approach people — each person is a unique individual. Irrespective of gender, race, religion, age, sexual orientation or physical ability, each one of us deserves that respect.
Originally published on September 5, 2014